The guest driver Allan Simonsen took victory in Round 6 of the Porsche Carrera Cup Asia today after a monumental charge through the entire 27-strong field.  Second was BBTs Davide Rizzo, followed across the line by Team Betterlife's Wang Jian Wei of China. Both drivers led the race at one stage, and both had looked good to take the win.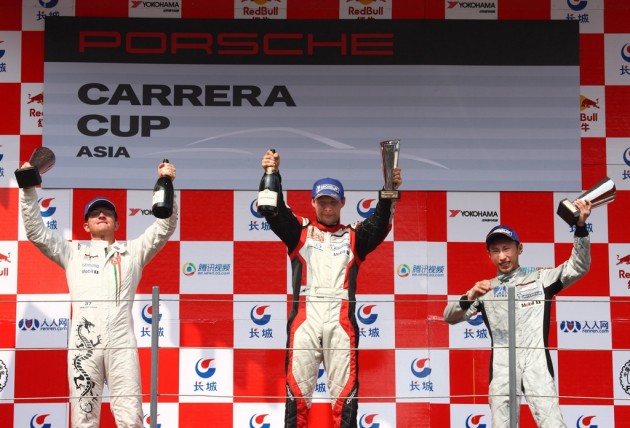 In Class B, Wayne Shen of Modena Motorsports took the victory, with Seminole Racing Team's Egidio Perfetti second and Francis Tjia of OpenRoad Racing taking his second podium finish of the weekend.
Despite finishing in 11th in Round 6, PICC Team StarChase driver Alexandre Imperatori retains his grip on the overall championship race with 106 points, with reigning champion Keita Sawa of LKM Racing Team second on 69.  Benjamin Rouge of Team Yongda Dongfang and Tung Ho-Pin of Budweiser Team StarChase are tied in 4th position, each with 60 points.  In Class B, Perfetti retains the lead with a six point margin over Shen, with Francis Tjia third.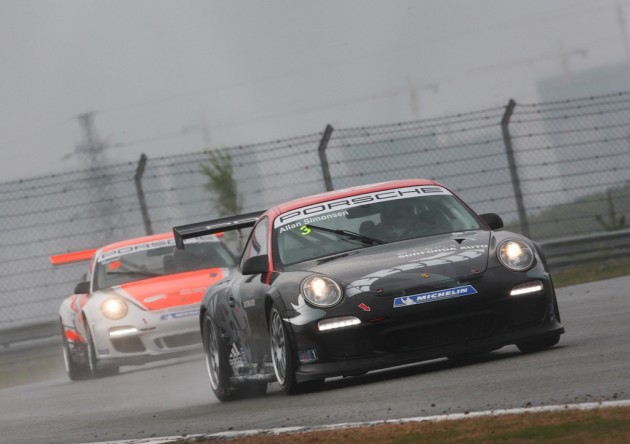 Simonsen was understandably thrilled with the win:  "I didn't finish the first race, so started 27th. I didn't think it was possible to go from 27th to 1st, but I never gave up.  The car felt good, and the wet suited it 100%.  I pushed probably 110%, and went off the track several times I think.  As the track started to dry, it wasn't as fast but I could see from the pit boards that I was in a position to challenge for a win.  It feels really good, and this is a fantastic championship!".
For Rizzo, this was his first ever race in the wet, and he admitted to some trepidation as he saw the rain begin to fall:  "My start wasn't good and I lost a couple of places, but then I started to push – more than the limit. By the end I was on the limit with the tyres, so didn't want to risk it."
Wang Jian Wei was pleased to finish on the podium after an incredibly eventful race where he had looked good for the win:  "I wanted to push to extend my lead, but I braked late.  That would have been OK in the dry, but in the wet conditions, I went off.  I worked my way back though, so I'm happy to take 3rd."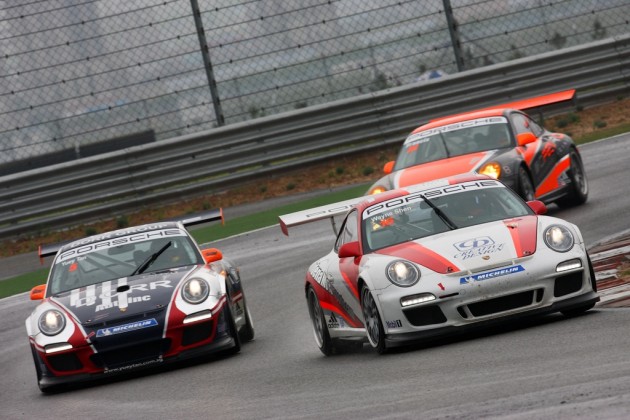 Wayne Shen was grateful to his engineer for finding him the perfect set up for the conditions, but Perfetti had mixed feelings about the Ordos weekend:  "I had a few problems with set up, and I seem to have developed a tendency to spin – 360 degrees!"
With the reverse grid once again resulting in some truly phenomenal track action, there was yet more drama as the heavens opened before the start and Round 6 was declared a wet race. 
Wang got away well from pole, defending from an aggressive Adderly Fong, who was then side-by-side with Budweiser Team StarChase driver Tung Ho-Pin as the pair faced down for second, with Tung prevailing.  Martin Ragginger, winner of Round 5, and championship leader Imperatori were right on the back of reigning champion Keita Sawa in 4th, allowing Wang and Tung to pull away at the front. 
Tung quickly caught up to Wang but behind them, Fong had dived past Sawa and was now being chased by the daunting trio of Sawa, Ragginger and Imperatori.  Rizzo, though, had begun his charge and overtook first Imperatori then Ragginger, before homing in on Sawa, lights flashing.  Lap 4 saw Rizzo get by Sawa to go 4th, but the Italian already had Fong firmly in his sights and made his move the following lap. 
Ragginger was piling the pressure onto Sawa while Imperatori did likewise to the Austrian, with Pekka Saarinen keeping the front-runners well within reach.  Then disaster struck as Ragginger and Imperatori made contact and spun. Both re-joined, but the incident had put them down the order and they eventually finished 9th and 11th respectively.
Wang had once again pulled out a gap from Tung, and had a margin of more than two seconds by the end of lap 5.  However, Rizzo was like a bullet, and overtook Tung on lap 6 to go 2nd.  While all eyes were on the pair, like a bolt from the blue came Simonsen, who had been picking his way through the high-speed pack and suddenly leapt past Sawa and Saarinen to go 5th.
As the track began to dry, the handling of many of the front-running cars began to change, handing a new set of challenges to the field.
Next it was the turn of Team Basetex' Zhang Da Sheng to shine, and the Chinese driver closed in on Sawa, overtaking with impressive precision to go 6th.
Out in front, Wang was working hard to extend his lead, and had built a margin of more than three seconds from Rizzo mid-way through the race.  His efforts were reduced to nothing in a second though, as a small error in braking was punished harshly.  He spun, but managed to control the car and rejoin the race ahead of Saarinen.  That handed the lead to Rizzo, with Tung, Simonsen, Wang, Saarinen, Zhang and Sawa all still fighting hard.
Lap 10 saw Zhang get by Tung before running wide and rejoining behind Wang, who was attacking Tung hard.  Tung defended well, but at the front of the pack, Simonsen had decimated Rizzo's margin, and overtook the Italian to grab the lead.  Wang finally got the better of Tung to take 3rd before the flag.  Zhang also got by Tung before the finish line to take 4th.
Despite the challenges of the Ordos track, wet conditions, and a 27-strong field, all but one of the cars completed the 14 lap race, testament to the extraordinarily high standard of racing the Porsche Carrera Cup Asia has attained.  The weekend represented an extreme test of both man and machine, and the field more than rose to the challenge.
The incredible tenth Porsche Carrera Cup Asia season continues at the end of the August when it leaves China for the first time this year with Rounds 7 and 8 at Malaysia's Sepang International Circuit from August 30 to September 2.  As this weekend proved, with such a competitive field, predictions are pointless as the form book could well be turned on its head once again.
Results – Round 6
| | | | | | |
| --- | --- | --- | --- | --- | --- |
| Pos | No | Driver | Class | Entrant | Time |
| 1 | 3 | *Allan SIMONSEN (DEN) | | Team Carrera Cup Asia (CHN) | 27:41.166 |
| 2 | 37 | Davide RIZZO (CHN) | | BBT (CHN) | +5.520 |
| 3 | 9 | WANG Jian Wei (CHN) | | Team BetterLife (CHN) | +13.340 |
| 4 | 78 | ZHANG Da Sheng (CHN) | | Team Basetex (CHN) | +13.899 |
| 5 | 98 | TUNG Ho Pin | | Budweiser Team StarChase (CHN) | +16.345 |
| 6 | 11 | Ringo CHONG (SIN) | | Team Kangshun (CHN) | +16.621 |
| 7 | 8 | Benjamin ROUGET (FRA) | | Team Yongda Dongfang (CHN) | +17.130 |
| 8 | 31 | *Pekka SAARINEN (FIN) | | PS Racing (FIN) | +23.811 |
| 9 | 86 | Martin RAGGINGER (AUT) | | Team Eagle – Jiejun & Junbaojie (CHN) | +26.306 |
| 10 | 1 | Keita SAWA (JPN) | | LKM Racing Team (HKG) | +27.581 |
| 11 | 99 | Alexandre IMPERATORI (SUI) | | PICC Team StarChase (CHN) | +28.974 |
| 12 | 16 | Wayne SHEN (HKG) | B | Modena Motorsports (HKG) | +33.755 |
| 13 | 88 | Egidio PERFETTI (SUI) | B | Seminole Racing Team (USA) | +38.744 |
| 14 | 20 | Rodolfo AVILA (MAC) | | Team Jebsen (HKG) | +39.370 |
| 15 | 21 | Francis TJIA (HKG) | B | OpenRoad Racing (HKG) | +48.084 |
| 16 | 5 | Yuey TAN (SIN) | B | Dorr McElrea Racing (SIN) | +51.382 |
| 17 | 28 | John SHEN (HKG) | B | Modena Motorsports (HKG) | +52.024 |
| 18 | 6 | ZHENG Ting (CHN) | B | BBT (CHN) | +57.426 |
| 19 | 81 | HUANG Chu Han (CHN) | B | Asia Racing Team (CHN) | +1:01.413 |
| 20 | 96 | LI Chao (CHN) | B | Asia Racing Team (CHN) | +1:04.742 |
| 21 | 66 | Rose TAN (CHN) | | Team C&D (CHN) | +1:10.136 |
| 22 | 23 | Paul TRESIDDER (AUS) | B | Hewlett Motorsport (AUS) | +1:14.703 |
| 23 | 27 | Adrian Henry D'SILVA (MAS) | B | Nexus Racing (MAS) | +1:15.113 |
| 24 | 25 | Christian CHIA (CAN) | B | OpenRoad By ART Motorsports (HKG) | +1:15.484 |
| 25 | 18 | Marcel TJIA (HKG) | B | OpenRoad Racing By ART Motorsports (HKG) | +1:31.428 |
| 26 | 83 | Dr. MA Chi Min (HKG) | B | Dr. Ma Chi Min (HKG) | +1:38.284 |
| DNF | 68 | *Adderly FONG (HKG) | | OMAK (HKG) | – |
| DNS | 87 | *SUN Zheng (CHN) | | PS Racing | – |
*Non series registered
Fastest Lap: Allan Simonsen/Team Carrera Cup Asia/1:55.399/Lap 3/113.806kph
Points after Round 6
Overall
Pos

Comp

No

Driver

Entrant

Points

1

99

Alexandre IMPERATORI

PICC Team StarChase

106

2

1

Keita SAWA

LKM Racing Team

69

3

86

Martin RAGGINGER

Team Eagle-Jiejun & Junbaojie

62

4

8

Benjamin ROUGET

Team Yongda Dongfang

60

98

TUNG Ho-Pin

Budweiser Team StarChase

60
Class B
Pos

Comp

No

Driver

Entrant

Points

1

88

Egidio PERFETTI

Seminole Racing Team

106

2

16

Wayne SHEN

Modena Motorsports

100

3

21

Francis TJIA

OpenRoad Racing

62

4

81

HUANG Chu Han

Asia Racing Team

59

5

6

ZHENG Ting

BBT

52