Kamlung Racing's Chris van der Drift and Spark Motorsports' Egidio Perfetti converted their pole positions into overall and Class B victory respectively in Round 3 of the Porsche Carrera Cup Asia. van der Drift held fellow countryman Craig Baird of Clearwater Racing at by throughout the 10-lap race at the Korea International Circuit to claim victory in just his second Porsche Carrera Cup Asia race.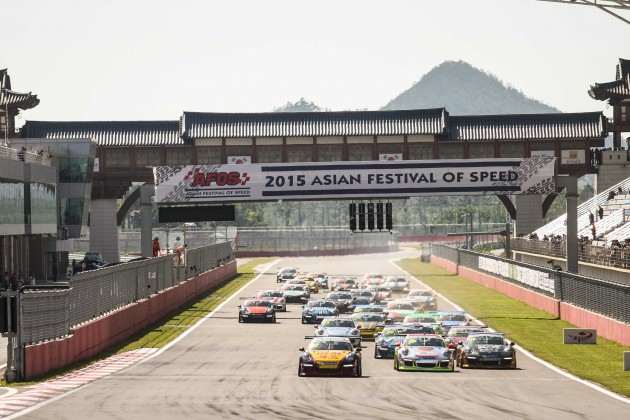 Crossing the line less than half a second behind Baird was local hero Myung Gil Choi, driving for Team Porsche Korea, having lost a position to the New Zealand ace off the start. However, Choi set the fastest lap of the race in his quest to catch Baird. Fourth over the line was Team Jebsen's Rodolfo Avila, who was involved in an altercation on the opening lap which ended the race for Budweiser Team Absolute Racing's Tung Ho-Pin who had sat third in the championship, just a point behind Avila, coming to South Korea. Avila was later handed a 30 second penalty by race Stewards, which demoted him to 12th.
Second in Class B was Thai driver Vutthikorn Inthraphuvasak of 100 PLUS Racing Team ahead of Max Twigg, the pair battling it out in a superb display of hard, fair, no-holds-barred racing.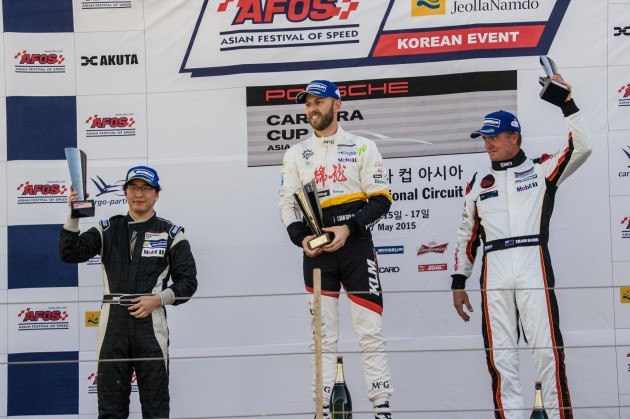 While van der Drift takes the maximum 21 points for pole position and a win, points leader Baird's second place sees him hold his spot at the top of the leaderboard after three races, 13 points ahead of Van der Drift. Avila holds in third, while no fewer than three drivers tied in fourth: Tung, Martin Ragginger of Team Porsche Holding, and Team Yonda's Ro Charlz Skyangel. In Class B, Modena Motorsports' Wayne Shen, fifth in Class B, tops the points ahead of Team Jebsen's Yuey Tan with Twigg leaping up to third.
The opening lap was action-packed, with van der Drift pulling clear of the chasing pack and Baird getting by Choi. Behind the leaders, Avila moved up to fourth after his coming together with Tung, with 24-year-old Malaysian Alif Hamdan in fifth ahead of a hard-charging Nico Menzel of PICC Team StarChase who had dropped down the order from his second row starting position.
Mid-race, the leading trio had pulled clear of the pack while, further back, Avila didn't have enough laps to chase them down, and Alif led Menzel, Team Yonda's Ro Charlz Skyangel, who had climbed three positions from his grid position, and Team Porsche Holding's Zhang Zhen Dong, standing in for team regular Martin Ragginger, in eighth.
Said van der Drift, who was delighted to have taken the win for Kamlung Racing and team boss Mak Hing Tak, a respected Class B driver himself: "I had a good start. I locked my rears going into the first corner and ran a bit wide, so after that I just focused on keeping a steady pace. It's all still new to me, so I'm learning a lot. It's good for me to see how the car evolves [over race distance]. It's great for the team to see us win here in Korea!"
Baird admitted he knew he wasn't going to catch the fellow New Zealander: "We had a little battle going in to T1, and then I got some pressure from [Choi]. I couldn't get close enough to Chris to challenge. It's a really good track, but also a really difficult one which requires very high levels of concentration. Chris made a mistake mid-race and I got a bit excited – and then made one myself!"
For Choi, a podium finish was an impressive result in just his first weekend racing the formidable Porsche 911 GT3 Cup (Type 991), and he thanked Porsche Korea for the opportunity to return to the series: "The start was a bit difficult as we didn't have any practice starts, so perhaps I was a little conservative. The race was a bit short for me, but it's fantastic to be on the podium. I'm very excited for tomorrow."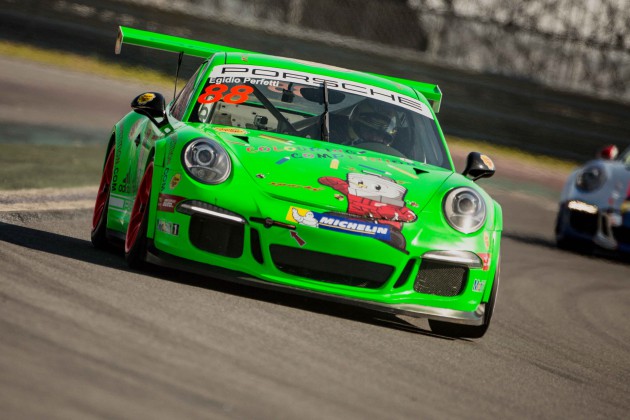 Perfetti is clearly enjoying every moment of his return: "There was quite a bit of contact at Turn 1, and it was challenging when the tyres got a little worn, but overall pretty good. I managed to stay with the front runners at the start, but maybe lost a bit of pace once they got away from me."
The Porsche Carrera Cup Asia Round 3 podium finishers were unanimous in their praise of Korea's F1 circuit, relishing the challenge of the technical and unforgiving track. However, just as they are getting the measure of this demanding circuit, so are their rivals, lining up the prospect of a truly thrilling Round 4, where van der Drift will once again start the 10-lap race from pole position.
Porsche Carrera Cup Asia 2015
Round 3 Results
| | | | | | |
| --- | --- | --- | --- | --- | --- |
| Pos | No | Driver/Nationality | Class | Entrant/Nationality | Time |
| 1 | 68 | Chris VAN DER DRIFT (NZL) | | Kamlung Racing (HKG) | 23:34.815 |
| 2 | 12 | Craig BAIRD (NZL) | | Clearwater Racing (SIN) | +1.467 |
| 3 | 11 | *Myung Gil CHOI (KOR) | | Team Porsche Korea (KOR) | +1.905 |
| 4 | 72 | Alif HAMDAN (MAS) | | Alif Hamdan Motorsport (MAS) | +9.646 |
| 5 | 99 | Nico MENZEL (GER) | | PICC Team StarChase (CHN) | +10.580 |
| 6 | 8 | Ro Charlz SKYANGEL (SIN) | | Team Yonda (CHN) | +16.167 |
| 7 | 86 | *ZHANG Zhen Dong (CHN) | | Team Porsche Holding (CHN) | +18.039 |
| 8 | 88 | *Egidio PERFETTI (SIN) | B | Spark Motorsports (HKG) | +21.801 |
| 9 | 18 | Vutthikorn INTHRAPHUVASAK (THA) | B | 100 PLUS Racing Team (THA) | +23.486 |
| 10 | 98 | *Max TWIGG (AUS) | B | Max Twigg (AUS) | +29.270 |
| 11 | 21 | Francis TJIA (HKG) | B | OpenRoad Racing (HKG) | +37.748 |
| 12 | 20 | Rodolfo AVILA (MAC) | | Team Jebsen (HKG) | +39.356 |
| 13 | 16 | Wayne SHEN (HKG) | B | Modena Motorsports (HKG) | +41.536 |
| 14 | 55 | BAO Jin Long (CHN) | | Zheng Tong Auto (CHN) | +42.349 |
| 15 | 5 | Yuey TAN (SIN) | B | Team Jebsen (HKG) | +49.165 |
| 16 | 3 | Michael S. (INA) | B | OpenRoad Racing (HKG) | +56.407 |
| 17 | 23 | Paul TRESIDDER (AUS) | B | Paul Tresidder (AUS) | +1:11.362 |
| 18 | 51 | Johnson HUANG (TPE) | B | Team BC Racing (TPE) | +1:11.749 |
| 19 | 28 | John SHEN (HKG) | B | Modena Motorsports (HKG) | +1:12.262 |
| 20 | 78 | Suttiluck BUNCHAROEN (THA) | B | True Visions Motorsports Thailand (THA) | +1:12.570 |
| 21 | 9 | LI Chao (CHN) | B | Team Betterlife (CHN) | +1:12.807 |
| 22 | 2 | Kenneth LAU (HKG) | B | Prince Racing Hong Kong (HKG) | +1:25.310 |
| 23 | 22 | SIU Yuk Lung (HKG) | B | LKM Racing (HKG) | +1:31.198 |
| 24 | 17 | FUNG Yui Sum (HKG) | B | Arrows Racing (HKG) | +1:37.121 |
| 25 | 80 | Sontaya KUNPLOME (THA) | B | Racing Spirit Thailand (THA) | +1:59.232 |
| 26 | 69 | *Gary CHEUNG | B | OpenRoad Racing (HKG) | +2:11.965 |
| – | 65 | ZHU Jun Han (CHN) | B | Absolute Racing (HKG) | DNF |
| – | 58 | TUNG Ho-Pin (CHN) | | Budweiser Team Absolute Racing (HKG) | DNF |
*Non series registered
Fastest lap: Myung Gil Choi/Team Porsche Korea/Lap 4/2:13.573
Overall Points after Round 3 (top 5)
Pos
Comp No
Driver
Entrant
Points
1
12
Craig Baird
Clearwater Racing
52
2
68
Chris van der Drift
Kamlung Racing
39
3
20
Rodolfo Avila
Team Jebsen
37
4
58
Tung Ho-Pin
Budweiser Team Absolute Racing
32
86
Martin Ragginger
Team Porsche Holding
32
8
Ro Charlz Skyangel
Team Yonda Dongfang
32
Class B Points after Round 3 (top 5)
| | | | | |
| --- | --- | --- | --- | --- |
| Pos | Comp No | Driver | Entrant | Points |
| 1 | 16 | Wayne Shen | Modena Motorsports | 48 |
| 2 | 5 | Yuey Tan | Team Jebsen | 43 |
| 3 | 98 | Max Twigg | Max Twigg | 36 |
| 4 | 51 | Johnson Huang | Team BC Racing | 33 |
| 5 | 18 | VutthikornInthraphuvasak | 100 PLUS Racing Team | 27 |
| | 3 | Michael S. | OpenRoad Racing | 27 |