Team Eagle – Jiejun & Junbaojie driver Martin Ragginger of Austria tamed arguably the most difficult circuit on the 2012 Porsche Carrera Cup Asia calendar to take victory in Round 5 at the Inner Mongolian Ordos International Circuit.  Second across the line was championship leader Alexandre Imperatori of PICC Team Starchase, with reigning champion Keita Sawa of LKM Racing Team earning the final podium spot.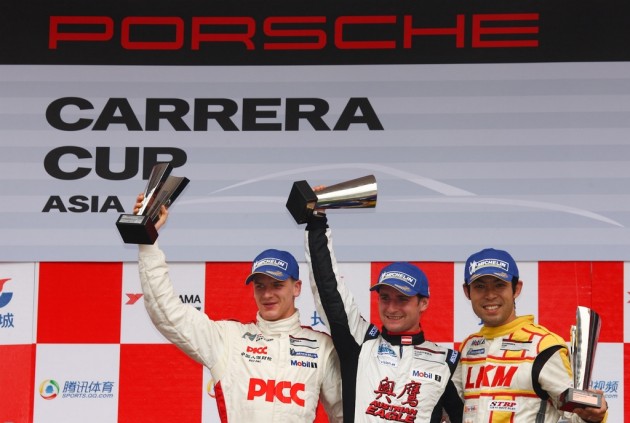 In Class B, talented Singaporean Yuey Tan took his first ever Porsche Carrera Cup Asia victory in the category for his Dorr McElrea Racing team.  Tan drove superbly, overtaking first Asia Racing Team's Huang Chu Han and then OpenRoad Racing's Francis Tjia to take the lead.
After five races, Imperatori maintains his position at the top of the championship leaderboard with a 22-point margin over second placed Sawa, and Ragginger leaps up the table from 6th to 3rd.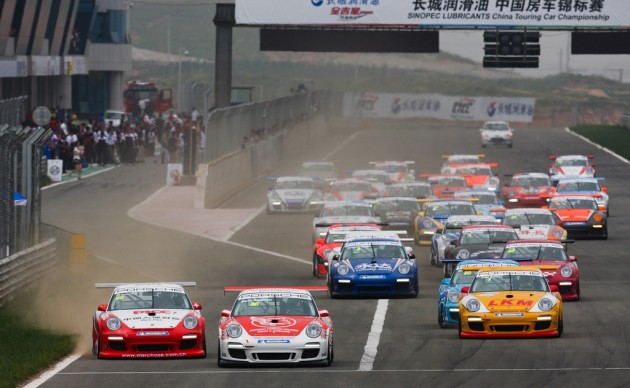 Ragginger was thrilled to have put the bad luck which had plagued him earlier in the season firmly behind him, and was full of praise for his team having started the weekend with a new chassis after the multiple-car incident in Zhuhai:  "Thank you to my team and all the mechanics who worked so hard to bring my car back to life!  Off the start, I was on the limit and knew Alex (Imperatori) was there somewhere.  We both controlled the race, and after seven laps had a good lead.  I just kept focused and concentrated on controlling the race and not making any mistakes. For us, this is a great victory."
For Imperatori, who had won every race this season, second place was an unfamiliar position, but even before the start he was focused on championship points:  "We can't have it all the time, and the competition is very strong this year.  We never expected to win all the races.  I had a good start and tried to get up on the inside, but Martin rightly closed the door. In the first part of the race, I was able to stay with him, but it is very hard to overtake on this track and he was very strong.  We brought it home and took the championship points, so I'm happy with that."
Sawa had a tough race, and was struggling to maintain consistency.  For all three, Round 6 will be an even mightier challenge. 
After the race, Team Jebsen's Rodolfo Avila, who had crossed the line in 4th, was handed a 30-second regulation infringement penalty which demoted him to 11th.   With the top eight reversed on the grid for the start of Round 6, Team Betterlife's Wang Jian Wai starts from pole position, with  guest driver and series newcomer Adderly Fong alongside. On the second row are Davide Rizzo of BBT and Pekka Saarinen of PS Racing.
Francis Tjia was another driver happy to put his unlucky season start behind him in Round 5, but was quick to admit that Tan had just been too quick for him.  Huang, meanwhile, was plagued with mechanical glitches, but for Tan it was a victory he had worked long and hard for:  "I've been competing for four years and this is my first win.  I'm really pleased to have taken this victory, particularly on a circuit like Ordos.  Francis and Huang were battling it out, and that is what we wanted.  I was patient and just picked them off one by one. The car was great!"
Ragginger made a brilliant getaway from pole, holding Imperatori at bay, with Sawa, Avila and Team Yongda Dongfang's Benjamin Rouget following.  Early retirements were BBT's Zheng Ting and OpenRoad by ART Motorsports' Marcel Tjia, who suffered a puncture.  By the end of lap 2 of the 14-lap race, Ragginger had pulled out a lead of more than a second, but Imperatori stayed with him.
The early stages also saw the retirement of Team Carrera Cup Asia guest driver Allan Simonsen of Denmark, who had been running 8th overall, and Rouget.  For Rouget, who had been 3rd in the championship points, the retirement dealt a heavy blow to his title aspirations.
In Class B, it was points-leader Egidio Perfetti of Seminole Racing Team who was leading the pack, until a spin put him down the order and Huang took over the lead until lap 8, when Francis Tjia stormed past.  Perfetti eventually crossed the line 17th, but maintains his position at the top of the Class B championship leaderboard.
The closing stages of the race saw PS Racing's Pekka Saarinen increase his race-long pressure on Budweiser Team Starchase driver Tung Ho-Pin, who was suffering from a bout of stomach flu, and Fong close up to Rizzo, but neither was able to get by.  However, Tan did find a way to pass on the 3.751 km track, and dived past Huang to go second in Class B, before making his move on Tjia just two laps from the chequered flag to take victory.
Results – Round 5
| | | | | | |
| --- | --- | --- | --- | --- | --- |
| Pos | No | Driver | Class | Entrant | Time |
| 1 | 86 | Martin RAGGINGER (AUT) | | Team Eagle – Jiejun & Junbaojie (CHN) | 24:54.127 |
| 2 | 99 | Alexandre IMPERATORI (SUI) | | PICC Team StarChase (CHN) | +3.867 |
| 3 | 1 | Keita SAWA (JPN) | | LKM Racing Team (HKG) | +9.828 |
| 4 | 98 | TUNG Ho Pin | | Budweiser Team StarChase (CHN) | +17.542 |
| 5 | 31 | *Pekka SAARINEN (FIN) | | PS Racing (FIN) | +19.487 |
| 6 | 37 | Davide RIZZO (CHN) | | BBT (CHN) | +20.288 |
| 7 | 68 | *Adderly FONG (HKG) | | OMAK (HKG) | +20.906 |
| 8 | 9 | WANG Jian Wei (CHN) | | Team BetterLife (CHN) | +28.160 |
| 9 | 78 | ZHANG Da Sheng (CHN) | | Team Basetex (CHN) | +31.635 |
| 10 | 11 | Ringo CHONG (SIN) | | Team Kangshun (CHN) | +35.339 |
| 11 | 20 | Rodolfo AVILA (MAC) | | Team Jebsen (HKG) | +43.457 |
| 12 | 5 | Yuey TAN (SIN) | B | Dorr McElrea Racing (SIN) | +47.501 |
| 13 | 21 | Francis TJIA (HKG) | B | OpenRoad Racing (HKG) | +52.588 |
| 14 | 81 | HUANG Chu Han (CHN) | B | Asia Racing Team (CHN) | +1:01.317 |
| 15 | 16 | Wayne SHEN (HKG) | B | Modena Motorsports (HKG) | +1:03.641 |
| 16 | 96 | LI Chao (CHN) | B | Asia Racing Team (CHN) | +1:12.983 |
| 17 | 88 | Egidio PERFETTI (SUI) | B | Seminole Racing Team (USA) | +1:14.225 |
| 18 | 66 | Rose TAN (CHN) | | Team C&D (CHN) | +1:24.756 |
| 19 | 28 | John SHEN (HKG) | B | Modena Motorsports (HKG) | +1:30.155 |
| 20 | 27 | Adrian Henry D'SILVA (MAS) | B | Nexus Racing (MAS) | +1:41.931 |
| 21 | 83 | Dr. MA Chi Min (HKG) | B | Dr. Ma Chi Min (HKG) | +1:45.832 |
| 22 | 25 | Christian CHIA (CAN) | B | OpenRoad By ART Motorsports (HKG) | +1:53.981 |
| 23 | 23 | Paul TRESIDDER (AUS) | B | Hewlett Motorsport (AUS) | 1 Lap |
| DNF | 6 | ZHENG Ting (CHN) | B | BBT (CHN) | – |
| DNF | 8 | Benjamin ROUGET (FRA) | | Team Yongda Dongfang (CHN) | – |
| DNF | 87 | *SUN Zheng (CHN) | | PS Racing | – |
| DNF | 3 | *Allan SIMONSEN (DEN) | | Team Carrera Cup Asia (CHN) | – |
| DNF | 18 | Marcel TJIA (HKG) | B | OpenRoad Racing By ART Motorsports (HKG) | – |
*Non series registered
Car 20: Time penalty of 30 seconds added
Fastest Lap: Martin Ragginger/Team Eagle – Jiejun & Junbaojie/Lap 5/1.46.033
Points After Round 5
Overall
Pos

Comp

No

Driver

Entrant

Points

1

99

Alexandre IMPERATORI

PICC Team StarChase

100

2

1

Keita SAWA

LKM Racing Team

78

3

86

Martin RAGGINGER

Team Eagle – Jiejun & Junbaojie

54

4

20

Rodolfo AVILA

Team Jebsen

53

5

8

Benjamin ROUGET

Team Yongda Dongfang

50
Class B
Pos

Comp

No

Driver

Entrant

Points

1

88

Egidio PERFETTI

Seminole Racing Team

88

2

16

Wayne SHEN

Modena Motorsports

80

3

81

HUANG Chu Han

Asia Racing Team

50

4

21

Francis TJIA

OpenRoad Racing

46

5

6

ZHENG Ting

BBT

42

23

Paul TRESIDDER

Hewlett Motorsport

42