New Zealand's Chris van der Drift gave his new team Kamlung Racing a second winners' trophy when he took a convincing victory from pole position in Round 4 of the Porsche Carrera Cup Asia at the Korea International Circuit. Spark Motorsport's Egidio Perfetti mirrored van der Drift's phenomenal success by clinching his second Class B win of the weekend, crossing the line an impressive sixth overall.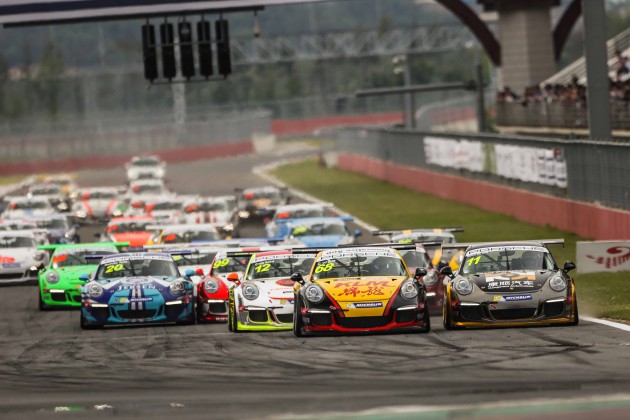 Second for the second time this weekend was Clearwater Racing's Craig Baird, who early on managed to get by eventual third-place finisher Myung Gil Choi of Team Porsche Korea, second on the grid, and PICC Team StarChase youngster, Nico Menzel. Choi's podium finish was met with a roar of approval from the enthusiastic Korean crowd who turned out in force to see Asia's premier sportscar championship in action.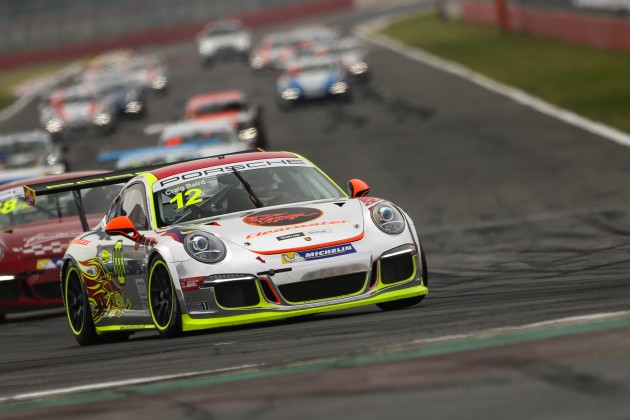 Fifth across the line behind the 17-year-old Menzel was China's Zhang Zhendong, making good work of his opportunity to stand in at Team Porsche Holding for regular driver Martin Ragginger who was away contesting the Nürburgring 24 Hours.
Second in Class B was OpenRoad Racing's Francis Tjia, who made good work climbing his way through the pack from 16th on the grid, ahead of Max Twigg who was lying in second in class before running wide on the final run to the flag.
Baird's run of podiums sees him retain his place at the top of the leaderboard after four races, with an 11-point advantage over van der Drift. Meanwhile, Team Yonda's Ro Charlz Skyangel, who has been improving each time out, consistently scoring double-digit points, lies third in the standings, three points ahead of sportscar newcomer Menzel. In Class B, Modena Motorsports' Wayne Shen maintains his place at the top of the standings, but has just a single point advantage over Team Jebsen's Yuey Tan. Third is Max Twigg ahead of Francis Tjia.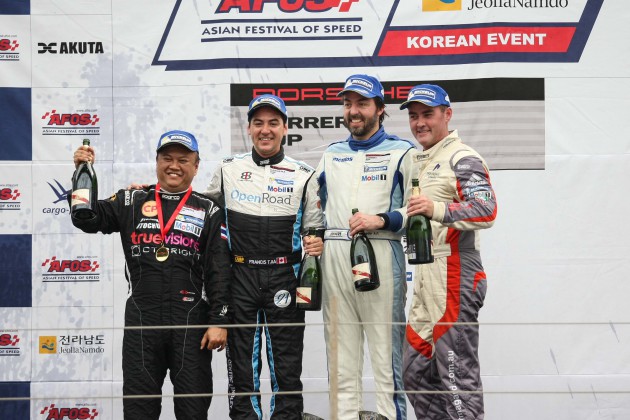 Despite a perfect weekend, van der Drift had had to work hard to keep his head down and his rival Baird at bay: "It's great and especially as it's just my second round of Porsche Carrera Cup Asia. We earned some really good points. The Kiwis are taking over! It's never easy. It was tougher today than yesterday. I thought I got a really good start, but then I had [Choi] alongside of me. Luckily I managed to get the lead again and then I pulled a bit of a gap, and was then able to manage Craig. It was mainly a matter of making no mistakes."
Said local hero Choi: "After I ruined yesterday's start, I focused on a good start which actually happened this time. Unfortunately, at the first corner, in my enthusiasm to take the lead I outbraked myself. With the new tyres, the balance totally shifted to the rear. Craig found a way to get past me, but after that I found my way back past Nico. Towards the end I was a bit faster, but not enough to overtake Craig. I hadn't expected too much coming in to the weekend, but when I saw the crowd and the people, it was great! I'd like to say a massive thank you to Porsche Korea and all the people who made this possible."
For Egidio, the weekend marked a storming return to the championship, and he was rightly delighted with what had been a wheel-perfect performance, particularly with his impressive sixth place overall finish: "That's pretty good! Overall I'm very happy as today's race was much better than yesterday's. I didn't know what to expect at the first corner, and I saw a few cars sideways, so I went around the outside. It took me a couple of laps to get the tyres where I wanted them to be and then I found my pace. I'm very much looking forward to Sepang and my home race in Singapore when I will be back!"
Tjia was delighted to be back on the Class B podium: "I had a decent start and avoided the first corner trouble. I started closing on Yuey and we had a very exciting lap side by side. On the last lap, I saw Max go a little off the track and then I saw him go completely wide. I don't think he knew I was that close, so he didn't get back on track as fast as he would have done if he'd known I was there."
As the 28-strong field roared off the grid for the start of the 10-lap race, van der Drift got away well but Choi was right on him, the pair two abreast in to Turn 1. van der Drift held this pole advantage, with Baird and Menzel close behind the battling duo. However, behind Menzel, in a repeat of Round 3, a coming together between Team Jebsen's Rodolfo Avila and Tung Ho-Pin of Budweiser Team Absolute Racing ended the Chinese driver's race early for a second time this weekend.
As the field thundered into the second lap, Baird was piling the pressure on to Choi, ploughing past the Korean and into second and immediately taking the chase to compatriot van der Drift. As Baird made his move though, Menzel, who is quickly finding his way in his debut sportscar season, took advantage to follow Baird through into third. Choi quickly reclaimed the place, the German wisely electing to err on the side of championship points.
As Baird hunted down the race leader, Choi focused on pulling a gap from Menzel, who led from 24-year-old Malaysian and reigning Class B champion Alif Hamdan, Zhang and Avila, who dived past the Chinese driver on Lap 7 to go fifth. Further down the order, Tjia had a thrilling lap-long battle with Team Jebsen's Yuey Tan, eventually getting by the Singapore driver to move into podium contention.
In a last lap thriller, Twigg ran wide and Tjia took his chance to grab second in Class B, storming away to the flag. As the intensity reached fever pitch, a challenge on Avila by Zheng put the Macau driver out of the race.
After a spectacular debut at the Korea International Circuit, the Porsche Carrera Cup Asia is back in action next month from June 5 to 7, when it returns to another driver favourite: the famous Fuji International Speedway in Japan. There, the Asian edition of hugely-success Carrera Cup will share the programme with the Japanese Cup, further strengthening the ties between Porsche motorsport across the region.
Porsche Carrera Cup Asia 2015
Round 4 Results
| | | | | | |
| --- | --- | --- | --- | --- | --- |
| Pos | No | Driver/Nationality | Class | Entrant/Nationality | Time |
| 1 | 68 | Chris VAN DER DRIFT (NZL) | | Kamlung Racing (HKG) | 23:26.995 |
| 2 | 12 | Craig BAIRD (NZL) | | Clearwater Racing (SIN) | +0.354 |
| 3 | 11 | *Myung Gil CHOI (KOR) | | Team Porsche Korea (KOR) | +0.801 |
| 4 | 99 | Nico MENZEL (GER) | | PICC Team StarChase (CHN) | +2.793 |
| 5 | 86 | *ZHANG Zhen Dong (CHN) | | Team Porsche Holding (CHN) | +12.692 |
| 6 | 88 | *Egidio PERFETTI (SIN) | B | Spark Motorsports (HKG) | +17.629 |
| 7 | 8 | Ro Charlz SKYANGEL (SIN) | | Team Yonda (CHN) | +24.543 |
| 8 | 72 | Alif HAMDAN (MAS) | | Alif Hamdan Motorsport (MAS) | +25.120 |
| 9 | 55 | BAO Jin Long (CHN) | | Zheng Tong Auto (CHN) | +26.054 |
| 10 | 21 | Francis TJIA (HKG) | B | OpenRoad Racing (HKG) | +42.475 |
| 11 | 98 | *Max TWIGG (AUS) | B | Max Twigg (AUS) | +44.234 |
| 12 | 5 | Yuey TAN (SIN) | B | Team Jebsen (HKG) | +45.470 |
| 13 | 9 | LI Chao (CHN) | B | Team Betterlife (CHN) | +53.413 |
| 14 | 16 | Wayne SHEN (HKG) | B | Modena Motorsports (HKG) | +53.642 |
| 15 | 51 | Johnson HUANG (TPE) | B | Team BC Racing (TPE) | +54.759 |
| 16 | 78 | Suttiluck BUNCHAROEN (THA) | B | True Visions Motorsports Thailand (THA) | +1:01.322 |
| 17 | 65 | ZHU Jun Han (CHN) | B | Absolute Racing (HKG) | +1:04.970 |
| 18 | 28 | John SHEN (HKG) | B | Modena Motorsports (HKG) | +1:22.812 |
| 19 | 17 | FUNG Yui Sum (HKG) | B | Arrows Racing (HKG) | +1:23.309 |
| 20 | 23 | Paul TRESIDDER (AUS) | B | Paul Tresidder (AUS) | +1:28.124 |
| 21 | 22 | SIU Yuk Lung (HKG) | B | LKM Racing (HKG) | +1:37.132 |
| 22 | 69 | *Gary CHEUNG | B | OpenRoad Racing (HKG) | +1:37.768 |
| 23 | 2 | Kenneth LAU (HKG) | B | Prince Racing Hong Kong (HKG) | +1:41.185 |
| 24 | 80 | Sontaya KUNPLOME (THA) | B | Racing Spirit Thailand (THA) | +2:02.555 |
| – | 20 | Rodolfo AVILA (MAC) | | Team Jebsen (HKG) | DNF |
| – | 18 | Vutthikorn INTHRAPHUVASAK (THA) | B | 100 PLUS Racing Team (THA) | DNF |
| – | 58 | TUNG Ho-Pin (CHN) | | Budweiser Team Absolute Racing (HKG) | DNF |
| – | 3 | Michael S. (INA) | B | OpenRoad Racing (HKG) | DNF |
*Non series registered
Fastest lap: Craig Baird/Clearwater Racing/2:12.493
Overall Points after Round 4 (top 5)
| | | | | |
| --- | --- | --- | --- | --- |
| Pos | Comp No | Driver | Entrant | Points |
| 1 | 12 | Craig Baird | Clearwater Racing | 70 |
| 2 | 68 | Chris van der Drift | Kamlung Racing | 59 |
| 3 | 8 | Ro Charlz Skyangel | Team Yonda Dongfang | 41 |
| 4 | 99 | Nico Menzel | PICC Team StarChase | 38 |
| 5 | 20 | Rodolfo Avila | Team Jebsen | 37  |
Class B Points after Round 4 (top 5)
| | | | | |
| --- | --- | --- | --- | --- |
| Pos | Comp No | Driver | Entrant | Points |
| 1 | 16 | Wayne Shen | Modena Motorsports | 58 |
| 2 | 5 | Yuey Tan | Team Jebsen | 57 |
| 3 | 98 | Max Twigg | Max Twigg | 52 |
| 4 | 21 | Francis Tjia | OpenRoad Racing | 44 |
| 5 | 51 | Johnson Huang | Team BC Racing | 42 |