BMW Group Malaysia and Pan Asia Logistics today held the ground breaking ceremony for the new BMW Group Parts Distribution Centre Malaysia at the Airport Free Industrial Zone at the Senai International Airport in Johor Bahru, Malaysia.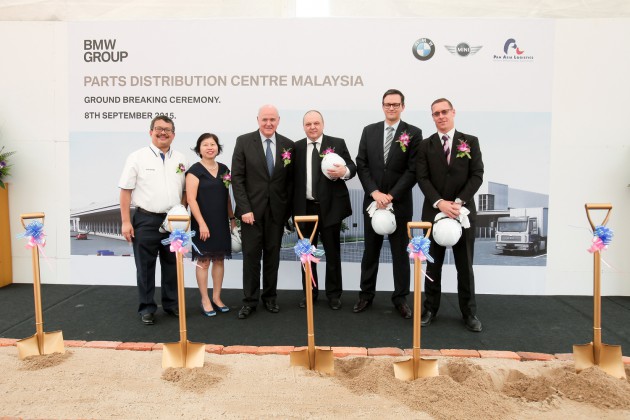 Located on a plot of land of 25 acres in the Free Industrial Zone of the Senai International Airport, the new BMW Group Parts Distribution Centre Malaysia will be a new state of the art logistics warehouse and parts distribution centre for the premium automaker, supporting over 22 countries in the region. The new facility will also replace the current Parts Distribution Centre facility in Malaysia for the BMW Group which is located within the Free Trade Zone of the Port of Tanjung Pelepas, Johor Bahru.
The lease agreement, for the new BMW Group Parts Distribution Centre Malaysia which provides up to 761,000 square feet of logistics property space is planned in two phases.
Speaking at the ground breaking ceremony, PAL Group's Executive Chairman Mr. Christian Bischoff commented, "The construction of the New Parts Distribution Centre for the BMW Group in Senai will mark a major milestone in our relationship with BMW. We look very much forward to a successful project, a fruitful cooperation and to further strengthen our ties with this important customer. This long-term lease with BMW is an example of our commitment to serving the needs of our MNCs clients and helping them create supply-chain solutions as their businesses evolve in Asia."
Mr. Alan Harris, Managing Director & CEO, BMW Group Malaysia, meanwhile, said, "Malaysia continues to be a strategic hub and a key growth market for the BMW Group in the South East Asia region. This is clearly demonstrated with the expansion of our headquarters, Regional Training Centre and Group Date Centre in Cyberjaya, our local assembly facilities at the BMW Group Assembly Plant in Kulim, Kedah as well as our established network of dealerships across the country."
Harris added that the leading premium automaker has also consistently strengthened its investments in the country, providing skilled and professional work opportunities for Malaysians throughout the country as well as offering significant transfer of advanced technologies and processes to the local automotive industry.
Dato' Sri Che Khalib Mohamad Noh, Group Managing Director of MMC Corporation Berhad cited "We are very pleased to welcome Pan Asia Logistics as the logistics and supply chain solution provider for BMW regional distribution centre in Senai Airport Free industrial Zone. Their presence would further strengthen the business activities in Free Industrial Zone which is currently earmarked for manufacturing and logistics activities. Potentially, the planned activities & investment will also promote air cargo movement from Senai Airport and contribute significantly towards the industrial and economic growth of the Iskandar Malaysia region". Senai Airport Terminal Services Sdn Bhd is one of MMC Corporation Berhad's core businesses under its Ports and Logistics pillar.