BMW Group Malaysia hosts its largest pre-owned vehicle sales event with exclusive events across key locations in Malaysia.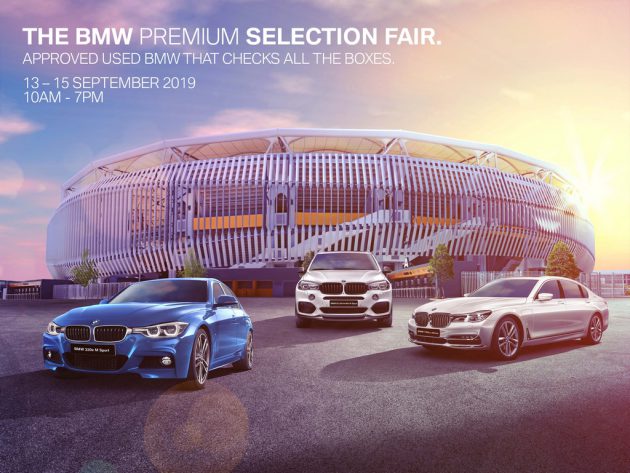 The three-day event by BMW Group Malaysia will take place on the 13th to 15th of September at the Bukit Jalil Stadium, where the first 300 visitors will receive a one-year BMW or MINI Comprehensive Insurance upon vehicle purchase. They will also receive a complimentary BMW Advanced Car Eye – a highly sensitive full-HD camera that captures events around the car day and night. Visitors will stand a chance to win exclusive BMW and MINI lifestyle merchandises via lucky draw with any BMW Premium Selection vehicle purchase.
Additionally, selected BMW dealerships will hold events across major locations nationwide including CityOne Megamall by Regas Premium Auto Kuching; Carpark beside One Stop Premium Outlet, Kolombong by Regas Premium Sabah and C-Mart, Alor Setar by Lee Motors. Wearnes Autohaus, on the other hand, will hold it in-house.
Managing Director of BMW Group Malaysia, Harald Hoelzl said, "We are committed to providing only the best in premium ownership experience and service for our loyal customers. With the 2019 BMW Premium Selection Fair, we are paving the way towards inclusivity and accessibility to Sheer Driving Pleasure for all drivers nationwide. We look forward to seeing the BMW family grow as we continue to deliver best-in-class service to our customers in the years to come."
The 2019 BMW Premium Selection Fair will feature the BMW X5, BMW 3 Series and BMW 7 Series along with models from the MINI and BMW Motorrad portfolios. Test drives for all models displayed will be available throughout, providing confidence that all BMW Premium Selection models are in their best condition.
Interested participants can now preview over 500 units of pre-owned BMW and MINI vehicles on the BMW Premium Selection official website before test driving the models at the fair. The website is an established platform that conveniently facilitates buy-and-sell activities for new and current BMW and MINI owners. Visit the official website for more information on exclusive benefits offered to BMW Premium Selection customers.
Details of the BMW Premium Selection Fair:
Date: 13 – 15 September 2019
Time: 10:00AM – 7:00PM
Venue: Carpark B, Bukit Jalil Stadium