BMW Group Malaysia successfully delivered 11,567 units of BMW, MINI and BMW Motorrad vehicles in 2019, underlined by the introduction of 32 new model variants across the BMW, MINI and BMW Motorrad brands – four of which were electrified vehicles.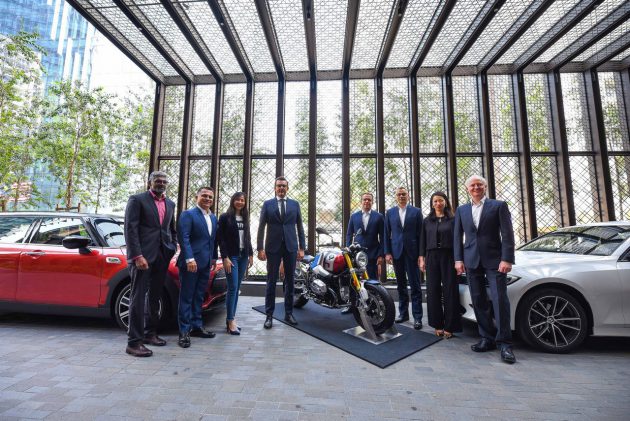 The premium automaker continues to reinforce its position as the leading e-mobility provider in Malaysia, having delivered a total of 3,148 electrified BMW and MINI vehicles in 2019. This contributes to a total of over 17,000 electrified vehicles delivered by BMW Group Malaysia since 2015. The success not only reinforces the steady uptake of electromobility in the country, but also reflects a promise fulfilled on a global scale. A total of 145,815 electrified BMW and MINI vehicles were delivered worldwide in 2019, contributing to half a million electrified vehicles delivered to date.
Harald Hoelzl, Managing Director of BMW Group Malaysia said, "Against the backdrop of a challenging year for the automotive sector, we are proud to have achieved such success within the electrified segment in Malaysia and across the globe – which reaffirms our optimism for the year ahead. We are committed to continue leading the charge for electromobility in Malaysia, especially in light of the upcoming National Automotive Policy announcement that will see electrified vehicles play a prominent role in propelling our automotive sector to greater heights."
2019 also marked the third consecutive year BMW Group Malaysia expanded the infrastructure for electromobility in the country, having introduced 18 new BMW i Charging Facilities across Malaysia. In merely three years, the premium automaker has unveiled over 30 BMW i Charging Facilities.
The BMW brand saw 9,300 new owners in Malaysia last year. This was led by a delivery of 2,514 units of the BMW 3 Series, of which over 1,000 were the BMW 330e M Sport. Another key contributor to BMW's total deliveries in 2019 was the BMW 5 Series which saw over 2,000 new owners.
The BMW X Family presented remarkable deliveries throughout 2019, charting a total delivery of 3,985 units. The BMW X3 was the highest contributing model with a delivery of 1,354 units, followed closely by the BMW X1 with 1,331 deliveries in 2019. The electrified BMW X5 xDrive40e also contributed to 24% (975) of total deliveries in the BMW X Family, making it the third bestselling BMW X model in 2019.
MINI delivered 1,142 vehicles last year, with the MINI Countryman contributing to more than half of the total deliveries (685 units). Meanwhile, BMW Motorrad delivered 1,125 motorcycles to new owners. The key contributor to the growth remains the Adventure segment with over 600 new owners in 2019.
Globally, the BMW Group reported its ninth consecutive record year in 2019, with a total of 2,520,307 vehicles delivered. The BMW brand reported a new all-time high last year, with a total of 2,168,516 delivered worldwide. Worldwide MINI brand deliveries totalled 346,639 units last year, while BMW Motorrad delivered 175,162 motorcycles to new owners.
Moving into 2020, BMW Group Malaysia will continue driving the Story of Visionary Mobility forward; with a clear and continued commitment to drive initiatives for innovation, local assembly capabilties, and awareness on new and clean technology for the automotive industry as well as developing the infrastructure for premium vehicles in the country. The premium automaker will also introduce Malaysia to a new league of sporting excellence through the Story of Thrilling Sportiness to boldly challenge the status quo on every terrain, while the Story of Independent Style will be the key driver in the pursuit of individuality for the BMW brand, redefining luxury through inspirational aesthetics and pioneering innovations that will set a new benchmark in the luxury segment.
With a range of flexible financing plans, BMW Group Financial Services Malaysia has also achieved a strong business portfolio, having financed half of BMW and MINI vehicles delivered last year. The BMW Group Financial Services also introduced the Easy Drive financing solution to make mobility easy, flexible and affordable for everyone.
"This year begins a new chapter for us and the nation in the Story of Visionary Mobility. 2020 is building up to be an exciting year of change in the automotive sector and we are thrilled to be a part of it. On behalf of BMW Group Malaysia, I would like to thank and extend our appreciation to all our customers, employees and dealer representatives in our network for our achievement, especially in challenging times. It clearly demonstrates the strength and resilience as One Team!" said Hoelzl.