Eurasia Motorsport's Tanart Sathienthirakul (20) put in a sensational performance at Malaysia's Sepang International Circuit today to claim pole position for Races 13 and 15 of the Formula Masters China Series (FMCS). With just six FMCS races under his belt the Thai driver proved dominant, beating off a fierce challenge from local hero, Cebu Pacific Air by KCMG's Akash Nandy (16), and was the only driver to lap the 5.543km circuit in less than two minutes seven seconds.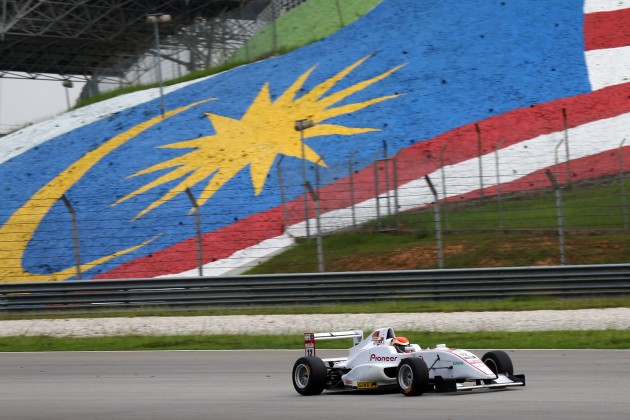 The two 15-minute sessions were lively, with Sathienthirakul and Nandy swapping provisional pole positions, along with Meritus GP's Afiq Yazid (22) who also topped the time sheets at one stage.
At the end of the first session, which determines the starting order for Race 13, Sathienthirakul had secured pole position but emphasized his form by setting an even quicker time on his final lap of the track, going almost half a second quicker than rival Nandy. Lining up on the second row of the grid will be Yazid with Eurasia Motorsport's Matthew Solomon (17) of Hong Kong alongside. Japan's Ren Nagabuchi (19) of Super License qualified fifth fastest in the first session ahead of 2013 Drivers Classification leader Aidan Wright (18) of Meritus GP.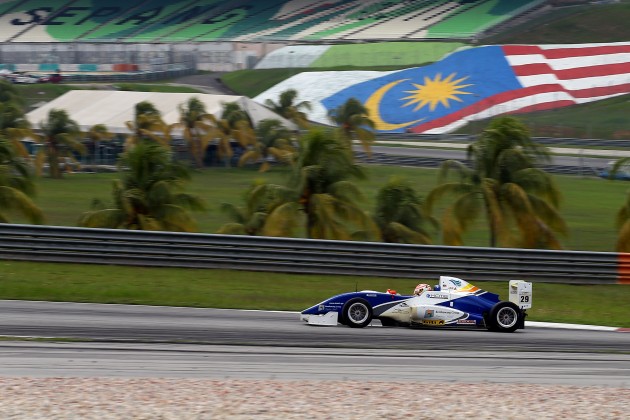 At the start of the second session, Nandy made it clear that pole was his, shooting straight to the top of the time sheets.  However, mid-way through the session Sathienthirakul put in a scorching lap to seize provisional pole, but Nandy immediately responded by shaving seven tenths of a second off his time to reclaim the top spot.
With the clock ticking down to the chequered flag, the Thai driver dug deep coming back with an incredible lap of 2:06.801, once again almost half a second faster than the disappointed Nandy and stamping his authority on a circuit which hosts Malaysia's annual Formula 1 Grand Prix.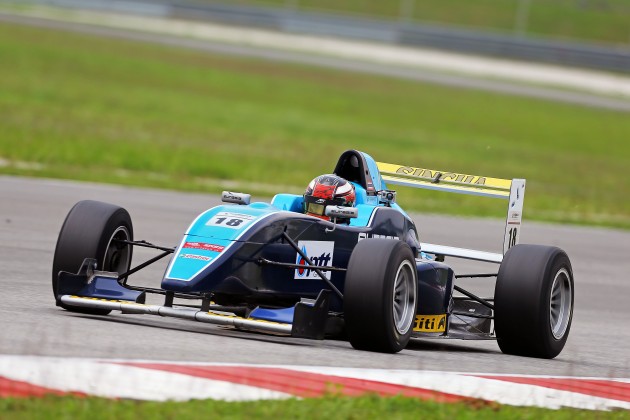 Solomon was third fastest in the second session with Yazid in fourth. Nagabuchi and Wright once again make up the third row of the grid. Fastest amongst the Chinese drivers in both sessions was Yin Hai Tao of Super License, currently fourth in the Chinese Driver Classification. Results remain provisional pending an investigation.
Races 13 and 14 of the Formula Masters China Series will be held on Saturday, September 14, with Race 15 on Sunday.  With the form book well and truly turned on its head, Wright will have to pull out all the stops to retain the lead in the championship, and the three upcoming races promise to be nothing short of thrilling.