Star Racing Academy drivers Jeffrey Ye and Sean Zheng made a strong debut on the Kuala Lumpur Street Circuit as they competed with Formula Masters China Series (FMCS) as part of the inaugural KL City Grand Prix. With three races on the technical and bumpy 3.305-km track, 18-year old Ye and 17-year old Zheng faced a steep learning curve on what was the toughest weekend of their young careers, but made positive strides throughout, with Ye earning the honours as the weekend's Best Chinese Driver.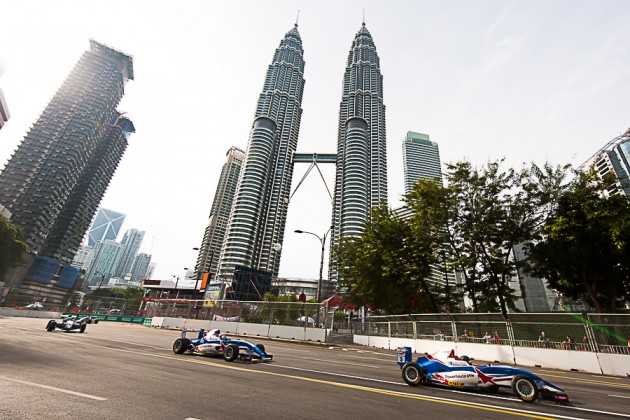 Having scored personal bests last month in Chinese Taipei, both first-year Academy drivers arrived in Kuala Lumpur with their team, Cebu Pacific Air by KCMG, ready to tackle the unique challenges of a street circuit. With their dedicated team of SRA coaches ready to guide them every step of the way, both drivers were confident they could achieve strong results.
With just limited time to learn the track in free practice, the drivers were forced to call upon all the skills they have learned in the Academy and apply them in Saturday's two qualifying sessions. In the first of two sessions, which determined the order for Race 10, Zheng's fastest time meant he would start from the fourth row, while Ye was just shy of setting a time within the top 10. While both drivers were looking to improve on their efforts for the second 15-minute session, incidents prevented them from setting a lap time, meaning that they would have the additional challenge of starting from the back of the grid for Sunday's Race 12.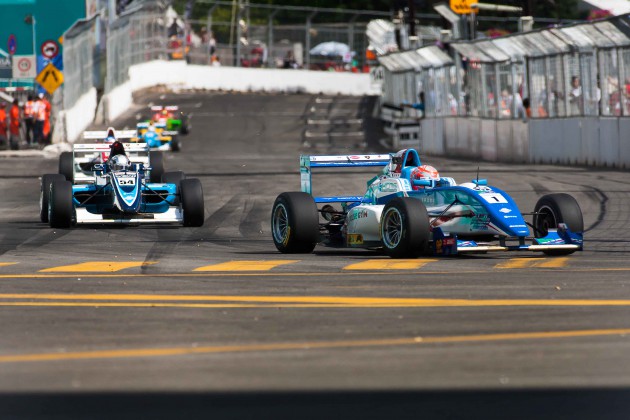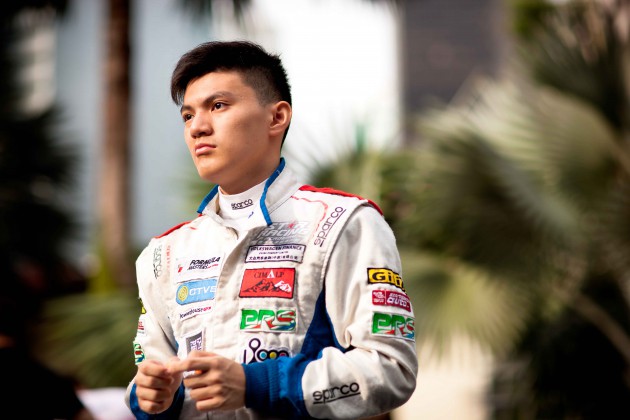 Not ones to shy away from adversity, Ye and Zheng put the session behind them and turned their full efforts towards Race 10. Zheng finished an impressive sixth, matching his best effort to-date, while Ye was locked in a battle for seventh. Fighting for position for much of the 15-lap race, Ye attempted to overtake his rival, but was unable to make the move stick.
With a strong start to the weekend, Ye and Zheng poured over the data with SRA driver coach James Winslow and SRA engineer Eric Gao of Top Speed. With the fastest lap times for Race 10 setting the grid for the shorter 10-lap Race 11, Zheng and Ye would have their work cut out from them as they started alongside one another on the fifth row. Zheng had a steady race and was able to move up one position in order to secure a top-eight finish, while Ye fell back one spot but drove a clean and steady race.
With both Ye and Zheng starting from the back of the field, both drivers were determined to make their way through the field for the final 15-lap race of the weekend. Both drivers got away cleanly at the start of Race 12 and Ye continued his aim of gaining more experience on a street circuit, while improving his pace and would ultimately gain five positions to finish just outside the top 10. While Zheng had also been gaining ground, the young driver spun on Lap 6 and the unforgiving nature of the street circuit meant that he was forced to retire early.
"The SRA drivers faced their biggest challenge of the season at this tough, demanding, exciting Kuala Lumpur Street Circuit and with both drivers being new to street tracks, they performed well," Winslow said. "Sean was quick, finishing sixth and eighth against good competition, although hitting the walls cost him in the final race of the weekend. It was unfortunate that Jeffery, in the process of avoiding other drivers' incidents, bent his suspension, but he had good speed and was inside the top ten when all was well. Both drivers had to push their comfort zones and limits this weekend and have learned a lot more for it."
Ye's results this past weekend earned him the honours of the round's best Chinese driver and he continues to lead the race for the Best Chinese Driver Trophy.
"I did well in the first race, but not as well in the second and third races," Ye said. "This being the first time I've raced on a street circuit in a formula car, I knew there would be some challenges but I'm a better driver for having had this experience and I learned a lot this weekend. I did have some difficulties, but I'll study the data and try to improve for Zhuhai."
While Zheng's weekend did not go according to plan, he was determined to learn from the experience.
"I'm not happy with my results," Zheng said. "I didn't do great in qualifying and while I managed to get a good result in the first race, that one result isn't good enough for me. I need to go back and work with my coaches to see what I can do to improve."
Dominic Lyncker, Head of Group Sports Car, Motorsport and Car Culture, Volkswagen Group (China), said that part of the Academy's aim was to introduce SRA drivers to a variety of different experiences to help accelerate their learning curve.
"A street circuit presents its own unique sets of challenges and providing this exciting opportunity for our drivers is exactly what Star Racing Academy was designed for," Lyncker said. "At the new Kuala Lumpur Street Circuit, the drivers were forced to take everything they've learned over the past few months and work with the Academy's dedicated team and coaches to apply this knowledge to a street circuit environment. With zero room for error and little time to learn the circuit, the drivers were forced to rise to the challenge."
With just six races remaining in the 2015 season, both Ye and Zheng are now focused on preparing for the final two race weekends of the season, with Races 13-15 set for September 18-20 at the Zhuhai International Circuit.