Cebu Pacific Air by KCMG driver Martin Rump (19) extended his win streak to four as the Estonian conquered the new Kuala Lumpur Street Circuit to win Race 10 of the Formula Masters China Series (FMCS) at the inaugural KL City Grand Prix.
Racing in his maiden street race, the FMCS Drivers Classification leader led from pole position to take a lights-to-flag victory and his fourth win in a row. Finishing second in his FMCS debut was Absolute Racing driver Alessio Picariello (21) of Belgium, who piled the pressure on Australian Jake Parsons (20) of Meritus.GP, who had been running second until he hit the wall in the closing stages of the race, sending out the Safety Car and ending his race in dramatic fashion. Third on the podium was Rump's team mate, Australian Nicholas Rowe (17).
Malaysian Daniel Woodroof (19) of Meritus.GP finished fifth with the home crowd cheering wildly in support, behind Japan's Shota Kiyohara (22) of Super License, who scored his best finish to-date. Star Racing Academy driver Sean Zheng (17) of Cebu Pacific Air by KCMG was the best Chinese driver, finishing sixth overall.
With the victory, Rump has extended his lead over Parsons in the championship to 42 points. Rowe is now third in the championship, with fellow Australian Aidan Read (16) of Eurasia Motorsport fourth and Woodroof rounding out the top five. Star Racing Academy driver Jeffrey Ye (18) continues to lead the classification for the Best Chinese Driver Trophy.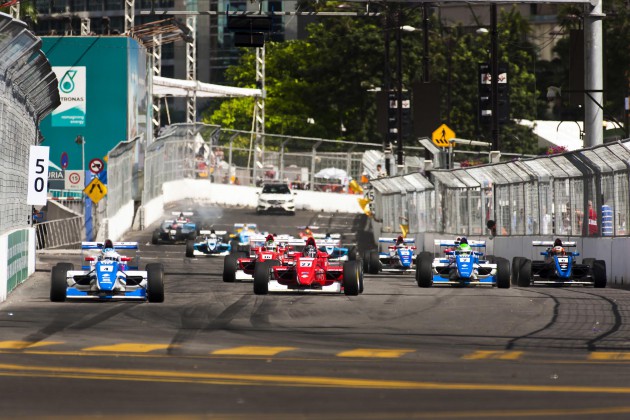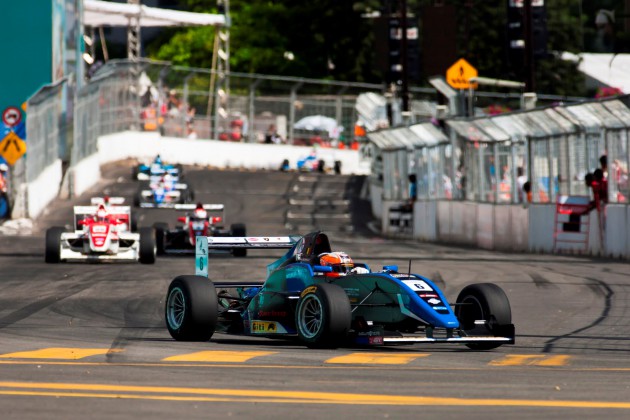 Rump took pole position in each of today's qualifying sessions, with the first session determining the grid for Race 10 and the second session establishing the grid for tomorrow's Race 12. Parsons' Race 10 qualifying time was just one-hundredth of a second off of Rump's, setting the stage for the 15-lap thriller.
At the start of the first-ever race on the Kuala Lumpur Street Circuit, Rump converted his pole advantage, getting away expertly at the start, with a determined Parsons, holding onto second as he followed in hot pursuit.
Rowe, who set the third-fastest time in the first qualifying session, followed in third with Picariello fourth. Despite this being Picariello's first race in two years, the Belgian clearly showed his determination, talent and speed, with an overtaking move on the second lap that caught Rowe by surprise. Picariello moved into third and while Rowe fought to regain the position, he would be unable to do so.
Having made his way past Rowe, Picariello set his sights on Parsons, who was pushing to close the gap to Rump, who had taken control of the race. By Lap 9, Rump had built a 3.3 second lead to Parsons, while Picariello was right behind the Australian.
There were plenty of exciting battles throughout the 17-strong field, including a battle between Ye and Singapore's Sean Hudspeth (21) of Eurasia Motorsport. While Ye would attempt a move on his rival, he was unable to get past, with Hudspeth holding strong to finish seventh. Ye finished eighth.
By Lap 11, Rump had a lead of 4.5 seconds. Meanwhile, the battle for second intensified and a lap later, Parsons hit the wall and spun, putting an end to his race. A close-following Picariello made it through unscathed to move into second. As a result of Parsons' incident, the Safety Car was called out to close out the final three laps.
With the fastest lap times from Race 10 setting the grid for Race 11, Rump will again start from pole, with Picariello alongside him. Parsons will be looking for redemption – and critical championship points – and will start third, with Kiyohara fourth. Woodroof will start from the third row, with Rowe alongside him.
FMCS action resumes Sunday morning at the Kuala Lumpur Street Circuit with the 10-lap Race 11, followed by Race 12 scheduled for 15 laps in the afternoon.
Results – Race 10 
| | | | | |
| --- | --- | --- | --- | --- |
| Pos | No | Driver/Nationality | Entrant | Time |
| 1 | 4 | Martin RUMP/EST | Cebu Pacific Air by KCMG | 25:31.486 |
| 2 | 6 | Alessio PICARIELLO/BEL | Absolute Racing | +4.814 |
| 3 | 2 | Nicholas ROWE/AUS | Cebu Pacific Air by KCMG | +5.068 |
| 4 | 56 | Shota KIYOHARA/JPN | Super License | +5.386 |
| 5 | 16 | Daniel WOODROOF/MAL | Meritus.GP | +5.986 |
| 6 | 3 | Sean ZHENG/CHN | Cebu Pacific Air by KCMG | +8.146 |
| 7 | 54 | Sean HUDSPETH/SIN | Eurasia Motorsport | +10.006 |
| 8 | 1 | Jeffrey YE/CHN | Cebu Pacific Air by KCMG | +10.392 |
| 9 | 7 | KIM Jeong Tae/KOR | Eurasia Motorsport | +12.522 |
| 10 | 55 | Takashi HATA/JPN | Super License | +15.195 |
| 11 | 94 | William LOK/HKG | Eurasia Motorsport | 1 Lap |
| 12 | 17 | HONG Shi Jie/CHN | Super License | 1 Lap |
| 13 | 24 | Aidan READ/AUS | Eurasia Motorsport | 1 Lap |
| DNF | 27 | Jake PARSONS/AUS | Meritus.GP | – |
| DNF | 5 | Dennis OLSEN/NOR | Absolute Racing | – |
| DNF | 8 | YUAN Bo/CHN | Cebu Pacific Air by KCMG | – |
| DNF | 49 | Matthew SWANEPOEL/RSA | Arrows Racing | – |
Fastest Lap: Martin Rump/ Cebu Pacific Air by KCMG/ 1:27.050/ 136.680
Qualifying – Race 10 
| | | | | |
| --- | --- | --- | --- | --- |
| Pos | No | Driver/Nationality | Entrant | Time |
| 1 | 4 | Martin RUMP/EST | Cebu Pacific Air by KCMG | 1:27.853 |
| 2 | 27 | Jake PARSONS/AUS | Meritus.GP | +0.010 |
| 3 | 2 | Nicholas ROWE/AUS | Cebu Pacific Air by KCMG | +0.336 |
| 4 | 6 | Alessio PICARIELLO/BEL | Absolute Racing | +0.747 |
| 5 | 16 | Daniel WOODROOF/MAL | Meritus.GP | +0.835 |
| 6 | 56 | Shota KIYOHARA/JPN | Super License | +0.941 |
| 7 | 5 | Dennis OLSEN/NOR | Absolute Racing | +1.262 |
| 8 | 3 | Sean ZHENG/CHN | Cebu Pacific Air by KCMG | +1.976 |
| 9 | 49 | Matthew SWANEPOEL/RSA | Arrows Racing | +2.371 |
| 10 | 8 | YUAN Bo/ CHN | Cebu Pacific Air by KCMG | +2.552 |
| 11 | 24 | Aidan READ/AUS | Eurasia Motorsport | +3.382 |
| 12 | 1 | Jeffrey YE/CHN | Cebu Pacific Air by KCMG | +3.589 |
| 13 | 54 | Sean HUDSPETH/SIN | Eurasia Motorsport | +3.927 |
| 14 | 7 | KIM Jeong Tae/KOR | Eurasia Motorsport | +4.375 |
| 15 | 55 | Takashi HATA/JPN | Super License | +5.125 |
| 16 | 94 | William LOK/HKG | Eurasia Motorsport | +9.100 |
| 17 | 17 | HONG Shi Jie/CHN | Super License | +10.862 |
Qualifying – Race 12 
| | | | | |
| --- | --- | --- | --- | --- |
| Pos | No | Driver/Nationality | Entrant | Time |
| 1 | 4 | Martin RUMP/EST | Cebu Pacific Air by KCMG | 1:26.687 |
| 2 | 5 | Dennis OLSEN/NOR | Absolute Racing | +0.886 |
| 3 | 27 | Jake PARSONS/AUS | Meritus.GP | +1.243 |
| 4 | 6 | Alessio PICARIELLO/BEL | Absolute Racing | +1.255 |
| 5 | 56 | Shota KIYOHARA/JPN | Super License | +1.427 |
| 6 | 2 | Nicholas ROWE/AUS | Cebu Pacific Air by KCMG | +1.700 |
| 7 | 8 | YUAN Bo/ CHN | Cebu Pacific Air by KCMG | +2.252 |
| 8 | 54 | Sean HUDSPETH/SIN | Eurasia Motorsport | +2.393 |
| 9 | 49 | Matthew SWANEPOEL/RSA | Arrows Racing | +2.493 |
| 10 | 24 | Aidan READ/AUS | Eurasia Motorsport | +3.273 |
| 11 | 7 | KIM Jeong Tae/KOR | Eurasia Motorsport | +3.994 |
| 12 | 55 | Takashi HATA/JPN | Super License | +6.713 |
| 13 | 94 | William LOK/HKG | Eurasia Motorsport | +8.539 |
| 14 | 17 | HONG Shi Jie/CHN | Super License | +9.616 |
| 15 | 3 | Sean ZHENG/CHN | Cebu Pacific Air by KCMG | – |
| 16 | 1 | Jeffrey YE/CHN | Cebu Pacific Air by KCMG | – |
| 17 | 16 | Daniel WOODROOF/MAL | Meritus.GP | – |
Formula Masters China Series Points Classification after Race 10:
2015 Drivers Classification (Top 5)
| | | | | |
| --- | --- | --- | --- | --- |
| Pos | No | Name/ Nat. | Entrant | Points |
| 1 | 4 | Martin RUMP (EST) | Cebu Pacific Air by KCMG | 157 |
| 2 | 27 | Jake PARSONS (AUS) | Meritus.GP | 115 |
| 3 | 2 | Nicholas ROWE/AUS | Cebu Pacific Air by KCMG | 86 |
| 4 | 24 | Aidan READ (AUS) | Eurasia Motorsport | 70 |
| 5 | 16 | Daniel WOODROOF (MAL) | Meritus.GP | 58 |
2015 Best Chinese Driver Trophy
| | | | | |
| --- | --- | --- | --- | --- |
| Pos | No | Name/ Nat. | Entrant | Points |
| 1 | 1 | Jeffrey YE | Cebu Pacific Air by KCMG | 122 |
| 2 | 8 | YUAN Bo | Cebu Pacific Air by KCMG | 92 |
| 3 | 3 | Sean ZHENG | Cebu Pacific Air by KCMG | 90 |
| 4 | 11 | HUA Miao | Eurasia Motorsport | 72 |
| 5 | 17 | Stephen HONG Shijie | Super License | 64 |
2015 Team Classification
| | | |
| --- | --- | --- |
| Pos | Entrant | Points |
| 1 | Cebu Pacific Air by KCMG | 236 |
| 2 | Meritus.GP | 188 |
| 3 | Eurasia Motorsport | 103 |
| 4 | Arrows Racing | 47 |
| 5 | Super License | 37 |
| 6 | Absolute Racing | 31 |
Formula Masters China Series 2015 Provisional Calendar 
| | | |
| --- | --- | --- |
| Date | Races | Venue |
| 24-26 April | 1-3 | Sepang International Circuit, Malaysia |
| 5-7 June | 4-6 | Shanghai International Circuit, China |
| 3-5 July | 7-9 | Penbay International Circuit, Chinese Taipei |
| 7-9 August | 10-12 | Kuala Lumpur Street Circuit, Malaysia |
| 18-20 September | 13-15 | Zhuhai International Circuit, China |
| 17-19 October | 16-18 | Shanghai International Circuit, China |