Starting from 6 to 22 September, public are urged to look-out for 'VIOS SPOT & SNAP CRUISERS' which will show-up at hotspots throughout Kuala Lumpur, Penang and Johor Bharu.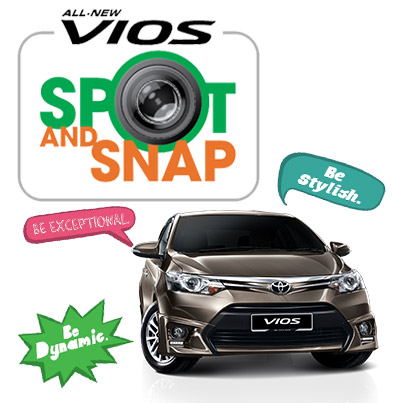 To add in the fun, brand ambassadors will get the public to get up close and personal with the All-New Toyota Vios. Public can snap a photo with the All-New Vios and upload to Facebook. Free gifts will be handed out to participants who post a picture on their Facebook timeline.
Be sure to check for the date, time and location nearest you for a chance to meet the All-New Toyota Vios in person during our 'VIOS SPOT & SNAP CRUISERS' activity this September on the Toyota Malaysia Facebook page (www.facebook.com/ToyotaMalaysia)! The 'VIOS SPOT & SNAP CRUISERS' showcases the All-New Toyota Vios' totally new exterior design, new advanced automotive technologies and upgraded safety and functionality features.
The intelligent packaging includes a fresh flowing-dynamic exterior design with a lighter body further improving its class top fuel economy. The all-new interior includes high quality materials, a more spacious cabin with improved leg room and larger trunk capacity. Upgraded suspension and steering systems provide for greater comfort and handling stability. Combined, these improvements produce a "class-above" quality driving experience. The All-New Vios, enhanced specifications and upgraded features offer customers greater value, inspiring buyers' satisfaction and provide "Value Beyond Belief".
The locations and dates of the roadshows are as follows:-
| | |
| --- | --- |
| Klang Valley | Friday, 6th Sep – Sunday, 8th Sep |
| Penang | Friday, 13th Sep – Sunday, 15th Sep |
| Johor Bahru | Friday, 20th Sep – Sunday, 22nd Sep) |