Nissan Motor Co. announced a 50 billion Yuan ($7.7 billion) expansion plan for China from 2011 to 2015. It expects to increase sales to 2.3 million vehicles by 2015 from 1.28 million last year. This is also part of a global strategy to focus on faster-growing emerging markets and reduce reliance on the United States.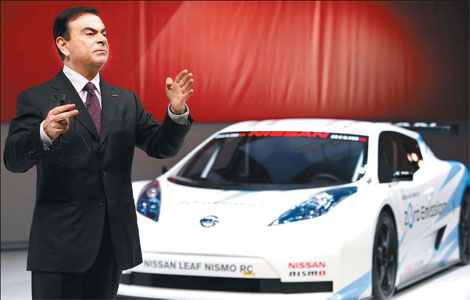 Nissan did a 50-50 joint venture with its local partner, Dongfeng Group. The company plans to introduce 30 new models by 2015. They include a China-produced electric car to be sold under the low-priced Venucia brand that Nissan Motor Co. is creating for the Chinese market. "China is key to our total growth," said Nissan Chief Executive Officer Carlos Ghosn at a news conference.
Global automakers are looking to China, the biggest auto market by number of vehicles sold, to drive revenue amid weak demand elsewhere. Auto sales in China jumped 32% last year to 18 million vehicles, defying global economic malaise.
Nissan hopes to nearly double its annual sales in China to 2.3 million vehicles by 2015, up from 1.3 million last year, Ghosn said.
The first Venucia model will go on sale at the beginning of 2012. The joint venture said sales of the new model are expected to hit 300,000 a year in 2015.
Kimiyasu Nakamura, president of the joint venture, will also offer Venucia electric cars with an annual production of 50,000 units by 2015. He added that the joint venture will also strengthen its research and development (R&D) capabilities by expanding its R&D staff to 6,000 in 2015 from 3,500 at present.
Try out Automotive.com new car buyer's tool to help you make the best decisions when purchasing a new vehicle.