Renault and Caterham Group announced their partnership to design develop and build sports cars. Accordingly, this agreement reflects a common passion and expertise in sports and motorsports vehicles.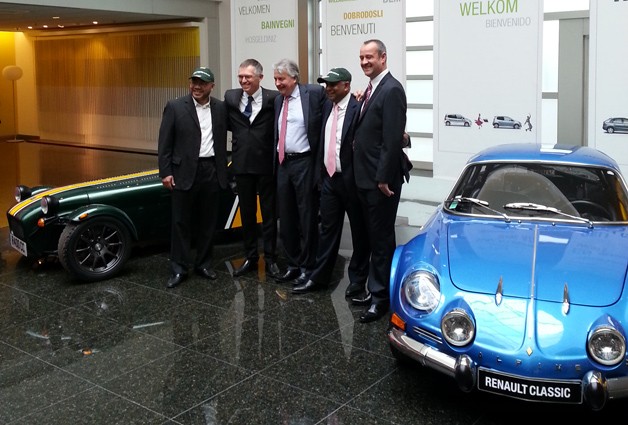 The future vehicles will be distinctive, differentiated, and carry the respective DNA of Alpine and Caterham Cars, the automotive division of Caterham Group. The cars will be built at the Alpine plant in Dieppe, Normandy, in France.
Carlos Ghosn, Chairman and CEO of Renault said, "This innovative partnership with Caterham embodies a longstanding ambition: the creation of a sports car with the Alpine DNA. It carries both opportunities for the Dieppe plant and the development of its historic know-how."
The Caterham Group will own 50% stake in the Automobiles Alpine Renault company, currently 100% held by Renault SAS. The Société des Automobiles Alpine Caterham, which will be resulting from this partnership, shall be created in January 2013. It will be managed by Bernard Ollivier
This project, which ensures the Dieppe Plant a sustainable future, was made possible thanks to the incentive and to the substantial support and commitment provided by the French State and the Région Haute Normandie which also involved the contribution of Dieppe Maritime.
Caterham Group Chairman, Tan Sri Tony Fernandes commented on this partnership, "I have not felt as excited about a new venture since I launched AirAsia in 2001 and I want to thank Carlos Ghosn and Carlos Tavares and everyone in our new Renault family for having the belief in Caterham Group to create this partnership. Many people doubted us 11 years ago when we launched our airline and I am sure that there will be doubters again this time, but we will not fail your trust. We know the markets we are going into and, particularly in my playground in Asia, there is a huge opportunity to replicate the AirAsia model and give consumers access to exciting, affordable products that marry our interests in F1 and technology and help make their dreams come true."