Sime Darby Auto Performance (SDAP) introduced the second-generation Panamera on 13th April 2017, a car that reconciles two contrasting characteristics more than ever before: the performance of a genuine sports car and the comfort of a luxury saloon.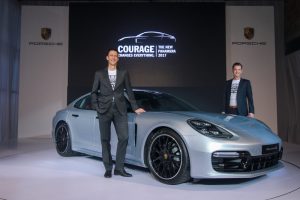 This second-generation Panamera is advancing to become a performance icon of the luxury class. In this transformation, Porsche has systematically improved the Panamera concept – with a four-door car that has been redeveloped, down to the last detail. Its engines and transmissions have been redesigned, its chassis perfected, and its display and control concept reinterpreted for the future. The new Panamera also merges the world of ambitious sports cars and the world of comfortable cruising saloons with highlights such as rear axle steering, active roll compensation and three-chamber air suspension.
"The Panamera has long since become a respected and sought-after member of the Porsche family," said Arnt Bayer, Chief Executive Officer of Sime Darby Auto Performance. "Now, it is time to take the next step with this new Panamera that is setting new benchmarks in both functionality and design."
The first generation of Porsche's luxury four-door sedan made its auspicious debut in 2009. Filling the need for a distinctly Porsche vehicle endowed with space, luxury, and everyday usability, the Panamera helped open the door for a wider appreciation of the brand and its sporty heritage.
Retail base price for the new Panamera and Panamera 4S starts from RM890,000.00 and RM1,100,00.00 respectively. All cars sold via SDAP come with a four-year warranty and free maintenance package which includes complimentary service, parts and labour. The stated price includes all applicable duties, except registration fee, road tax and insurance. Specifications and prices are subject to change without prior notice.