Sime Darby Auto Performance (SDAP), the authorised importer of Porsche vehicles in Malaysia, officially opened the new Porsche Centre Sungai Besi (PCSB) on 28th May 2015. Strategically located just minutes away from the central business district, the new Porsche Centre Sungai Besi at 306, Jalan Sungai Besi, is easily accessible through Lebuhraya Sungai Besi, North South Expressway, Smart Tunnel and other major highways.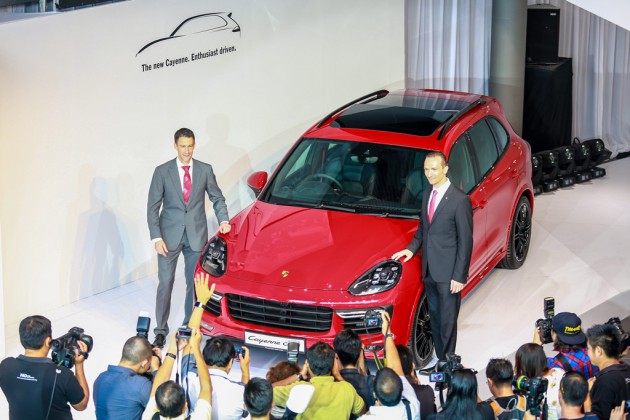 SDAP has invested over RM16 million in the construction of Porsche Centre Sungai Besi, resulting in a new Porsche Centre that reflects the worldwide ethos and quintessentially style of Porsche on a grand scale. With a total build-up of 34,703 sqft, the state-of-the-art Porsche Centre Sungai Besi is a prominent addition to the development of the Porsche brand in Malaysia and will deliver a total customer experience in new and improved ways.
Porsche Centre Sungai Besi wide showroom space is designed to showcase as many as 10 display cars in the showroom. The new Porsche Centre is complemented with two vehicle delivery bays, a service workshop with a total of nine service bays, and a spacious After Sales reception area that includes two dialogue bays, Porsche Tequipment accessories and a dedicated "shop-in-shop" for Porsche Driver's Selection merchandise. In the Porsche shop customers can purchase exclusive merchandise from clothing to accessories, toy products to car accessories, and even car care solutions.
[singlepic id=17105 w=620 h= float=]
An added feature to the new facility is the Carrera Lounge – a first for a Porsche Centre in Malaysia. The new concept of the Carrera lounge will provide luxurious comfort and modern conveniences to new and existing customers during their visit to Porsche Centre Sungai Besi.
In addition, the Porsche Approved Pre-Owned Car Centre, located on the first floor, offers a wide selection of Porsche Pre-Owned cars. All Pre-Owned cars sold by SDAP are equipped with a minimum two years Porsche Approved Pre-Owned Warranty. The Pre-Owned Car Centre also offers convenient and hassle-free trade-in programs for Porsche owners during their purchase of the next Porsche.
Bigger facilities, better customer service and world-class Porsche products: This is the promise that lies beyond the impressive façade of the new Porsche Centre Sungai Besi where the total customer experience just went up a whole new level.
Speaking at the opening ceremony, Arnt Bayer, Chief Executive Officer of Sime Darby Auto Performance said, "We are thrilled to be moving in-to the central automotive hub in Kuala Lumpur with the new flagship facility. With this new 3S centre, it is a big step forward for us to provide better service to our customers. Sungei Besi is also the first Porsche Centre in Malaysia that complies to the new Porsche corporate architecture. We look forward to providing customers a complete ownership experience."
In addition to the sales showroom and after sales facility, Porsche Centre Sungai Besi will also be home to training facilities catered to the technical team as well as to the sales force. This includes the rigorous preparation process of technicians and sales force staff Porsche Certified, a global certification program by Porsche AG.
"At SDAP, we ensure that your vehicles are taken care of by our team of highly skilled employees who are geared towards providing efficient support and customer satisfaction. With this new training facility, I am confident that we will be able to provide just that," continued Bayer.
To commemorate the opening of Porsche Centre Sungai Besi, SDAP introduced the highly anticipated new 911 Targa 4S and the new Cayenne models. With increased efficiency and improved performance, the new Cayenne models offer lower fuel consumption, yet delivers more power and higher torque than its predecessors. The 911 meanwhile calls upon legendary Targa styling and brings to life a modern classic.
[singlepic id=17100 w=620 h= float=]
Adding to the excitement of the event, guest and members of the media were invited to get up close to the plug-in hybrid sports car, Porsche 918 Spyder. The future of the supercar, the 918 Spyder achieved a record-breaking lap of 6:57 minutes around the Nürburgring Nordschleife.
Photo Gallery: Sime Darby Auto Performance Officially Opens Porsche Centre Sungai Besi
[nggallery id=702]