Malaysia's fuel price will be up by midnight (1st November 2016) with a 15 cents hike. These increase are first since October 2016.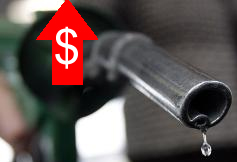 The RON95 & Diesel will be priced at RM1.95 per litre for the month of July 2016. It was priced at RM1.80 while we are writing this post. Soon we will break the RM2.00 per litre mark again.
The RON 97 fuel will cost RM2.30 per litre inclusive of the GST, up from RM2.15.
Diesel will be priced at RM1.90 per litre (from RM1.75).
The Malaysia government has been practising this managed float mechanism since December 2014.