Malaysia's fuel price has increased for (1st January 2017) onwards with a 20 cents hike for RON95 which brings the retail price to RM2.10 per litre. We predicted the petrol price will break RM2 back in November 2016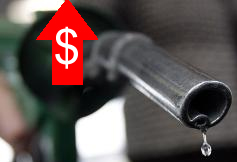 The RON 97 fuel will cost RM2.40 per litre inclusive of the GST, up from RM2.25.
Diesel will be priced at RM2.05 per litre (from RM1.85).
Yesterday, Finance Ministry Strategic Communications director Datuk Lokman Noor Adam reportedly quote that  the retail prices of RON95 and diesel would go up in Jan due to an increase in the price of crude oil in the world market, as well as being influenced by the ringgit's movement against US dollar.
The Malaysia government has been practising this managed float mechanism since December 2014.