The low petrol price days are slowly fading away. Malaysia's fuel price will be up by midnight (1st June 2015) with a 10 cents hike. The announcement are verify by the Domestic Trade, Cooperative and Consumerism Ministry. Later Minister Datuk Seri Hasan Malek confirmed the fuel price hike.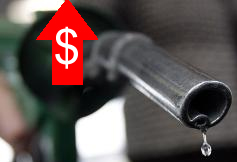 The RON95 & Diesel will be priced at RM2.05 per litre for the month of June 2015. It was priced at RM1.95 while we are writing this post.
The RON 97 fuel will cost RM2.35 per litre inclusive of the GST, up from RM2.25 last month (May 2015).
The Malaysia goverment has been practising this managed float mechanism since December last year. Be reminded, there are no longer subsidy for the normal consumer petrol prices in Malaysia.