PICC Team StarChase ace and the current Porsche Carrera Cup Asia points-leader Alexander Imperatori proved ice-cool in the searing heat of Malaysia's Sepang International Circuit today to take a commanding pole position for Round 7.  Imperatori clocked a time of 2:09.062 in his single flying lap of the session, more than six tenths of a second faster than closest challenger, Austrian Martin Ragginger of Team Eagle – Jiejun & Junbaojie.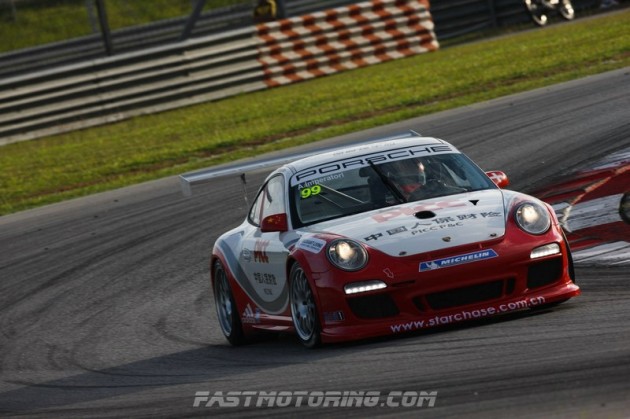 Making up the second row for the start of the first of Sunday's two, 11-lap races on the 5.54km circuit will be Imperatori's team mate, Budweiser Team StarChase driver Tung Ho-Pin and reigning Porsche Carrera Cup Asia champion, Keita Sawa of the LKM Racing Team.  Team Jebsen's Rodolfo Avila and TeamYongda Dongfang driver Benjamin Rouget will start from the third row.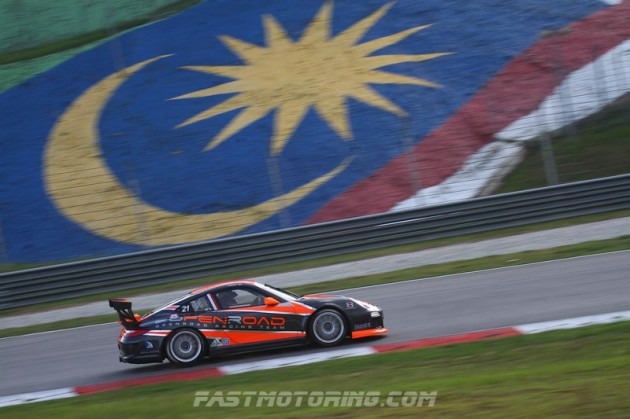 The battle for pole position in Class B was nothing short of frenzied, providing last-minute drama when OpenRoad Racing's Francis Tjia snatched pole position from a hard-charging Yuey Tan in the final 30 seconds of the half-hour session.  Both Tjia and Asia Racing Team's Huang Chu Han had taken provisional pole during the session, before relinquishing it to Tan. Tjia was not done though, and put together the perfect lap just in time. 
Class B points leader, Egidio Perfetti of Seminole Racing Team, had a strong second stint during the session to climb the timing sheets, clocking the fourth fastest lap in the class behind Huang.
Flying the flag for Malaysia this weekend are series regular, Nexus Racing's Adrian Henry D'Silva, 8th in Class B, and making his Porsche Carrera Cup Asia debut as a guest driver, Datuk Azman Yahya.
For Imperatori, who had a challenging weekend in Ordos last month where he saw his unbroken run of victories come to an end, it was a gratifying comeback: "It's the best case scenario for us.  I was looking forward to coming here, and it has all come together nicely.  We really managed to exploit our tyre grip today, and it's a fantastic rebound for us."
Team mate Tung, very much the consummate racing driver, was less than pleased to play second fiddle to Imperatori, but impressed on his sportscar debut on the Malaysian track:  "The driving style required in a Porsche is quite different from a single seater.  You still need to be aggressive, but in a different way.  I wasn't very happy with my first stint, but the second was slightly better."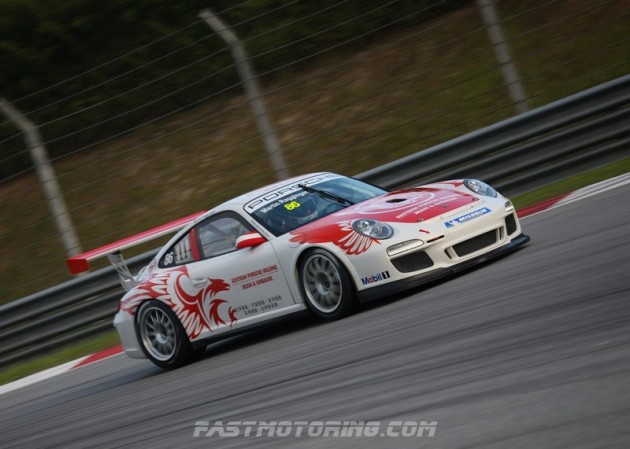 Ragginger, who topped both Thursday's free practice sessions, was left puzzling how his rival had found the extra six tenths.  "I was a bit surprised, and we need to find a better solution.  We'll be trying to fight in the race though!"
Class B pole sitter Francis Tjia, currently third in the category points chase, it has been a good weekend so far:  "I knew I had a quick car.  I had been making small mistakes on the first set of tyres, so I knew I could pull it all together."
Tan, who is gaining in confidence – and speed – with each outing, was disappointed at losing out on pole but quick to congratulate Tjia:  "Well done to Francis, but I'll be all over him in the race," he warned.  While many drivers found last month's meeting at Inner Mongolia's Ordos track a challenge, the Dorr McElrea Racing driver credits it with boosting his confidence:  "I think Ordos was one of the first times I've been able to get on the throttle earlier and have more car control."
With both the overall and Class B Porsche Carrera Cup Asia titles wide open, there is everything to race for as the 2012 season embarks on the charge to the finish, and Rounds 7 and 8 promise to be as intense as anything so far seen in the series' history.
Qualifying – Round 7
| | | | | | |
| --- | --- | --- | --- | --- | --- |
| Pos | No | Driver | Class | Entrant | Time |
| 1 | 99 | Alexandre IMPERATORI (SUI) | | PICC Team StarChase (CHN) | 2:09.062 |
| 2 | 86 | Martin RAGGINGER (AUT) | | Team Eagle – Jiejun & Junbaojie (CHN) | +0.620 |
| 3 | 98 | TUNG Ho Pin (CHN) | | Budweiser Team StarChase (CHN) | +1.281 |
| 4 | 1 | Keita SAWA (JPN) | | LKM Racing Team (HKG) | +1.394 |
| 5 | 20 | Rodolfo AVILA (MAC) | | Team Jebsen (HKG) | +1.815 |
| 6 | 8 | Benjamin ROUGET (FRA) | | Team Yongda Dongfang (CHN) | +2.361 |
| 7 | 9 | WANG Jian Wei (CHN) | | Team BetterLife (CHN) | +2.595 |
| 8 | 37 | Davide RIZZO (CHN) | | BBT (CHN) | +2.712 |
| 9 | 78 | ZHANG Da Sheng (CHN) | | Team Basetex (CHN) | +2.830 |
| 10 | 95 | *Kevin CHEN (USA) | | Asia Racing Team (CHN) | +3.316 |
| 11 | 21 | Francis TJIA (HKG) | B | OpenRoad Racing (HKG) | +3.374 |
| 12 | 5 | Yuey TAN (SIN) | B | Dorr McElrea Racing (SIN) | +3.494 |
| 13 | 81 | HUANG Chu Han (CHN) | B | Asia Racing Team (CHN) | +3.519 |
| 14 | 88 | Egidio PERFETTI (SUI) | B | Seminole Racing Team (USA) | +3.637 |
| 15 | 31 | *Eric LO (HKG) | | PS Racing (FIN) | +4.165 |
| 16 | 16 | Wayne SHEN (HKG) | B | Modena Motorsports (HKG) | +5.048 |
| 17 | 6 | ZHENG Ting (CHN) | B | BBT (CHN) | +5.145 |
| 18 | 27 | Adrian Henry D'SILVA (MAS) | B | Nexus Racing (MAS) | +5.413 |
| 19 | 96 | LI Chao (CHN) | B | Asia Racing Team (CHN) | +5.656 |
| 20 | 55 | *Marc CINI (AUS) | B | PS Racing (FIN) | +5.694 |
| 21 | 25 | Christian CHIA (CAN) | B | OpenRoad By ART Motorsports (HKG) | +5.749 |
| 22 | 23 | Paul TRESIDDER (AUS) | B | Hewlett Motorsport (AUS) | +5.774 |
| 23 | 66 | Rose TAN (CHN) | | Team C&D (CHN) | +6.594 |
| 24 | 3 | *Azman YAHYA (MAS) | B | Team Carrera Cup Asia (CHN) | +6.665 |
| 25 | 11 | Ringo CHONG (SIN) | | Team Kangshun (CHN) | +6.826 |
| 26 | 83 | Dr. MA Chi Min (HKG) | B | Dr. Ma Chi Min (HKG) | +6.885 |
| 27 | 28 | John SHEN (HKG) | B | Modena Motorsports (HKG) | +6.887 |
| – | 68 | MAK Hing Tak (HKG) | B | OMAK (HKG) | NC |
*Non series registered
Points after Round 7 Qualifying
Overall
Pos

Comp

No

Driver

Entrant

Points

1

99

Alexandre IMPERATORI

PICC Team StarChase

107

2

1

Keita SAWA

LKM Racing Team

85

3

86

Martin RAGGINGER

Team Eagle-Jiejun & Junbaojie

62

4

8

Benjamin ROUGET

Team Yongda Dongfang

60

98

TUNG Ho-Pin

Budweiser Team StarChase

60
Class B
Pos

Comp

No

Driver

Entrant

Points

1

88

Egidio PERFETTI

Seminole Racing Team

106

2

16

Wayne SHEN

Modena Motorsports

100

3

21

Francis TJIA

OpenRoad Racing

63

4

81

HUANG Chu Han

Asia Racing Team

59

5

6

ZHENG Ting

BBT

52