The Round 3 of 2012 Porsche Carrera Cup Asia was started in Zhuhai International Circuit with a surprise of twelve (12) GT3 Cup cars collided together off the start at Turn 1, which saw the race stopped.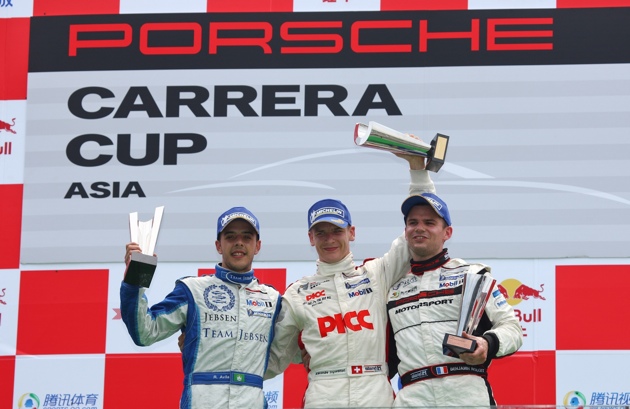 Perhaps because of the incident, Alexandre Imperatori was wheel-perfect as he converted his pole position into a third successive victory in Round 3 of the Porsche Carrera Cup Asia. Second on the podium at the end of the shortened, 9-lap race was Team Jebsen's Rodolfo Avila. Follow by Benjamin Rouget on third position for new China Porsche dealer team, Team Yongda Dongfang.
In Class B, it was a surprised and delighted Egidio Perfetti who took his second win in succession, propelling him to the top of the category leaderboard and fourth overall in the title chase. Perfetti had qualified fifth quickest in Class B. Second was Modena Motorsports' Wayne Shen of Hong Kong, with series newcomer Zheng Ting taking his maiden series podium with BBT.
Imperatori's win, plus the extra point for pole positions, strengthens his championship lead. Keita Sawa's extraordinary performance in Round 3, where he came from the back of the grid to finish 7th, sees him maintain his second place in the title chase, albeit now 18 points adrift of Imperatori.
Rouget was thrilled to have taken his first Porsche Carrera Cup Asia podium finish, and relieved to have avoided the incident at the start: "I was really focused on my own performance, but I saw three cars in front of me spin and just avoided the incident. Someone touched me, but luckily there was only slight damage."
Perfetti said, "I'm a little surprised as I didn't qualify well. I survived the start and then after the re-start I really got it going and was doing faster laps than in qualifying. I hope to keep this going!"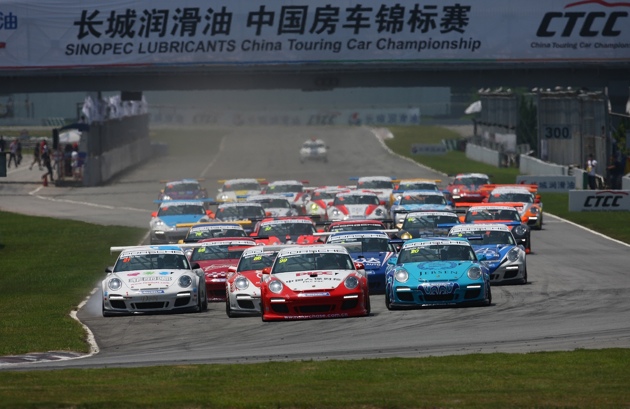 The race was stopped, and marshals worked came to clear the track of collided cars and debris. Restarting under the Safety Car, Imperatori took the chance began pulling out a lead with a margin of more than four seconds.
Avila held on to second from Rouget, while behind them guest driver Matthew Marsh was piling the pressure onto Team Betterlife's Wang Jian Wei. Behind them, the action continued, with reigning champion Keita Sawa, who had adeptly avoided the earlier pile-up, climbing from the back of the grid to cross the line 7th, having got by BBT driver Davide Rizzo in the closing stages of the race.
I believe it will be more excitement on tomorrow at Zhuhai International Circuit for Round 4. Davide Rizzo will be starting from pole, with LKM Racing Team's Sawa alongside. Championship leader Imperatori will start from the fourth row alongside Avila, setting the stage for a heart-pumping start.