In addition to Japan's Best Motor TV touge comparisons on Nissan GT-R YM11 and YM12. Now, the comparisons are getting more exciting and interesting by Keiichi Tsuchiya and his team.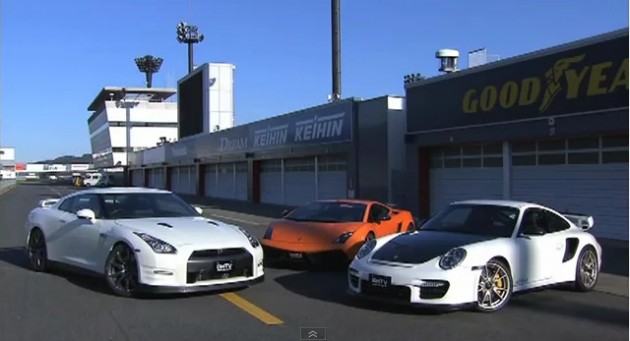 Can you believe this! The Best Motor TV (BMTV) also put the Porsche 911 GT2 RS with 620PS and Lamborghini Gallardo LP570-4 Superleggera with 570PS for a 0-400m battle test.
Quick Spec
2012 Nissan GT-R
– 1730kg/3.8-litre V6 twin turbo 550PS/61.5kgmf/4WD/AT
Lamborghini Gallardo LP570-4 Superleggera
– 1340kg/5.2-litre V10 570PS/55kgmf/4WD/AT
Porsche 911 GT2 RS
– 1445kg/3.6-litre flat-6 twin turbo 620PS/72.8kgmf/RR/MT
We do not want to spoil your viewing pleasure. Quickly proceed to watch the YouTube video now!