PROTON is proud to unveil the new 4th generation Perdana, the highly anticipated car that seamlessly integrates dynamic design and elegance for an enjoyable drive.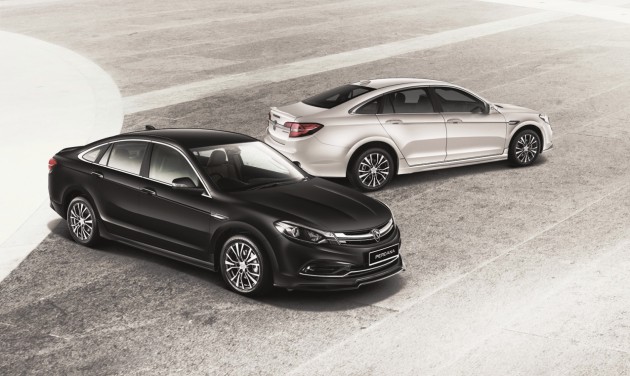 Held at Putrajaya International Convention Centre (PICC), the new Perdana was unveiled by YAB Dato' Sri Mohd Najib Tun Hj Abdul Razak, Prime Minister of Malaysia, accompanied by YBhg. Dato' Sri Syed Faisal Albar, Chairman of PROTON and YBhg. Dato' Ahmad Fuaad Kenali, Chief Executive Officer of PROTON.
"PROTON stopped the production of the Perdana in 2010 and the anticipation of the general public for us to produce a new Perdana has pushed us to produce a new level of affordable premium comfort, packaged in this distinctive stylish car. We took great care to ensure that the car is ready to be launched as the new Perdana signifies a new PROTON – we want to give a new experience to our customers – Customer First. The new Perdana symbolises a new aspiration for PROTON to give the best to its customers – best value for money for cars and after sales services," said Dato' Fuaad.
"We are truly blessed that we have a large following and strong interest in the new Perdana long before the launch and we appreciate all the feedback we received. We know that Malaysians want us to do better and we cannot disappoint them. We took our time to ensure that the new Perdana is ready for the launch," Dato' Fuaad added.
"Since we started to open bookings for the new 4th generation Perdana in February 2016, we have received around 900 bookings nationwide and we expect to sell around 3,000 cars by end of 2016," he added.
Developed by PROTON via strategic collaboration with Honda Japan Ltd, the new Perdana, under the platform sharing initiative has been further enhanced by PROTON in terms of the car's handling and comfort. In addition, PROTON has also made significant aesthetic and aerodynamic enhancements to the new Perdana to suit the current market requirements.
Priced at RM113,888.00 and RM138,888.00, for the 2.0 and 2.4 variants respectively, the new Perdana 2.0 comes with a 4-cylinder 16-valve SOHC engine producing 154 horsepower and 189Nm torque, while the Perdana 2.4 comes with a 4-cylinder 16-valve DOHC engine producing 178 horsepower and 222Nm torque.
"Conveying both class and exclusivity with simple elegance, the aerodynamic bold exterior features, distinctive Proton "wings" front grille, HID projector headlamps, LED rear combi lamps, dual zone air-conditioning, and all round sensors with reverse camera, among others, make the car such a pleasurable drive. Our cabin on the other hand, redefines interior space with its multi-contoured seats and generous legroom and headroom," Dato' Fuaad added further.
"Besides exuding a stunning design, the 4th generation Perdana is engineered with safety in mind. Its suite of driver's aids, independent double-wishbone front suspension for improved grip and better stability when braking, and active and passive restraints ensures optimal protection for both driver and passengers," he said.
With advanced GPS navigation system and PROTON infotainment system, the new Perdana allows one to optimise and customise the driving environment, making journeys even more comfortable and confident.
"Coming into a new era after 30 years, we recently made a pledge to our customers to offer cars with better value, enjoyable drive and safety. From the smooth handling to the spacious interior to distinctive features, the new Perdana personifies the new PROTON," Dato' Fuaad added.
For colour options, there is 5 colours available to choose for the new 4th generation Proton Perdana . Namely, Ruby Red, Sterling Silver, Graphite Grey, Cotton White, Midnight Black and Citrine Gold.

Photo Gallery: All-New 2016 Proton PERDANA
[nggallery id=715]