The demand for low viscosity engine oil was projected to increase from last 2 years due to raising fuel price and green initiative. With today's engine oil technology, the low viscosity formulation is aims to reduce friction effectively and most importantly, higher efficiency as it help the engine to use less fuel.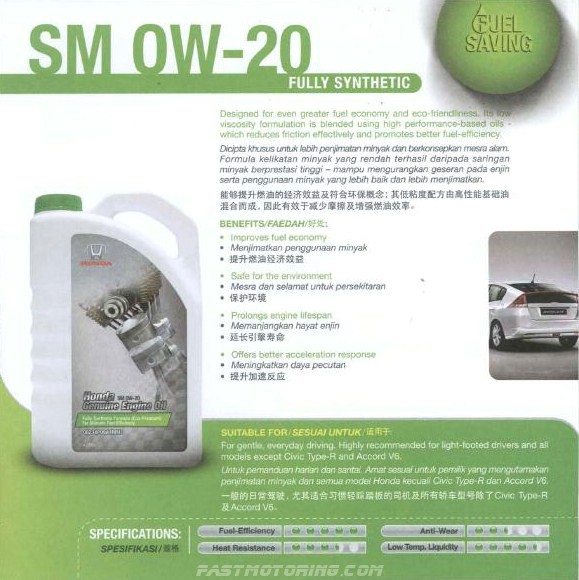 Lately, Honda Malaysia introduced a new Honda fully synthetic engine Oil SM 0W-20. It is available at all authorised Honda service centre in Malaysia. It is recommended to all Honda models except Civic Type R and Accord V6 3.5. Bear in mind, this oil is recommended for gentle light-footed drivers.
One of our journalists has tested the new Honda SM 0W-20 fully synthetic oil on his new Honda Insight @ first 5,000km service. The oil offers a better acceleration response instantly after the oil change. Since the hybrid vehicles like Honda Insight and Civic Hybrid are operate with stop-start, this oil able to offer extra protection against deposits for stop-and-start engine condition.
Anyway, all Individual driving behaviours could be different and traffic congestion is also one of the factors that burning our precious fuel unproductively. Based on the same daily driving route, the indicator now displays an average of 15.8km/litre instead of 14.9km/litre. After all, it looks like a great gain on fuel savings wise. Perhaps, you should try it on your precious Honda during your next service.