Toyota is confident it can convert its recent race-leading pace in the World Endurance Championship (WEC) into a challenge for victory at next week's Le Mans 24-hour classic in France.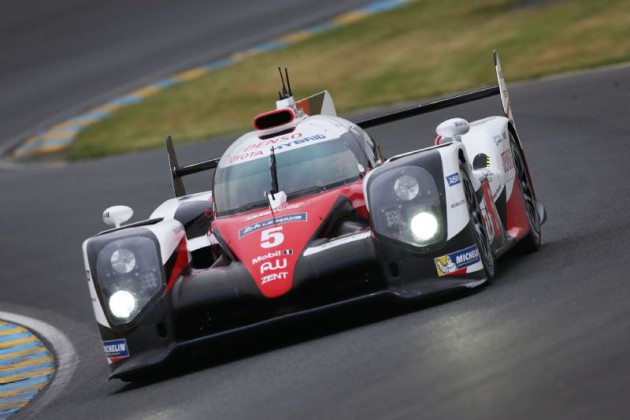 Running under the Toyota GAZOO Racing banner, the team is campaigning two 1000hp (746kW) TS050 hybrid-powered race cars that have been specifically optimised for the 84th running of the famous endurance race.
Targeting a first victory for Toyota at Le Mans, WEC 2014 world champions Sébastien Buemi and Anthony Davidson highlighted the pace of their #5 car which was heading for victory last month at Spa in Belgium before suffering a technical issue.
"The car feels good and we have seen at Spa that we are able to compete at the front," Buemi said. "There's still a lot of work to do in practice and qualifying to get the most out of our car, but the first signs are positive."
Davidson, who has twice stood on the podium at Le Mans, said the Spa experience made him even more determined to put Toyota on top of the Le Mans podium.
Lead driver in the #6 car Stéphane Sarrazin – Le Mans pole-setter on three occasions – said the team has taken a big step with the TS050 Hybrid.
"The car is really competitive and we showed at Spa that we can lead a race and challenge for victory. I think it will be an exciting race this year and I am confident we can fight."
Buemi and Davidson will share the #5 car with Japanese driver Kazuki Nakajima, who took pole position in 2014. Sarrazin's co-drivers are Mike Conway and Kamui Kobayashi.
Intense development of the new 2.4-litre V6 turbo-charged engine at Toyota's Higashi-Fuji technical centre in Japan has delivered an efficient and powerful powertrain when combined with the battery-based 8MJ hybrid system.
In parallel, a new chassis was developed for 2016 at Toyota Motorsport GmbH in Cologne with almost all parts redesigned and optimised for weight and performance.
A low downforce aerodynamic package will make its race debut at Le Mans following a successful test at the circuit last weekend where both cars demonstrated pace and reliability, completing a total of 177 laps and 2,412km.
This year is the 18th time Toyota cars have entered Le Mans, which is world renowned as the most demanding sports-car race for driver and machine.
Toyota GAZOO Racing is aiming to improve on runner-up finishes at Le Mans in 1992, 1994, 1999 and 2013, and to move up from second place in the 2016 championship.
The team will be searching for maximum outright speed while carefully conserving fuel and tyres in the battle for victory against strong competition from Audi and Porsche.
A true endurance event, Le Mans is even tougher than the challenge of a 24-hour race. In total, there are almost 35 hours of driving, starting on Wednesday with a four-hour practice session followed by two hours of qualifying.
Qualifying continues on Thursday with a pair of two-hour sessions. The starting grid is decided by the fastest single lap from any of the qualifying sessions.