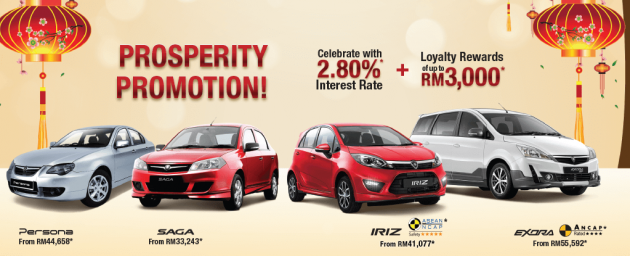 PROTON Holdings Bhd ('PROTON' or 'the Company') in early December 2015, the Company will be undertaking an exercise which will involve a price increase across all Proton cars. This exercise will see a marginal increase of RM312 to a maximum of RM2,021 depending on model variants, effective 15 February 2016. Interested buyers please book your Proton before 15 Feb 2016.
This increase is in line with the impact of the fallen Ringgit as many raw materials are purchased in foreign currency. The weaker ringgit affects the Company's operation cost and the entire eco-system chain. .
To cushion the impact which has been affecting the Company's bottom line since August 2015, PROTON has put more efforts in reducing operational costs and rationalising operations where necessary. Despite these efforts, the depreciation of ringgit continues to put pressure on PROTON and affects the industry as a whole.
Customers who wish to purchase new cars are advised to visit any PROTON showrooms nationwide to take advantage of the current CNY promotion. Interest rate of 2.8% for all Proton cars and a special graduate scheme with monthly instalments from RM258 a month await new car buyers. There is also a rebate of up to RM6,200 on selected 2015 cars and 30% discount on merchandise. Apart from that, under the Loyalty Reward, a rebate of up to RM3,000 is offered to all existing Proton owners who wish to replace or buy another Proton vehicle and this promotion is valid from now until 31 March 2016. PROTON i .s also offering free 30-point inspection to Proton owners at all PROTON authorised service centres in line with the CNY safety promotion.
The full list of revised prices will be disclosed further in PROTON website when the new price takes effect.