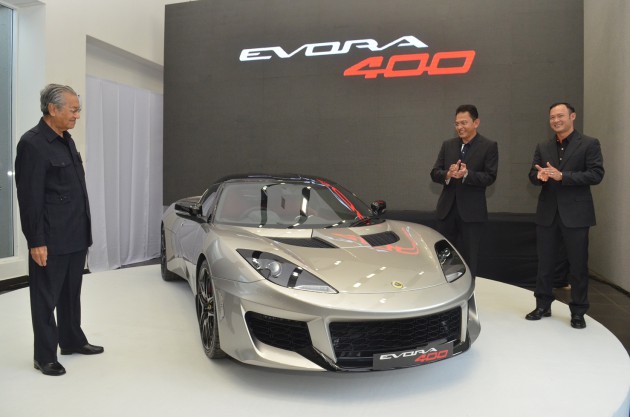 LOTUS Cars Malaysia ('Lotus' or 'the Company') today is proud to introduce the new Lotus Evora 400 to the Malaysian market. This latest pure and focused supercar combines a high performance car with the legendary Lotus benchmark handling.
"We are glad that the Lotus Evora 400 has entered the Malaysian market as it is the fastest road-going Lotus car that we have ever produced. This car delivers not only a supercar look but definitely a supercar performance as well," said Dato' Abdul Harith Abdullah, Chief Executive Officer, PROTON Holdings Berhad.
Being much faster and dynamically more capable than the previous Lotus Evora, this model leads to greater agility and a more involving drive. The Evora 400 has a maximum speed of 300km/h (186 mph) and an acceleration of 0-100 km/h in just 4.2 seconds (0-60 mph in 4.1 seconds). This enables the new Lotus Evora 400 to lap the challenging test track at the Lotus Headquarters in Hethel, Norfolk with a scintillating SEVEN seconds faster than the previous model.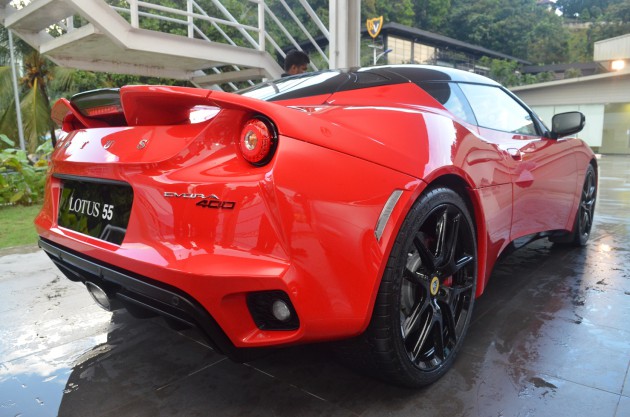 Over two thirds of the Lotus Evora 400 is new, including its supercharged and charge-cooled mid-mounted 3.5-litre V6 engine producing 400 horsepower and 410 Nm of torque. A new aluminium chassis incorporates a new interior and the lightweight composite body has changed significantly both front and rear.
Following the core values of the company, not only is the new Lotus Evora 400 faster than the previous model but its overall kerb-weight has been reduced by 42kg, achieved through careful and clever design and attention to detail. This weight reduction is even more impressive considering that the supercar has more power and a higher standard specification than before which further enhances its appeal.
"The Lotus Evora 400 first made its debut at the Geneva Motorshow in March last year, and now that it has reached the Malaysian shores, Lotus Cars Malaysia will be offering a promotion package which includes 3 years warranty, 2 years free service, one time experience at the Lotus Driving Academy and an automatic membership to the distinguished Lotus Official Club Malaysia (LOCM). Further to this promotion, the first 30 car buyers will also enjoy a special promotion price of the Lotus Evora 400," ended Dato' Harith.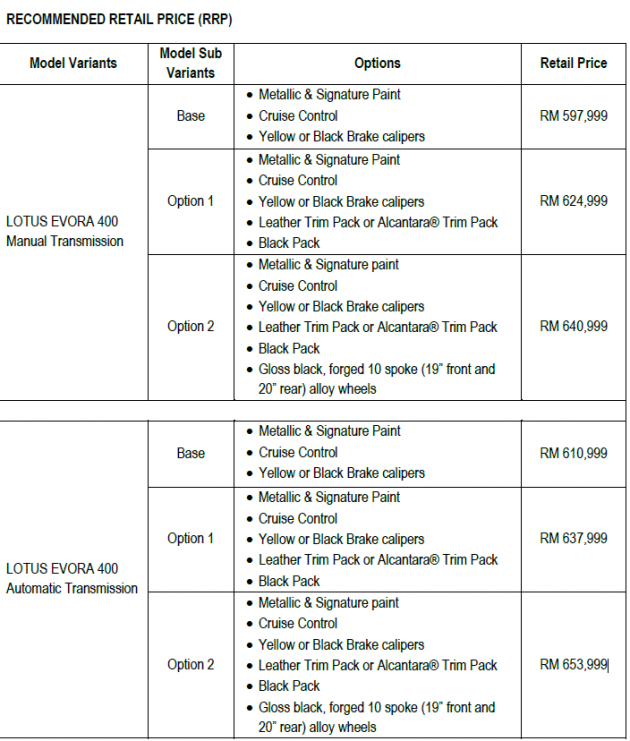 To car enthusiasts who are specifically fond of high performance and pure driving experience, visit Lotus Cars Malaysia show room at Jalan Damansara or contact the Key Account Managers at 03 – 7725 0182.