Toyota & Mazda has officially announced in a joint press conference to reduce research & development cost and to cope with increasingly strict emissions legislation in countries around the world. Both companies had announced to "build a mutually beneficial long-term partnership". In a statement, Toyota said: "By leveraging the resources of both companies to complement and enhance each other's products and technologies, the partnership wil result in more appealing cars that meet the diverse needs and tastes of customers all over the world."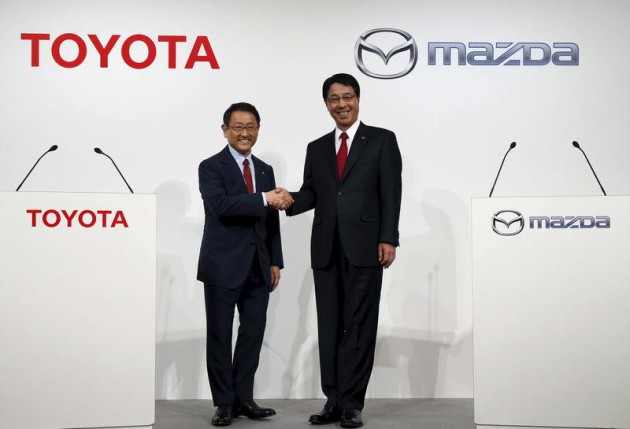 The lime light of the agreement, Toyota will share its fuel cell and plug-in hybrid technology, while Mazda will supply its efficient range of Skyactiv engines. However there are also other technology sharing such as advacned safety.Mazda has not launch it's fuel cell technology yet while years ago they had announced to focus into SkyActiv Technology. Toyota in other hand has developed quite a remarkable fuel cell technology that even BMW is sharing.
What we get soon in future is the best of Mazda Skyactiv engine along with hybrid fuel cell from Toyota. By sharing technology both companies  can offer best of the technologies into lower cost for consumers.
Speaking to Japanese media, Toyota president Akio Toyoda said: "We'll respect each other's people, technologies and cultures. We will lead each other towards a better future."I would like our joint initiatives to send a message to the word, that we are committed to making cars more enjoyable over the next century."
Mazda boss Masamichi Kogai added: "I hope that by working together to make cars better, we can raise the value of cars in the eyes of consumers while also enhancing the manufacturing capabilities of our home, Hiroshima, and all the communities we are involved in as well."