UMW Toyota Motor kicked off its sales campaign for this month with attractive promotions and roadshows at 78 locations nationwide. Customers will be able to benefit from the great savings on offer with the option of low interest rates or low upfront payment for selected models.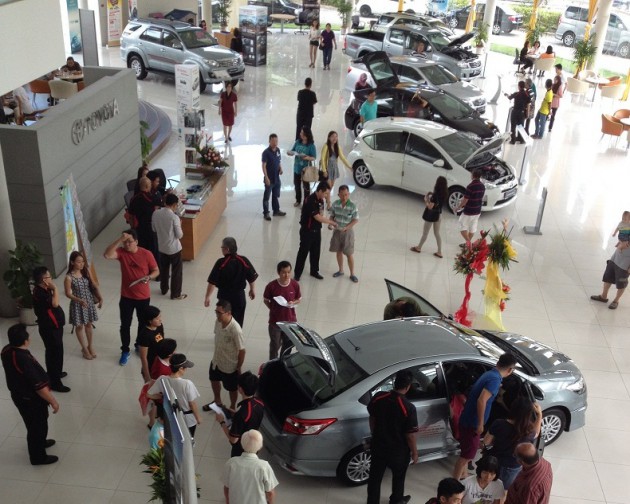 Customers who purchase the luxurious Camry will enjoy monthly savings with low interest rates from 0.88% while rates for the Vios and Hilux start from 1.58%. The "Low Upfront Payment" option is applicable to the Vios, Camry, Hilux, Altis, Avanza, Innova, Alphard and Previa.
In conjunction with these promotions, UMW Toyota Motor will also be holding its Toyota Nationwide Roadshow at selected malls and outdoor locations from 1st October 2014 to 30th November 2014. Everyone is urged to head to the roadshows to learn more about Toyota vehicles and check out the exciting deals on offer. These offers are only valid from 1st – 31st October while stocks last. Terms and conditions apply.
Hurry! Don't miss the opportunity to experience the Toyota model lineup and enjoy great savings when you purchase a Toyota today.
The location and dates of the roadshows are as follows:- 
| | | |
| --- | --- | --- |
|   | Central | Date |
| 1 | Centre Court, Alamanda, Putrajaya | 1 – 5 October |
| 2 | LG Oval, 1 Utama, PJ | 8 – 12 October |
| 3 | Indoor, Tesco Ampang | 17 – 19 October |
| 4 | Centre Court, Plaza Lowyat | 20 – 26 October |
| 5 | Blue Concourse, Sunway Pyramid, PJ | 22 – 26 October |
| 6 | Centre Court, AEON Taman Equine Shopping Centre | 4 – 9 November |
| 7 | Centre Court, Setia City Mall | 5 – 9 November |
| 8 | North Court, Mid Valley, KL | 5 – 9 November |
| 9 | The Waterfront, Desa ParkCity, KL | 7 – 9 November |
| 10 | Level Ground, Paradigm Mall, PJ | 7 – 9 November |
| 11 | Centre Court, AEON Rawang Anggun Shopping Centre | 11 – 16 November |
| 12 | Centre Court, SuriaKLCC, KL | 12 – 16 November |
| 13 | South Court, AEON Bukit Tinggi Shopping Centre | 18 – 23 November |
| 14 | Centre Court, AEON Cheras Selatan Shopping Centre | 18 – 23 November |
|   | North | Date |
| 15 | Arena Square, beside Bus Station, Tg. Malim | 1 – 3 October |
| 16 | Centre Court, AEON Kinta City Shopping Centre | 8 – 12 October |
| 17 | Dataran Menara Condong, Teluk Intan | 10 – 12 October |
| 18 | All 3 Courts, AEON Mall Bukit Mertajam, Penang | 14 – 19 October |
| 19 | In front of UMW Toyota Motor Sdn Bhd Showroom, Langkawi | 14 – 17 October |
| 20 | Atrium, Village Mall, Sg, Petani | 16 – 19 October |
| 21 | Centre Court, AEON Ipoh Station 18 Shopping Centre | 4 – 9 November |
| 22 | Atrium, Alor Star Mall | 6 – 9 November |
| 23 | Atrium, Taiping Sentral Mall | 6 – 9 November |
| 24 | Centre Court, Queensbay Mall, Penang | 6 – 9 November |
| 25 | Atrium, Sunway Carnival Mall, Seberang Jaya | 7 – 9 November |
| 26 | C-Mart, Arau, Kangar | 13 – 15 November |
| 27 | Old Wing, Gurney Plaza, Penang | 13 – 16 November |
| 28 | Centre Court, AEON Seri Manjung | 18 – 23 November |
|   | South | Date |
| 29 | Centre Court, AEON Tebrau City Shopping Centre | 8 – 12 October |
| 30 | Tanah Lapang, Bandar Utama, Segamat | 9 – 11 October |
| 31 | Econsave, Pontian | 10 – 12 October |
| 32 | Dataran Menara Jam, Kota Tinggi | 10 – 12 October |
| 33 | Centre Court, AEON Kulaijaya Shopping Centre | 14 – 19 October |
| 34 | Atrium, Kluang Mall | 24 – 26 October |
| 35 | Kiara Square Shopping Centre, Bahau | 24 – 26 October |
| 36 | Centre Court, AEON Bandaraya Melaka Shopping Centre | 4 – 9 November |
| 37 | Centre Court, AEON Bukit Indah Shopping Centre | 4 – 9 November |
| 38 | Wetex Parade, Muar | 6 – 8 November |
| 39 | Atrium, BP Mall, Batu Pahat | 7 – 9 November |
| 40 | Centre Court, AEON Seremban 2 Shopping Centre | 11 – 16 November |
| 41 | Atrium, Sutera Mall, Johor Bahru | 14 – 16 November |
|   | East | Date |
| 42 | Atrium, KB Mall, Kota Bahru | 8 – 11 October |
| 43 | Carpark, Pasaraya Tunas Manja, Raub | 13 – 17 October |
| 44 | Outdoor Carpark, Mydin Mall, Kuala Terengganu | 16 – 18 October |
| 45 | Ground Floor, Star City Mall, Mentakab | 17 – 19 October |
| 46 | Atrium, East Coast Mall, Kuantan | 6 – 9 November |
| 47 | Centre Court, Mesra Mall, Kertih | 19 – 23 November |
| | Sabah | Date |
| 48 | Kompleks Karamunsing, Kota Kinabalu | 10 – 12 October |
| 49 | Giant Hypermarket, Sandakan | 10 – 12 October |
| 50 | Sri Perdana, Lahad Datu | 10 – 12 October |
| 51 | Giant Hypermarket, Tawau | 17 – 19 October |
| 52 | Financial Park, Labuan | 17 – 19 October |
| 53 | In front of Central Market, Tenom | 17 – 19 October |
| 54 | Tapak Kenderaan Terminal Bas KK-Papar | 24 – 26 October |
| 55 | Giant Hypermarket Putatan, Kota Kinabalu | 24 – 26 October |
| 56 | Open Space at Sedco, Kinabatangan | 24 – 26 October |
| 57 | Citymall, Kota Kinabalu | 7 – 9 November |
| 58 | Carpark, In front of Petronas, Kota Marudu | 7 – 9 November |
| 59 | Tapak Letak Kenderaan Dewan Serbaguna, Sipitang | 7 – 9 November |
| 60 | Tamu Mingguan, Ranau | 13 – 15 November |
| 61 | Padang Keningau, Keningau | 14 – 16 November |
| 62 | Opposite Esso Station, Kunak | 14 – 16 November |
|   | Sarawak | Date |
| 63 | New Wing, Boulevard Shopping Mall, Kuching | 10 – 12 October |
| 64 | Inrun Showroom, Sri Aman | 13 – 15 October |
| 65 | Medan Mall, Mukah | 17 – 19 October |
| 66 | Summer Mall, Kota Samarahan | 17 – 19 October |
| 67 | In front of BSN, Saratok | 20 – 22 October |
| 68 | In Front of Meligai Hotel, Kapit | 23 – 25 October |
| 69 | The Spring, Kuching | 24 – 26 October |
| 70 | Bus Terminal, Batu Niah | 25 & 26 October |
| 71 | Carpark, Betong Clock Tower | 28 & 29 October |
| 72 | Star Mega Mall, Sibu | 7 – 9 November |
| 73 | Carpark, Boulevard Shopping Mall, Miri | 7 – 9 November |
| 74 | Giant Hypermarket Padawan, Kuching | 7 – 9 November |
| 75 | Carpark, MDL, Next to Custom Office, Limbang | 13 – 15 November |
| 76 | Park City Mall, Bintulu | 14 – 16 November |
| 77 | Carpark, MDL Market, Lawas | 17 & 18 November |
| 78 | Bintang Megamall, Miri | 21 – 23 November |
|   | |   |