Over the weekend, Craig Baird from New Zealand took victory in the 12-lap Porsche SC Global Carrera Cup Asia Singapore 2012 race on the Marina Bay street circuit. Second across the line, taking full championship points for the win, was Martin Ragginger of Team Eagle – Jiejun & Junbaojie, while championship leader Alexandre Imperatori of PICC Team StarChase finished third.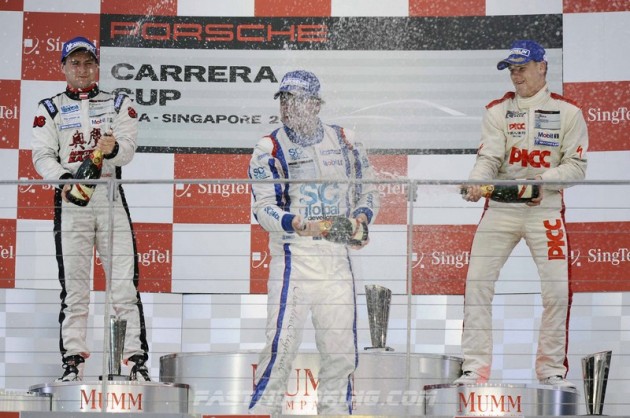 For Class B, the winner was Seminole Racing Team's Egidio Perfetti, his fourth class victory this season, with OpenRoad Racing's Francis Tjia second, and Singapore racer Yuey Tan taking the final podium position for his Dorr McElrea Racing team.
Imperatori now has a 40-point lead from defending champion Keita Sawa of LKM Racing Team, who kept his title aspirations alive by taking points for fifth in the race having started from seventh on the grid after crashing in qualifying. Imperatori may be so close to the title he can taste it, but there will be no letup whatsoever from the 25-year-old and his team as they head to the season finale in November.
Baird was surprised to have made such a strong getaway, but thrilled to be back on the top step of the podium: "I knew the car was a lot better than how I drove it yesterday and then it just came down to the start. I was dive bombed by a white and red car, but he let me back past him and then it was a very clean race. The car was absolutely fantastic, and it's great to be back with SC Global. We won a couple of races here in 2010, and then we were second here in 2011, but it's very rare that you turn it on with a new car that you haven't run before. Everything just clicked. There's a little bit of luck in that as well but I really enjoyed my weekend."
For Ragginger it was a strong finish to an impressive Singapore debut, having topped the times in free practice before earning an extra championship point for pole: "Craig did a good job. I was quick in qualifying and in first practice too, but I struggled a little bit in the first four or five laps, I miscalculated my start and had a lot of wheel spin. The first four laps he had amazing pace and my tyres didn't come in. When my tyres came in, I saw Craig was ahead and I was trying to push. I was quick the whole weekend, but even if I caught him at the end, it's difficult to overtake, so compliments to him."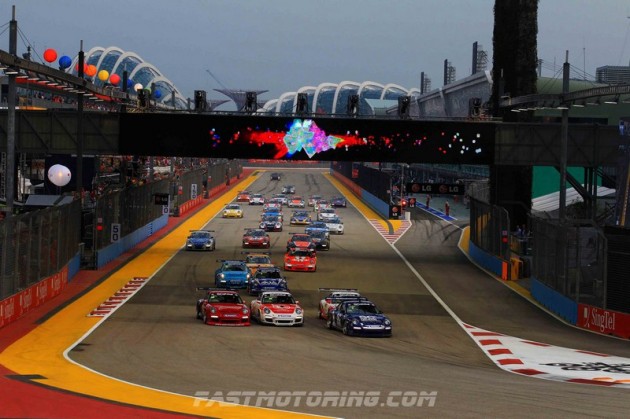 In Class B, Perfetti was glad to be back after a disappointing outing in Malaysia earlier this month: "I think it was a very good weekend. It was my first time here in Singapore, it was a learning experience, and even though I didn't have the best qualifying, I learned every time we were out there and in the race it worked out pretty well. I had a good start and then I managed to find my way through a couple of cars in the first few turns and that put me in a comfortable position. I am ready for Shanghai and I hope the bad luck is over and then we'll see."
Baird, making a guest appearance for race title sponsor SC Global Developments, took his third victory on the challenging street circuit after a superb start from second on the grid, setting the fastest lap of the race for good measure. Pole-sitter Ragginger grappled with wheelspin before running wide and rejoining in the lead, but wisely handed the place back to Baird. From there, Baird was on a charge but Ragginger never let up, closing the gap lap-by-lap. Imperatori was running a strong third, but behind him the fight was on between Team Yongda Dongfang's Benjamin Rouget in fourth, chased by Team Jebsen's Rodolfo Avila and Sawa. Budweiser Team StarChase driver Tung Ho-Pin got a bad start, dropping down the order from the second row of the grid.
Lap 2 saw Sawa get by Avila, and the pair had the crowds on their feet with some thrilling wheel-to-wheel jousting, Tung poised behind and ready to pounce. Avila reclaimed fifth on Lap 3 and began closing in on Rouget ahead, while Sawa came under attack from Tung, closing the gap to less than three tenths of a second. Tung executed a wheel-perfect pass on Lap 5 to take Sawa, and thundered towards Avila ahead, whose first attempt to pass Rouget almost ended in tears before finally making it stick, with Tung following him through and in to fifth. Rouget forfeit another place when Sawa got by, eventually crossing the line in seventh.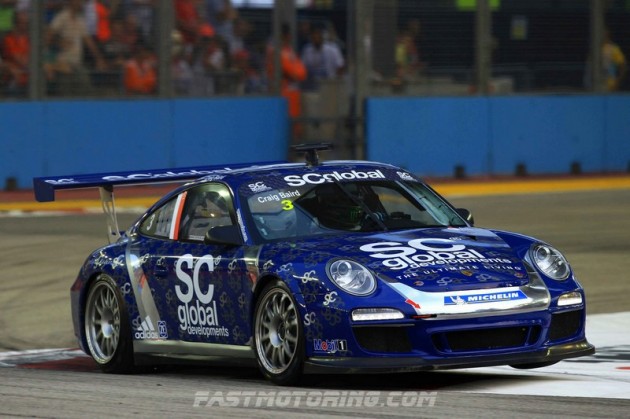 Baird was leading the pack out in front, having built an impressive margin of 4.7 seconds from Ragginger by the end of Lap 7, with Imperatori comfortably ahead of the battling pack behind. But the race was not done, and by the end of Lap 9, Ragginger had closed the gap to Baird to 3.3 seconds and Tung, running in fifth, was right on the limit, kissing the barriers in his efforts to get close enough to pass Avila.
The charge to the flag was interrupted. However, when John Shen ran into the barrier and despite a valiant effort to move his car to a safe position, the Safety Car was called out on Lap 11 and the field crossed the line a lap later.
Despite the unforgiving nature of the Marina Bay street track, coupled with unrelentingly fierce competition right the way through the field, 24 of the 28-strong field finished the race, testament to the skill and talent of the Porsche Carrera Cup Asia drivers. The 2012 Porsche Carrera Cup Asia championship titles, for both overall and Class B, will be decided at the season grand finale in Shanghai from November 9-11, at the inaugural Shanghai Sportscar Festival.
Results – Round 9
| | | | | | |
| --- | --- | --- | --- | --- | --- |
| Pos | No | Driver | Class | Entrant | Time |
| 1 | 3 | *Craig BAIRD (NZL) | | SC Global Racing (SIN) | 29:51.627 |
| 2 | 86 | Martin RAGGINGER (AUT) | | Team Eagle – Jiejun & Junbaojie (CHN) | +0.685 |
| 3 | 99 | Alexandre IMPERATORI (SUI) | | PICC Team StarChase (CHN) | +1.404 |
| 4 | 20 | Rodolfo AVILA (MAC) | | Team Jebsen (HKG) | +1.622 |
| 5 | 98 | TUNG Ho Pin (CHN) | | Budweiser Team StarChase (HKG) | +2.701 |
| 6 | 1 | Keita SAWA (JPN) | | LKM Racing Team (HKG) | +2.862 |
| 7 | 8 | Benjamin ROUGET (FRA) | | Team Yongda Dongfang (CHN) | +3.427 |
| 8 | 37 | Davide RIZZO (CHN) | | BBT (CHN) | +3.927 |
| 9 | 6 | *Massimiliano WISER (ITA) | | BBT (CHN) | +4.240 |
| 10 | 9 | *Philippe DESCOMBES (HKG) | | Asia Racing Team (MAC) | +4.753 |
| 11 | 88 | Egidio PERFETTI (SUI) | B | Seminole Racing Team (USA) | +5.212 |
| 12 | 78 | ZHANG Da Sheng (CHN) | | Team Basetex (CHN) | +8.236 |
| 13 | 21 | Francis TJIA (HKG) | B | OpenRoad Racing (HKG) | +9.652 |
| 14 | 5 | Yuey TAN (SIN) | B | Dorr McElrea Racing (SIN) | +10.584 |
| 15 | 16 | Wayne SHEN (HKG) | B | Modena Motorsports (HKG) | +12.263 |
| 16 | 11 | Ringo CHONG (SIN) | | Team Kangshun (CHN) | +13.007 |
| 17 | 25 | Christian CHIA (CAN) | B | OpenRoad By ART Motorsports (HKG) | +29.593 |
| 18 | 83 | Dr. MA Chi Min (HKG) | B | Dr. Ma Chi Min (HKG) | +43.877 |
| 19 | 18 | Marcel TJIA (HKG) | B | OpenRoad Racing by ART Motorsports (HKG) | +51.353 |
| 20 | 81 | HUANG Chu Han (CHN) | B | Asia Racing Team (MAC) | +51.645 |
| 21 | 27 | Adrian Henry D'SILVA (MAS) | B | Nexus Racing (MAS) | +52.132 |
| 22 | 55 | *Marc CINI (AUS) | B | PS Racing (FIN) | +95.574 |
| 23 | 23 | Paul TRESIDDER (AUS) | B | Hewlett Motorsport (NZL) | +96.875 |
| 24 | 68 | MAK Hing Tak (HKG) | B | OMAK (HKG) | +97.284 |
| – | 96 | LI Chao (CHN) | B | Asia Racing Team (MAC) | DNF |
| – | 28 | John SHEN (HKG) | B | Modena Motorsports (HKG) | DNF |
| – | 66 | Rose TAN (CHN) | | Team C&D (CHN) | DNF |
| – | 31 | *Shim CHING (CAN) | B | PS Racing (FIN) | DNF |
Fastest Lap: Craig Baird/SC Global Racing/2:22.232/128.401kph
Points After Round 9
Overall
1st Position – Comp No. 99: Alexandre IMPERATORI of PICC Team StarChase with 165 points
2nd Position – Comp No. 1: Keita SAWA of LKM Racing Team with 125 points
3rd Position – Comp No. 86: Martin RAGGINGER of Team Eagle-Jiejun & Junbaojie with 108 points
4th Position – Comp No. 20: Rodolfo AVILA of Team Jebsen with 104 points
5th Positon – Comp No. 98: TUNG Ho-Pin of Budweiser Team StarChase with 102 points
Class B
1st Position – Comp No. 16: Wayne SHEN of Modena Motorsports with 152 points
2nd Position – Comp No. 88: Egidio PERFETTI of Seminole Racing Team with 126 points
3rd Position – Comp No. 21: Francis TJIA of OpenRoad Racing with 116 points
4th Position – Comp No. 81: HUANG Chu Han of Asia Racing Team with 103 points
5th Positon – Comp No. 6: ZHENG Ting of BBT with 78 points