Volvo Car Corporation paved the way for a totally new segment with the V70 Cross Country already in 1997. Now, 15 years later, the new Volvo V40 Cross Country brings the unique blend of capable ruggedness and expressive elegance up to a new altitude by establishing a Cross Country in the Premium C-segment.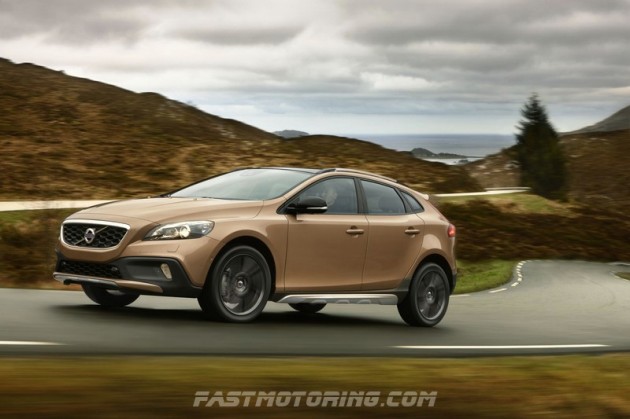 "The new V40 Cross Country is built on the heritage that started with the V70 Cross Country back in 1997. It is designed for those who want a sense of adventure in their everyday life," says Lex Kerssemakers, Senior Vice President Product Strategy & Vehicle Line Management at Volvo Car Corporation. He adds: "And when you want a break from the city, it is capable enough to take you and your gear to your favourite adventure and back. However, you still need to climb the mountain yourself,"
"There is a clear distinction between our XC and Cross Country models. The Volvo XC models have a distinct crossover character with unique body-styles including an elevated seating position, while the Cross Country models are expressive all-road versions of our dynamic wagons and hatchbacks," explains Lex Kerssemakers. He adds: "When it comes to driving dynamics, the V40 Cross Country is eager to take on the sportiest competitor versions. It features an attractive blend of sportiness and comfort."
Yet, the five-door, five-seat premium all-roader features refined off-road inspired details such as the anodized, black high-gloss frame around the greenhouse, the black rear-view mirror housings and the sleek rails floating over the roof.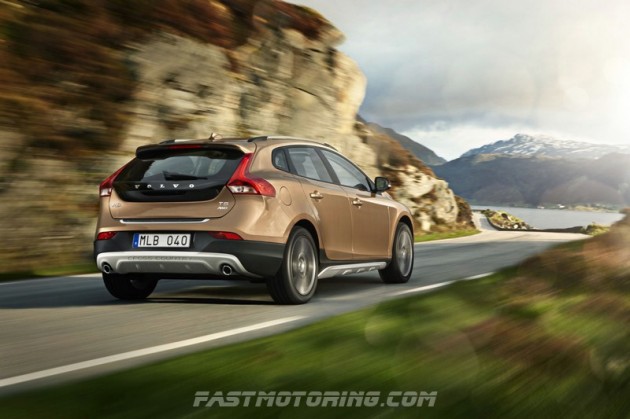 "The V40 Cross Country retains its V40 stylishness by integrating the ruggedness in the design with meticulous attention to detail. It has en extrovert, expressive character that promises the open-minded adventurer a great time," says Simon Lamarre, exterior design manager for the V40 Cross Country.
Inside, the Raw Copper exterior launch colour is echoed in the contrasting stitching – and it can be emphasised even further by choosing the Copper Dawn centre stack inlay. The leather upholstery comes in five different versions, including the Espresso Brown accent colour.
The Volvo V40 Cross Country offers thrill-seeking customers the right versatility to bring both friends and gear along on an open-ended adventure. The V40 Cross Country features class-leading driving dynamics with All Wheel Drive available on the T5 petrol turbo to enhance the all-road, all-weather capability.
| | |
| --- | --- |
| [singlepic id=13088 w=310 h= float=] | [singlepic id=13078 w=310 h= float=] |
The 5-cylinder 2.5-litre T5 engine has a power output of 254 hp and 400 Nm of torque, including 40 Nm overboost delivered during acceleration. It comes with automatic transmission and acceleration from 0-100 km/h takes 6.1 seconds. Fuel consumption is 7.8 l/100 km (EU Combined). The T5 is also available in a 2.0-litre version with 213 hp and 300 Nm of torque on certain markets.
There is also the T4, a 1.6-litre GTDi engine with 180 horsepower and maximum torque of 270 Nm, including 30 Nm overboost. Fuel consumption is 5.5 l/100 km. This corresponds to CO2 emissions of 129 g/km. A 2.0-litre five-cylinder T4 engine with 180 hp and 300 Nm of torque is available on certain markets. 
The T5 version comes with a six-speed automatic gearbox, while the T4 is available in combination with the automatic six-speed Powershift transmission or a six-speed manual gearbox.
The five-cylinder 2.0-litre D4 turbodiesel has been optimised for fuel-efficient driving pleasure. It delivers 177 hp and has torque of 400 Nm across a wide rpm range. Acceleration from 0-100 km/h takes 8.3 seconds with the automatic gearbox (8.6 sec with manual). Fuel consumption and CO2 emissions are 4.4 l/100 km (117 g/km) with a manual gearbox and 5.2 l/100 km (137 g/km) with the automatic (EU Combined).
In addition there is the 2.0-litre D3 producing 150 hp and 350 Nm of torque. Both turbodiesels are available with a six-speed automatic transmission or six-speed manual gearbox.
The D2 version of the V40 Cross Country comes with CO2 emissions at a class-leading 99 g/km – corresponding to fuel consumption of just 3.8 l/100 km. The 1.6-litre diesel engine has 115 hp and 285 Nm of torque, including 15 Nm overboost. The D2 engine is combined with a six-speed manual gearbox and start/stop function.  All engine versions have start-stop and braking energy regeneration, no matter whether they are fitted with a manual or automatic gearbox.
Volvo Car Corporation expects to sell 17,000 units per year of the new Volvo V40 Cross Country. Around 50 percent of the total volume will go to European customers and around 30 percent to Chinese buyers. The V40 Cross Country will be built in Volvo Car Corporation's production plant in Ghent, Belgium. Production gets under way in November 2012.
Photo Gallery: 2013 Volvo V40 Cross Country
[nggallery id=564]