The Audi Ultra driver, Marchy Lee of Hong Kong grab pole position for Round 5 of the Audi R8 LMS Cup at the Inner Mongolian Ordos International Circuit ahead of fellow Hong Kong driver Adderly Fong of KLM Team.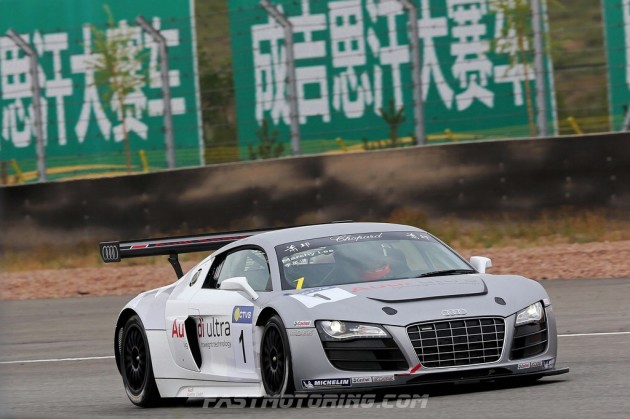 Marchy had decided not to start qualifying with the rest of the field, waiting instead for the track to warm up and traffic to clear. It proved a wise move as when he took to the track after 10 minutes of action, Lee produced the drive of the day to take pole position with a 1:43.484 lap on his second lap of the 30-minute qualifying session.
Series leader Fong finished just over three tenths of second behind his rival. Starting from third on the grid will be series newcomer Charlie-Ro Charlz. The Australian was called into action at the last minute for Audi Castrol to replace the team's regular driver Zhang Ran, who injured her hand, this weekend. Charlz took just a single lap to become accustomed to the car before showing his pace.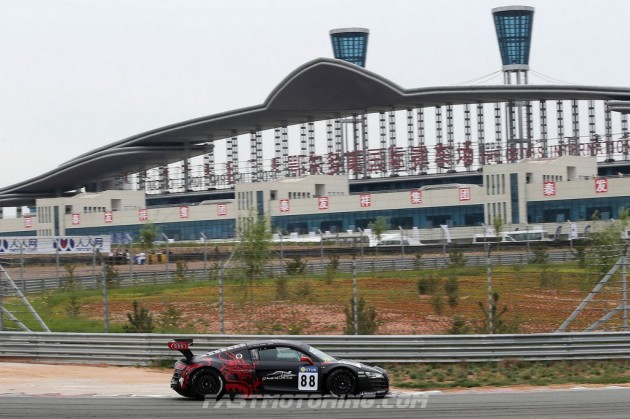 In the Amateur Cup, Hong Kong celebrity and entertainer Aaron Kwok of Team Audi R8 LMS Cup saved his best until his 12th – and last – trip around the 3.751-km circuit, and was the fastest of the non-professional drivers.
When the 30-minute session began most of the field immediately took the circuit, eager to put in a strong showing early. However, the session was stopped a few minutes in, after former Formula 1 driver Alex Yoong of Malaysia had a technical malfunction and his Audi GQ-liveried car was put in the gravel. Yoong will start from fifth on the grid.
Team Chengdu New Elements driver Hua Xia Wei and Sun Zheng of Team Erdos Xinan did not take part in qualifying due to a pending stewards' decision in another series. Both drivers will start Round 5 from the back of the grid.Rounds 5 and 6 of the Audi R8 LMS Cup take place at the Ordos International Circuit on Sunday. 
Marchy Lee (Audi Ultra)
"At the start I had a chat with my engineer and we decided that after 10 minutes of qualifying the track would be in the best condition to come in. Then the red flag came out and when I did get out on the track, everything was perfect. So I am very happy. At this stage of the series every point is crucial. Even one point is a very precious one point.
"To have the pole position is a very good start. But pole position doesn't necessarily mean a winning position. The Ordos track is very tricky so I need to be very careful and prepare well."
Adderly Fong (KLM Team)
"When we got back out on the track after the break it was difficult to get the tyres reheated so we couldn't really improve any further. But I am still up at the front of the grid and from the front of the grid anything can happen."
Charlie-Ro Charlz (Audi Castrol)
"I got up to speed quite quickly because the Audi car is very beautiful to drive – it does exactly what you want it to do. So the second I got into the car it felt very comfortable."
Aaron Kwok (Team Audi R8 LMS Cup)
"I am very happy with the result. I am improving second by second. At the beginning I was hoping that during qualifying that I could go faster from free practice and I did, so I am very happy. I hope I can maintain my momentum tomorrow."
Round 5 Qualifying – Results 
| | | | | | |
| --- | --- | --- | --- | --- | --- |
| No. | Comp No. | Name. | Class | Entrant | Time |
| 1 | 1 | Marchy LEE |   | Audi Ultra | 1:43.484 |
| 2 | 68 | Adderly FONG |   | KLM Team | 1:43.816 |
| 3 | 66 | Charlie-Ro CHARLZ |   | Audi Castrol | 1:44.141 |
| 4 | 75 | Pekka SAARINEN |   | J-Fly Racing Team | 1:44.641 |
| 5 | 8 | Alex YOONG |   | Audi GQ | 1:44.661 |
| 6 | 6 | HAN Han |   | Team Zhe Jiang Aotong | 1:45.501 |
| 7 | 9 | WANG Jian Wei |   | Team Betterlife | 1:45.758 |
| 8 | 77 | SUN Chao |   | P D GROUP Audi Team | 1:46.082 |
| 9 | 7 | Kevin TSE |   | Pauian Archiland J-Fly Racing | 1:46.085 |
| 10 | 88 | Aaron KWOK | Am | Team Audi R8 LMS Cup | 1:46.855 |
| 11 | 23 | Alex AU | Am | AK Racing | 1:47.807 |
| 12 | 27 | Byron TONG | Am | Audi Driving Dreams | 1:47.990 |
| 13 | 3 | Hughes RIPERT | Am | Spark Motorsport | 1:48.730 |
| 14 | 13 | Adrian FU | Am | FuSpeed Racing | 1:51.105 |
(Am) Amateur Drivers Cup