For Rounds 5 & 6 of Audi R8 LMS Cup, the Asia's hot new international championship heads to the desert plains of Inner Mongolia for two races this weekend at the unforgiving Ordos International Circuit in China.
With its exciting mix of experienced professionals and fledging talent, the Audi R8 LMS Cup has attracted attention far beyond China and Asia. As the brand's first-ever one-make series, the series is the optimum showcase for Audi technology and for both top talents and rising stars to show their racing mettle.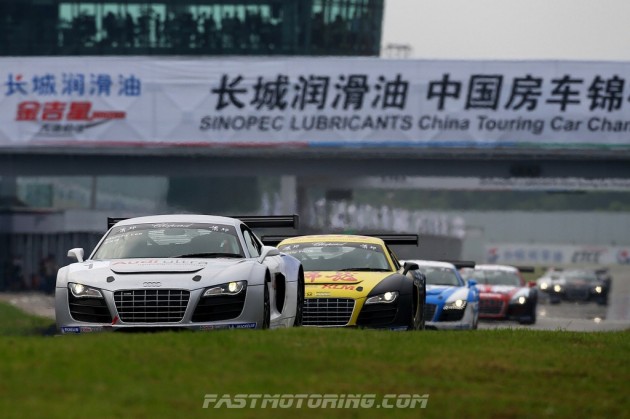 The Ordos International Circuit is known for its elevations, technical corners and constantly-changing surface conditions, this will provide an opportunity for the 16-strong field to mount a challenge to current series leader Adderly Fong of KLM Racing. The Hong Kong single-seater star, making his sports car competition debut this season, is 13 points ahead of former Formula 1 driver Alex Yoong of Malaysia of Audi GQ. Former FIA World Touring Car Championship driver Marchy Lee of Hong Kong is currently third on the leaderboard.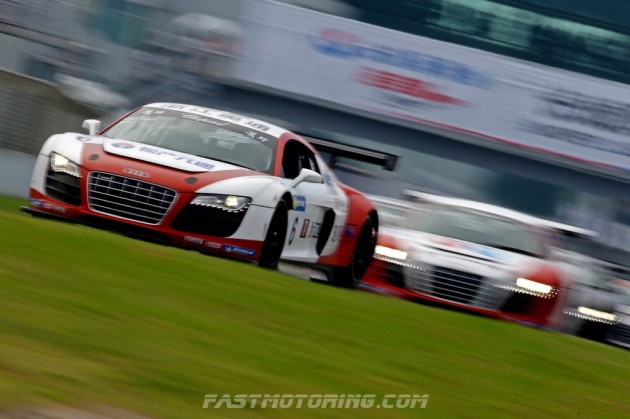 There are plenty of other talents in the field, all racing identical Audi R8 LMS Cup cars and among those to watch is 20-year old rising Chinese talent Sun Zheng of Team Erdos Xinan, who earned a podium finish in Round 3 and who can count on plenty of home support as he guns for his first Audi R8 LMS Cup victory.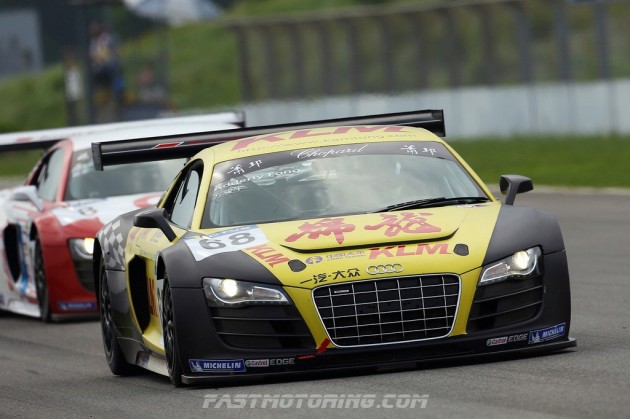 Commented Director of Audi Sport customer racing in China, Rene Koneberg: "After our successes in Shanghai and Zhuhai, we are delighted to race in Inner Mongolia for the first time. The technical challenges and complex layout of Ordos International Circuit will lend themselves perfectly to the agile handling and lightweight technology of the Audi R8 LMS."
Three titles are up for grabs in 2012: The Audi R8 LMS Cup overall title, an Amateur category, and a Teams award, with each round points-scoring.
With Amateur Cup leader Jeffrey Lee of Chinese Taipei missing the upcoming races, on duty in Suzuka as part of the official Audi R8 LMS Cup entry in the GT Asia Series, Rounds 5&6 represents a golden opportunity for his rivals. No doubt Hong Kong driver Byron Tong, second in the category, will try to gain valuable championship points, as will lady driver Zhang Ran of Audi Castrol, buoyed by her class podium in Round 4.
Highly acclaimed entertainer Aaron Kwok of Team Audi R8 LMS Cup will be looking to match his superb performance in Round 2, which saw him take a class win, while respected racer, blogger and novelist Han Han returns to the series this weekend with Team Zhe Jiang Aotong.
"Whatever the elements conjure up for us this weekend, the car, the drivers and our tyre partner Michelin are more than ready to rise to the challenge", says Koneberg.
Following the season launch in April in Shanghai, the series moved to the Southern Chinese city of Zhuhai for Rounds 3&4. Following the Ordos meeting, the series returns to Zhuhai in September before November's Shanghai season finale.
2012 Audi R8 LMS Cup Rounds 5 & 6 Entry List:
No.1/Marchy LEE (HKG)/Audi Ultra
No.3/Hugues RIPERT (HKG)/Spark Motorsport/Am
No.6/HAN Han (CHN)/Team Zhe Jiang Aotong
No.7/Kevin TSE (MAC)/Pauian Archiland J-Fly Racing
No.8/Alex YOONG (MAL)/Audi GQ
No.9/WANG Jian Wei (CHN)/Team Betterlife
No.13/Adrian FU (HKG)/FuSpeed Racing/Am
No.23/Alex Au (HKG)/AK Racing/Am
No.27/Byron TONG/Audi Driving Dreams/Am
No.33/SUN Zheng (CHN)/Team Erdos Xinan
No.66/ZHANG Ran (CHN)/Audi Castrol/Am
No.68/Adderly FONG (HKG)/KLM Team
No.75/Pekka SAARINEN (FIN)/J-Fly Racing Team
No.77/SUN Chao (CHNG)/P D GROUP Team
No.88/Aaron KWOK (HKG)/Team Audi R8 LMS Cup/Am
No.99/HUA Xia Wei (CHN)/Team Chengdu New Elements