Last week, the latest generation Mercedes-Benz B-Class and M-Class unveiled in Malaysia.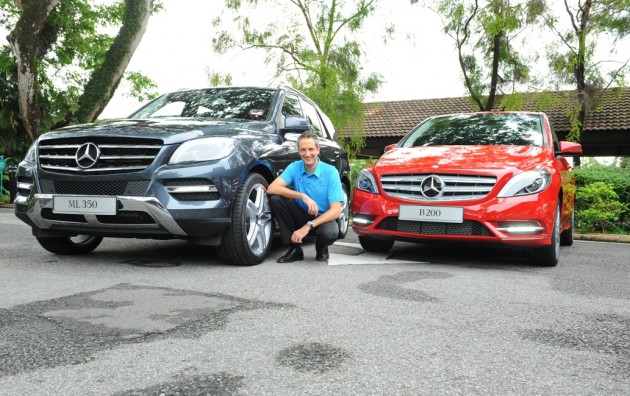 Mercedes-Benz B-Class
Substantially more agile and efficient while being comfortable and spacious as ever, the second generation B-Class offers an entirely new drive programme: a four-cylinder petrol engine with direct injection and turbocharging and a seven speed/gear and a new 7G- dual clutch automatic transmission with several new assistance systems to support the driver.
Mercedes-Benz Malaysia vice president of sales and marketing Kai Schlickum said the B-Class features the most number of new developments ever introduced in one model.
"B-Class customers will benefit from the quantum leap in agility, efficiency and outstanding aerodynamics while offering exemplary low-fuel consumption and CO2 emissions combined with driving pleasure, plenty of space and the highest standard of safety ever made available in this class," added Schlickum while introducing the new models here today.
A world first in the compact segment, the B-Class features a radar-based collision warning system with adaptive Brake Assist as standard, which lowers the risk of rear-end collisions. The COLLISION PREVENTION ASSIST system gives a visual and acoustic warning to alert a possibly distracted driver to identify obstacles and prepares BRAKE ASSIST for the most precise possible braking response. This is initiated as soon as the driver emphatically operates the brake pedal.
Schlickum said in contrast to systems currently available in many compact class vehicles in the market, the new COLLISION PREVENTION ASSIST brake assist feature was not merely a system intended to minimise minor damage in urban traffic.
"This innovative solution is aimed at protecting motorists from typical rear-end collisions in dangerous traffic situation. We expect the new safety system to have a significant positive effect on accident statistics," Schlickum added.
ATTENTION ASSIST warns drivers when it detects that they are tired as high-resolution sensors observe driver behaviour based primarily on steering wheel movements.
Designed for maximum efficiency, the new B200 features a BlueDIRECT four-cyclinder petrol engine with direct injection and a new &G-DCT dual-clutch transmission that is extremely compact and extremely variable with regard to adaptation to the engine thanks to the even gears which facilitates gear shifts without any interruptions in tractive power and combines the comfort of an automatic with the efficiency of a manual transmission.  
Recognising the B-Class' use as for young adults, great attention has been attached to the safety of the rear occupants. Belt tensioners, belt-force limiters and belt height adjusters come as a standard on the outer seats. Automatic child seat recognition is fitted and for head protection, windowbags are a standard.
Mercedes-Benz M-Class 
The new Mercedes-Benz M-Class scores particularly highly on outstanding energy efficiency and on average, the new model range consume 25% less fuel than previous models.
"The new generation of Blue DIRECT petrol engines ensure excellent economy and outstanding life cycle assessment of the new M-Class. It has the potential to set standards in the SUV world once again, consuming one quarter less fuel than its predecessor and is one of the most economical vehicles in its segment that's available in the market today," Schlickum added.
Along with the permanent all-wheel drive, the new M-Class offers exceptional safety and well-balanced ride comfort as well as excellent driving dynamics on and off the road with an array of new chasis developments and innovative dynamic control systems which further enhance both driving enjoyment and handling safety.
"The M-Class has always been a case of combining the comfort and luxury of a saloon car with the off-road characteristics and emotiveness of an SUV. The fact that the new M-Class is as fuel efficient as an economical saloon cars displaying the Mercedes star make it even more desirable.
"With more than 1.2 million vehicles sold globally, the M-Class is the best selling SUV in its segment, enjoying a loyal customer base. We look forward to continuing that trend with the new M-Class which will make an important contribution to our sales growth over the coming years," Schlickum added.
The new Mercedes-Benz B-Class is priced at RM220,888.00 while the M-Class is at RM570,888.00.