Following the successful launch of Mercedes-Benz Services Malaysia (MBSM) in November 2012, providing automotive finance and insurance solutions, MBSM now takes one step closer to the customer by expanding its digital footprint with its new iPhone and iPad App "myMBFS – Malaysia".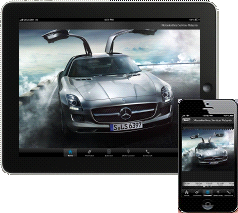 All iPhone and iPad users, even those who are not Mercedes-Benz customers, are able to locate their nearest Mercedes-Benz dealer, contact a customer service representative, determine a monthly payment amount on a vehicle of their choice and see current promotions from Mercedes-Benz Services Malaysia.
"The App is a natural extension of our digital presence, designed to assist customers in choosing a finance and insurance product for their selected Mercedes-Benz car", stated Hilke Janssen, the Managing Director of Mercedes-Benz Services Malaysia.  "The iPhone and iPad app brings our vehicles to the palm of the user."
The key functions of the App are:
Estimator – this feature allows the user to determine the monthly payment amount for the Mercedes-Benz car of choice by specifying the financial product (length of contract, down payment, balloon, etc…) and select the insurance.
Get Quote – after determining the monthly payment value, the user can request a detailed vehicle quote from a local dealer by simply providing a few contact details and sending an email request for quotation.
Promotions – this feature allows users to see what active finance and insurance promotions are available on Mercedes-Benz cars.
Dealer Locator – allows customers to view authorized dealers in their area, searching by GPS or City.  Once the results are displayed, the user can call or map the dealer location using the iPhone/iPad's internal mapping client.
Contact Us – important contact information for Mercedes-Benz Services Malaysia is displayed in this section, allowing users with additional questions to reach out to us directly.
Note: The App is compatible with devices running iOS 5.0 or higher, including the new iPhone 5.
The App is the first multifunctional Mercedes-Benz Financial Services App that is available in al l12 markets of Daimler Financial Services's Africa & Asia-Pacific region. Jointly developed in the USA and Singapore, myMBFS is fully localized to country-specific requirements.   Dual language functionality supports international as well as local target groups.  
"Further developing the online presence for Mercedes-Benz Services Malaysia in the App world is yet another step in a suite of digital initiatives aimed at the significant segment of our customers which uses mobile technology as their preferred method of communication", added Hilke Janssen.