To kick start the New Year after a great sales performance in 2011, Mercedes-Benz Malaysia launched three new niche Completely Build-Up (CBU) models – C-Class Coupe, the SLK and the CLS in Kuala Lumpur on January 16, 2012.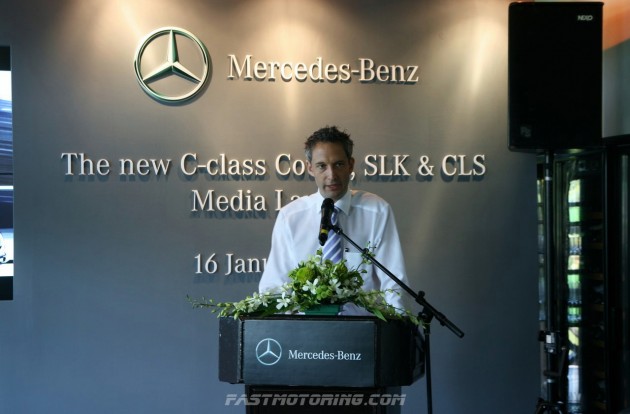 "With greater choices of Mercedes-Benz models available to suit customers' individual lifestyles, we are confident our niche CBU models will contribute between 10 to 15 percent of total car sales this year with these three new models as CBU top sellers." said Kai Schlickum, Mercedes-Benz Malaysia Vice President for Sales and Marketing during the media launch.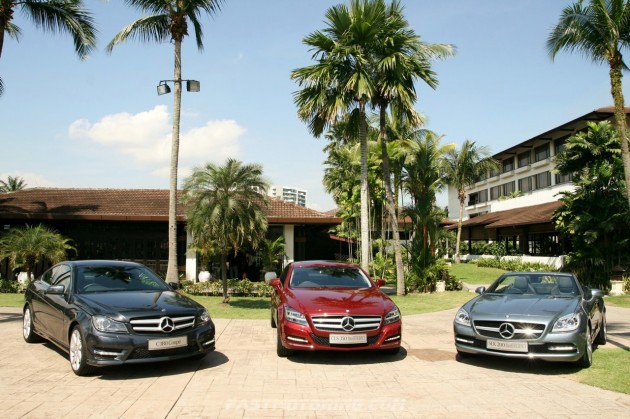 In 2011, the new C-Class Coupe, SLK and CLS launched globally with charting success within their market segments since their introductions. Proudly, Mercedes-Benz Malaysia has officially added these 3 models into their portfolio in Malaysia.
[singlepic id=9439 w=630 h= float=]
The new Mercedes-Benz C-Class Coupe was introduced in June 2011 and hit some 23,700 units delivered to customers globally in less than 6 months. The distinctive new C-Class Coupe includes a short front overhang, long bonnet, steeply raked windscreen and long, stretched-out roof. At the front, the car shares the same styling with the C-Class. The interior come with a pair of sporty seats with integral head restraints and two individual seats in the rear.
[singlepic id=9441 w=630 h= float=]
In Malaysia, there are 3 variants for the new C-Class Coupe – 1.8-litre C180 BlueEFFICIENCY, 1.8-litre C250 BlueEFFICIENCY and the 3.5-litre V6 C350 BlueEFFICIENCY. In addition, The C350 BlueEFFICIENCY is available as special order. All three variants are only available with 7G-TRONIC PLUS seven-speed automatic transmission. The C180 accelerate 0-100km/h in 8.9 seconds, C250 in 7.2 seconds and C350 in 6.0 seconds flat. The top speed is 223 km/h, 240 km/h and 250 km/h, respectively.
[singlepic id=9450 w=630 h= float=]
As for pricing wise, the new C180 & C250 Coupe retails at RM 305,888.00 and RM 388,888.00. The retail price of the C350 will be based on special request and the specification for this model is highly customisable based on customer choice.
[singlepic id=9456 w=630 h= float=]
The third generation of Mercedes-Benz SLK was rolled out globally in March 2011. The new SLK Roadster is more efficient and sporty across all variants. It is up to 25 percent more economical than its predecessors. Most importantly, the drag coefficient (Cd value) has been cut to just 0.30 after a more striking, steeper front and larger frontal area. Moreover, the new SLK also features the Mercedes-Benz draught-stop system AIRGUIDE and offers the Dynamic Handling package in its SLK200 model. The SLK200 roadster develop 184hp (135kW) from the 1.8-litre displacement. It is capable to sprints from 0-100km/h in 7.0 seconds flat and a top speed of 237km/h.
[singlepic id=9458 w=630 h= float=] [singlepic id=9470 w=630 h= float=]
Three variants available for the new SLK in Malaysia as well – SLK200 BlueEFFICIENCY, SLK250 BlueEFFICIENCY and SLK350 BlueEFFICIENCY. All three variants of the new SLK roadster equipped with new engines with direct injection and seven-speed automatic transmission 7G-TRONIC PLUS. What's more, the SLK250 and SLK350 will be made available based on special order and also highly customisable based on individual customer preferences. The new Mercedes-Benz SLK200 roadster is priced at RM 460,888.00 in Malaysia.
[singlepic id=9499 w=630 h= float=]
The second generation of Mercedes-Benz CLS four-door Coupe was launched globally last year. This model is the first vehicle from Mercedes-Benz to have frameless and all-aluminium doors. Overall, the new CLS refined with new sporty design, more efficiency, more agility and safety. You can also check out our previous article about new CLS.
[singlepic id=9503 w=630 h= float=]
The new CLS is more aerodynamics than before. The aerodynamics of the CLS is improved by 13 percent than its predecessor with the Cd value of 0.26. With the new electromechanical power steering in the new CLS, the steering system contributes to overall efficiency as the system only use energy when the vehicle is actually being steered. Likewise, the new CLS four-door coupe offers higher output and torque across all variants and less fuel consumption of up to 25 percent.
[singlepic id=9482 w=630 h= float=] [singlepic id=9485 w=630 h= float=]
At this time, there are only two variants are available in the Malaysian market – 3.5-litre V6 CLS 350 BlueEFFICIENCY with 306hp (225kW) and through special order, the CLS 500 BlueEFFICIENCY that equipped with a 4.7-litre twin-turbo V8 engine that outputs 408hp (300kW). Both variants come with 7G-TRONIC 7-speed automatic transmission. The CLS 350 is capable to sprint from 0-100km/h in 6.1 seconds plus a top speed of 250km/h. The new sporty four-door coupe CLS350 is priced at RM 760,888.00 in Malaysia. 
| | | |
| --- | --- | --- |
| [singlepic id=9504 9486 w=200 h=128 float=] | [singlepic id=9505 w=200 h=128 float=] | [singlepic id=9506 w=200 h=128 float=] |
If you realise in the photos, styling with daylight LEDs are also extensively used in all the new Mercedes-Benz models.
Towards the end of the launch, Schlickum said, "The response has been nothing short of enthusiastic since the launch of the three new models in Germany and we have already received encouraging enquiries on their availability here in Malaysia."
Last of all, the new C180 Coupe, C250 Coupe, CLS350 and SLK200 will begin delivery within this month in Malaysia. Please stay with us for an in-depth review by each model in our upcoming article post and "optimistically" with a test drive review.
Photo Gallery: 2012 Mercedes Benz C180 Coupe Malaysia
[nggallery id=430]
Photo Gallery: 2012 Mercedes Benz CLS350 Malaysia
[nggallery id=432]
Photo Gallery: 2012 Mercedes Benz SLK200 Malaysia
[nggallery id=431]