Rounds 5 & 6 of the GT Asia Series at the Fuji International Speedway will be happening on this weekend, 14-15 July 2012. Also, it's back to business for the intriguing pairing of Chinese Taipei driver Jeffrey Lee and Hong Kong's Marchy Lee as the official Audi R8 LMS Cup entry readies to do battle.
After a dramatic and challenging weekend last month here in Sepang, which saw the powerful duo slip down the leaderboard despite a valiant effort, the Pro/Am pair will look to use their Audi R8 LMS ultra to power them back into the lead of the 11-race series.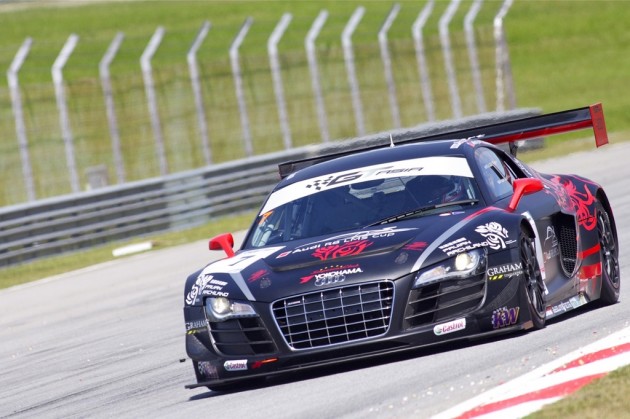 Both drivers will make their Fuji debuts with the team which is flying the flag for the first ever one-make championship created by the brand, the Audi R8 LMS Cup. The championship burst onto the Asian motor racing scene in April this year, and immediately raised the bar for the sport in the region.
As the GT Asia Series lands in Japan for the next six races before concluding as part of the Macau GT Cup at the 59th Macau Grand Prix in November, Rounds 5&6 present a crucial opportunity to get the team's championship aspirations back on track. The combination of an intensely-competitive field and the series' Balance of Performance success ballast regulations make outright victory all the more difficult to attain, but the taste of victory sweeter.
Watching the highly-successful Audi R8 LMS ultra pushed to the max is an opportunity to see the revolutionary Audi lightweight technology in action. Audi has reversed the weight spiral in GT competition, and the benefits of the ground-breaking technology used in its competition cars translate directly to the consumer as improved efficiency. In motorsport, the lightweight Audi R8 LMS ultra creates room for ballast which can be used to improve the car's balance.
The two qualifying sessions and Round 5 of the GT Asia Series will be held on Saturday, July 14, while Round 6 will take place on Sunday, July 15.
Jeffrey Lee: "We definitely faced a challenge in Rounds 3&4, but the fight to claw back as many points as possible showed both the speed we have as a team and our determination as drivers to win the championship. The whole team is continuing to work really well together, and with the competition as tight as it is, team work is going to be one of the crucial factors. I'm really looking forward to racing at Fuji for the first time and Marchy and I are excited for the opportunity to demonstrate our full potential as a team."
Marchy Lee: "We're thrilled to be heading to Japan and resuming the fight for the championship. We had a bit of bad luck last month in Sepang, but with the weekend well behind us, we're looking ahead and focused on earning our first GT Asia Series win in the Audi R8 LMS ultra. It's always exciting to race on a new circuit and I can't wait – let's go racing!"