After the most competitive season in GT Asia history, Motorsport Asia Limited – the sole promoter of the popular GT Asia Series – has unveiled an extended calendar for the 2017 championship with 14-rounds scheduled across some of Asia's most prominent circuits.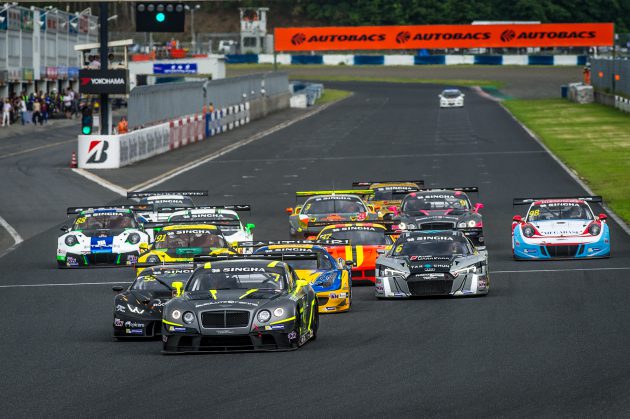 2016 delivered a season that saw 13-drivers in mathematical contention heading into the final event of the year and the 2017 championship promises to deliver even more of the door-to-door action that had legions of fans all over the world following every second of every race this year live.
"Off the back of such a great season we knew we needed to provide another forward step and the early release of the 2017 calendar gives us the opportunity to work with both existing and new teams to prepare for what I'm sure will be another epic season," said David Sonenscher, the CEO of Motorsport Asia.
As it did in 2016, the season will start with an official two-day pre-season test – this time  at Sepang in Malaysia, the Series returning to the Malaysian F1 venue for the first time since 2015. A return to Korea in May will kick off the next leg of the 2017 season, before a mid-season run through two popular GT Asia Series regulars – Fuji in Japan and then Chang International Circuit in Thailand. Then it's on to China for events at the new Zhejiang circuit and the ever-popular Shanghai venue, the scene of the final event of the 2016 season.
"It's great to go back to Asia's leading circuits, venues that are regulars on the F1 program, whilst we are also just finalizing a spectacular feature event for next year. We currently have two options and will be making a decision on which one will be on the 2017 calendar shortly.
"We are starting earlier in 2017 – which was something teams pushed for very strongly – and that allows us to extend the calendar from 12 rounds to 14, another of the things they advised they were keen to do.
"As we did in 2016, we will once again employ a world standard BOP, we will adopt a similar driver structure to what we employed in 2016 with a change for our existing Silver-Silver ranked drivers to make it even more competitive and have it all managed once more by an experienced international team of officials.
"We will campaign four classes of competition – outright GT3, GTM, GTC and an all-new category for cars that comply with GT4 regulations which will be exclusively for amateur drivers.
"Live television will once again feature strongly and we're in discussion with additional channels for the promotion of the Series that will take the profile of GT Asia to another level again in 2017."
Already a number of Asia's leading teams have committed to the 2017 GT Asia Series with long-term agreements in place that will ensure the future of the category, a sign Motorsport Asia's experience in the Asian market is well recognized amongst the regions most experienced and professional teams.
"Our focus is on the future and continuing to evolve what has become one of the most recognized GT championships in the world," Sonenscher added. "We have some great relationships in place already for the new year and we're working on some fantastic new partnerships with the commercial sector to provide another level of excitement and depth to the Series as well. It's an exciting time."
2017 GT Asia Series – calendar
TEST DAYS, 7-8 March – Sepang, Malaysia
Rnd#1/#2, 10-12 March – Sepang, Malaysia
Rnd#3/#4, 12-14 May – South Korea
Rnd#5/#6, 2-4 June – Fuji, Japan
Rnd#7/#8, 23-25 June – Buriram, Thailand
Rnd#9/#10, 4-6 August – Zhejiang, China
Rnd#11/#12, 1-3 September – Shanghai, China
TBC – 7-9 July or 29 Sept.-1 Oct.
The GT Asia Series is sanctioned by the FIA as an International Series and is clearly recognised as the Region's leading GT Championship. It is solely managed and promoted by Motorsport Asia Ltd and is backed by Singha, Michelin, KW Automotive, Motul, Race Room, Panta, YOFC and Tunewear.