The official Audi R8 LMS Cup entry in the 2012 GT Asia Series weathered a dramatic weekend at the Sepang International Circuit in Malaysia, but have vowed a strong comeback as the championship heads to Japan for the next six races.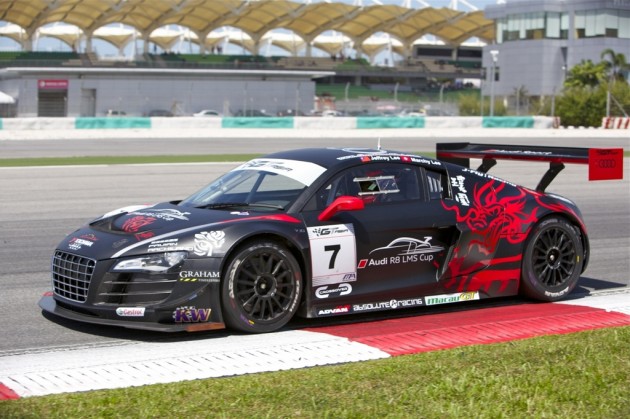 Having taken pole position for Round 3, the Pro/Am pairing of Hong Kong's Marchy Lee and Jeffrey Lee of Chinese Taipei were on top form. Jeffrey qualified in 5th for Round 4, and he and Marchy prepared for two tough races in the scorching Malaysian heat.
 
The series' Balance of Performance success ballast saw the Audi R8 LMS ultra weighed down for the race, but the two determined drivers were undaunted.  Pushing themselves and the car to the absolute limits, try as they may, they saw their cornering advantage lost on the fast straights.
 
Crossing the line 4th in Round 3, Jeffrey took the wheel for the start of Round 4.
Starting from 5th on the grid, Jeffrey victimised to a racing incident when another driver went into him, tipping him into a spin. When seasoned professional Marchy took over, the fought hard to make up places from the back of the field. After a heroic effort, which saw him lapping an incredible two to three seconds faster than any other car in the field, he crossed the finish line in 6th.
 
After four thrilling races, the GT Asia Series now leaves Malaysia, and the official Audi R8 LMS Cup entry will next be in action in the first of three race meetings in Japan. Rounds 5 and 6 will be held at the Fuji International Speedway from July 14-15 as part of a Formula Nippon weekend.