The Round 4 of Porsche Carrera Cup Asia, Alexandre Imperatori of PICC Team StarChase continued his aim towards the 2012 Porsche Carrera Cup Asia title by taking his fourth victory in as many races.  Despite starting from 8th, under the top eight reverse grid regulation, he not only powered his way into the lead mid-way through the 12-lap race, but had pulled out a margin of almost two seconds by the chequered flag at the Zhuhai International Circuit.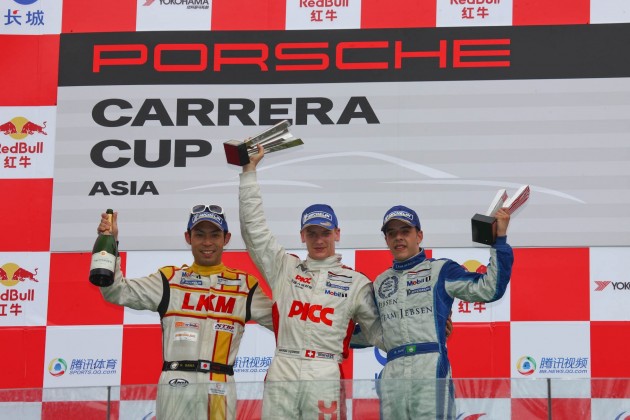 Second across the line after a truly thrilling race was reigning champion Keita Sawa of the LKM Racing Team, who had overcome a disastrous qualifying session to charge to 7th in Round 3, putting him alongside pole-sitter Davide Rizzo of BBT for the start of Round 4.  Team Jebsen's Rodolfo Avila took the final podium place, an impressive result having started from the 4th row of the grid.
Egidio Perfetti of the Seminole Racing Team continued his impressive series debut with his third successive Class B win, with Modena Motorsports' Wayne Shen in second, and another newcomer, Huang Chu Han in third.
Imperatori now has a 20 point lead at the top of the overall championship standings from Sawa, with Benjamin Rouget in third.  Perfetti's brilliant results give him a 13 point lead from Wayne Shen in Class B, with Zheng Ting third.
Said Imperatori, who repeated his astonishing performance in Shanghai where he also thundered his way from 8th on the grid to snatch victory:  "I was pushing very hard and on the attack right from the start.  It's important to do as much as you can as soon as possible before anyone has the chance to pull out a gap.  We honestly didn't expect to be able to win as it's very difficult to overtake here, but it went perfectly."
Avila was delighted with his points haul from two podium finishes, and glad he had resisted the temptation to push too hard to overtake Sawa in the closing stages: "Davide (Rizzo) gave us a really good battle, but I was on new tyres and was pushing really hard.  I was looking at overtaking Sawa but I made a mistake on the last corner which could have cost me the race, and we need the points."
Rizzo got away well from pole and held the lead from the charging pack, with Team BetterLife's Wang Jian Wei mounting an early assault on Team Carrera Cup Asia guest driver Matthew Marsh, getting by to go third on the opening lap.  Imperatori and Avila too were locked in battle from the go, and made contact going into Turn 1, neither sustaining damage.
At the end of lap 1, Rizzo held the lead from Sawa, who was hot on his heels, with Wang, Marsh, Team Yongda Dongfang's Benjamin Rouget in hot pursuit.  Imperatori had begun his climb through the field and was already up to 6th.  Lap 3 saw first Sawa make his move on Rizzo to grab the lead, then Imperatori storm up to 2nd in the order, with Avila in 4th but closing in fast on the Italian.
Wang meanwhile was also on a charge, determined to get by Rouget, but it was all for naught when he flat-spotted his tyres and retired with a puncture.
Imperatori was unstoppable, closing in to Sawa and diving by to take the lead he would hold until the flag.  Next it was Avila looming large in the mirrors of the reigning champion, the Macau racer having finally got by Rizzo after a superb battle.  Sawa held firm though, and with his priorities set on championship points, Avila settled for 3rd.
The next scheduled race for Rounds 5 and 6 of the Porsche Carrera Cup Asia will be held at Ordos International Circuit in Inner Mongolia on 6-8 July 2012.
Photo Gallery : 2012 Porsche Carrera Cup Asia – Rounds 3 & 4 @ Zhuhai
[nggallery id=503]