Lamborghini together with Luxury Swiss watchmaker Blancpain make their first debut of Asia Series for the Lamborghini Blancpain Super Trofeo race. The race has been receiving well response from the public and it's already the 4th year over in Europe. The race can be participate individually or in team of 2 will be using the Lamborghini Gallardo based Lamborghini Super Trofeo race car in the world's fastest one-make race series.
[singlepic id=10870 w=630 h= float=]
Drivers from across countries in Asia, like Malaysia itself, Singapore, Thailand, China, Taiwan, Hong Kong & Japan came with their bespoke Lamborghini Super Trofeo race car to take on in 2 fiercely competitive race. "The Super Trofeo Asia Series is an important milestone for our company" said Automobili Lamborghini S.p.A. President and CEO Stephan Winkelmann. "Lamborghini is already well- known for its iconic supercars, but now we are also excited to share our passion for motorsports with other enthusiasts across Asia. We are also thrilled to have such an international group of drivers, and we look forward to follow them throughout the Series as they experience Lamborghini in its most extreme form."
Not just the race was happening in Sepang Malaysia, Lamborghini has also partner with  Blancpain, the prestigious Swiss watchmaker to showcase both companies products and allow customers to have experience  in the event. Blancpain is also the European Series' title sponsor, this is Blancpain first sponsored  Series in Asia.
| | |
| --- | --- |
| [singlepic id=10772 w=310 h= float=] | [singlepic id=10769 w=310 h= float=] |
As mentioned the Lamborghini Super Trofeo is based on a racing version of the Gallardo LP560-4 and demonstrating once more its advanced precision engineering and fascinating design aesthetic. The lightweight version of the road-going Gallardo LP 560-4, the Super Trofeo race car comes complete with a reworked chassis and a power output of 419 kW from its V10 engine. The race car features Lamborghini's permanent four-wheel drive and comes eguipped with leading safety features, including an FIA FT-3 fuel cell, a full roll cage, a new Brembo Racing brake system and compatibility with HANS safety devices.
 [singlepic id=10871 w=630 h= float=]
Typical of Lamborghini, the Super Trofeo's bodyshell is not only extremely light but also exceptionally safe. Boasting tremendous torsional stiffness, the Super Trofeo maintains outstanding handling. Carbon-fibre composite features heavily in the bodyshell's construction, forming the front skirt, splitter, rear bonnet, front compartment cover, side skirts, diffuser, rear skirt and large rear wing. The rear wing can also be repositioned to suit the requirements of different race tracks and environments, while all the race car's windscreens and windows are made from Makrolon lightweight hi-tech polycarbonate. Complementing its carbon-fibre black Alcantara panels, the Super Trofeo comes equipped with one low-mounted racing bucket seat, produced in light and stiff Kevlar carbon-fibre composite, providing perfect ergonomic support to the driver, who is then secured into position by a six-point racing harness.
[singlepic id=10875 w=630 h= float=]
The Series' debut in Sepang was held successfully alongside the famous Malaysian Super Series. Throughout the rest of the Super Trofeo Asia Series, Lamborghini and its watch partner will be working in conjunction with other major racing events across Asia, such as Formula Nippon in Japan, and Audi Pandelta Race in Zhuhai, China culminating in a big season finale in Shanghai in November with a Group final (Lamborghini ST, Audi R8 LMS Cup, VW Scirocco Cup Asia and Porsche Cup Asia).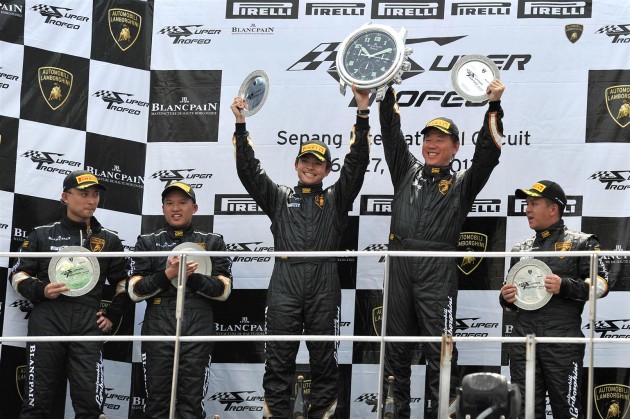 Team from China won both races in Sepang, Malaysia last weekend.
Race 1 Results
1. Liu / Rizzo (#37), China
2. Wiser (#66), China
3. Charlz (#99), Singapore
4. Shigeru / Hideto (#10), Japan
5. Chan / Tse (#88), Hong Kong
6. Chou / Chen (#6), China
7. Chen (#3), China
8. Choi / Lau (#8), Hong Kong
9. Henry / Se (#22), China
10. Motoaki (#12), Japan
11. Cheng / Lok (#2), China
12. Wong / Hui (#23), Thailand
13. Chao / Lin (#38), Taiwan
14. Kai / Dong (#7), China
15. Ramli (#9), Malaysia
16. Lu (#36), Taiwan
17. Yeo (#11). China
18. Lu (#1), China
Race 2 Results
1. Liu / Rizzo (#37), China
2. Charlz (#99), Singapore
3. Wiser (#66), China
4. Chan / Tse (#88), Hong Kong
5. Shigeru / Hideto (#10), Japan
6. Xu / Zhang (#7), China
7. Chou / Chen (#6), China
8. Chen (#3), China
9. Motoaki (#12), Japan
10. Wong / Hui (#24), Thailand
11. Chao / Lin (#38), Taiwan
12. Henry / Se (#22), China
13. Cheng / Lok (#2), China
14. Choi / Lau (#8), Hong Kong
15. Lu (#36), Taiwan
16. Yeo (#11), China
17. Ramli (#9), Malaysia
18. Lu (#1), China
Lamborghini Blancpain Super Trofeo Malaysia 2012 Race Photos
[nggallery id=497]