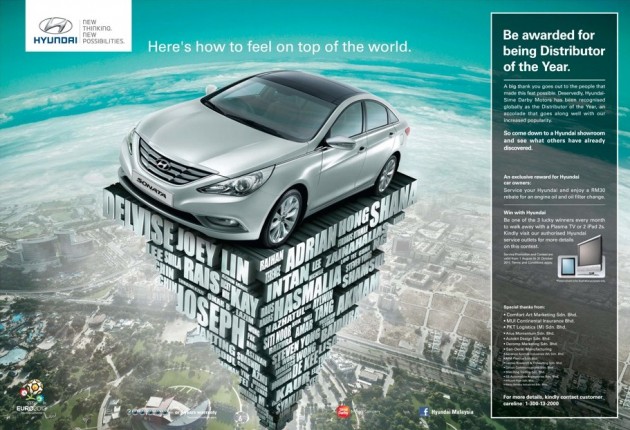 If you can recall recently about Hyundai-Sime Darby Motors (HSDM) being awarded as winner of the Distributor of the Year 2010 at the 2011 Global Distributors Convention that was held in Banff, Canada. As promised, the Malaysia's Hyundai distributor now starts rewarding all its customers on their next visit to any of Hyundai's authorised service centre starting from 1st August till 31th October 2011.
Hyundai's car owners who send their car in for service will be given a RM30 rebate for an engine oil and oil filter change, which is redeemable on the spot. They will also have a chance to win one of the two iPads and a Plasma TV that will be given away each month until October.
To participate in this programme, all customers need to do is to fill up a contest form and attach the original or certified true copy of the service receipt and drop it into the contest box. Participants of this contest must also SMS to activate the registration of this contest upon submitting their form. The SMS number can be obtained from the registration form and the contest box.
"This special promotion and giveaways through a contest is our way of showing appreciation to our customers for their support. Without our customers' support, winning the Distributor of The Year 2010 award would have been impossible," said Mr Dennis Ho, Managing Director of Hyundai-Sime Darby Motors Sdn Bhd.