Hyundai Motor has made history when a near-standard 2.2-litre diesel Santa Fe became the first passenger vehicle to be driven across the continent of Antarctica from Union Camp to McMurdo and back again. The Santa Fe was driven by Patrick Bergel, the Great Grandson of legendary polar explorer, Sir Ernest Shackleton.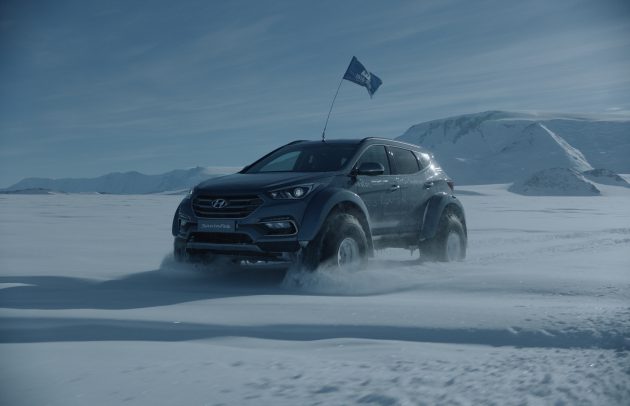 The journey which took place in December 2016 was timed to commemorate the centenary of Shackleton's heroic Trans-Antarctic expedition of 1914-16 and has been made into a short film by Hyundai which will be shown for the first time tonight at an event at the Hospital Club, London.
Scott Noh, Head of Overseas Marketing Group, Hyundai Motor Company said: "We were aware of Sir Ernest Shackleton's story and as a Company felt a resonance with his courage and pioneering spirit. Our film celebrates this spirit and through Patrick, his Great Grandson, completes his dream to cross Antarctica – just a hundred years later. We hope that it showcases Hyundai as brand that that is more than just a means of transportation."
The 30-day expedition saw the Santa Fe production vehicle, which was modified only slightly to fit giant low-pressure tyres, take on almost 5,800km of icy terrain in bitter conditions. It not only had to cover extreme distances at temperatures down to minus 28-degrees Celsius but it had to plot new paths on floating ice caps that have never been travelled by wheeled vehicle before.
Patrick Bergel said: "The journey was incredible and the car was a pleasure to drive. Sometimes it felt less like driving and more like sailing across the snow. It was a proper expedition with a challenge to accomplish that nobody else had done before. It was about endurance not speed – we only averaged only 27km/h – and success was about how we and the car handled it. I'm very reluctant to make direct comparisons between what my great grandfather did and what we've done recently. But it is quite something to have been the first to do this in a wheeled vehicle."
One of Antarctica's most experienced driving experts, Gisli Jónsson from Arctic Trucks was tasked with managing the vehicle's preparation before the event and then led the expedition out in the Antarctic.
Jónsson explained: "It was a pretty standard Santa Fe. The engine, the management system, the transmission, front differential and driveshaft were all completely standard. We did have to fit big, low-pressure tyres though – they are important as it's all about getting the vehicle up on top of the snow rather than ploughing through it. We were running on one-tenth of a normal road tyre pressure – it's so soft you can drive over someone's hand and it won't hurt them! The car 'trod' so lightly that all our tyre tracks were gone by the time we came back."
To fit the tyres, the car's body had to be raised with new sub-frames and suspension and gears were fitted inside the wheel hubs to cope with the different forces and the need to turn more slowly to run at the same speed.
The only other modifications were to increase the fuel tank capacity, to convert the car to run on Jet A-1 fuel – the only fuel available on the continent and to install a pre-heater for the cold. "People who have a lot of experience of Antarctica know what it does to machinery: basically, anything and everything falls apart," said Jónsson. "Even the big machines crack up and break apart.This was the first time this full traverse has ever been attempted, let alone doing it there and back. A lot of people thought we would never ever make it and when we returned they couldn't believe we'd actually done it!"