UMW Toyota Motor Sdn. Bhd. had announced during a media event earlier this year that the Toyota line-up in Malaysia will be joined by the All New Toyota Alphard and Toyota Vellfire. The company will be importing the two models direct from Toyota Motor Corporation in Japan and there will be two variants of the Alphard (Alphard 3.5 Executive Lounge and Alphard 3.5) and one variant of the Vellfire.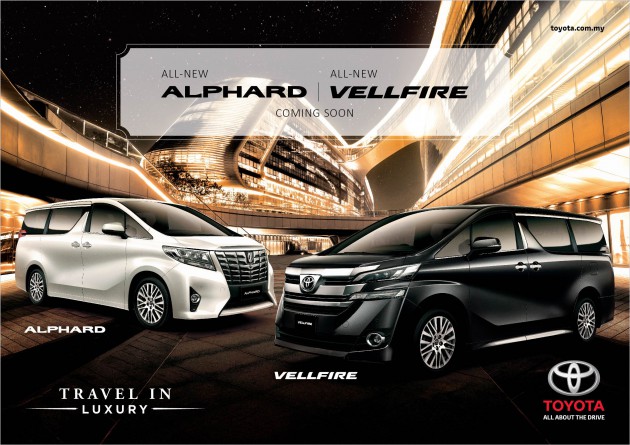 Customers who wish to be among the first to own these two luxury MPVs can now register their interest at all UMW Toyota Motor branches and authorised Toyota dealers nationwide.
Both models will come with a full factory warranty for a period of 5 years and unlimited mileage. Owners are also assured of complete and qualified aftersales support, including parts, from any authorised Toyota service centre in Malaysia.
Powering the Alphard is a 3.5-litre V6 engine while the Vellfire has a 2.5-litre 4-cylinder engine, both equipped with Toyota's Dual VVT-i system for optimum performance and fuel efficiency and low emissions. Active and Passive safety systems that are provided as standard include 7 SRS airbags, ABS with Electronic Brakeforce Distribution (EBD) and Brake Assist (BA), with Vehicle Stability Control (VSC) and Traction Control.
Both models have a generous range of luxury equipment and the Alphard 3.5 Executive Lounge includes VIP Power Seats with internal cooling for extra comfort. This variant also comes with a premium sound system equipped with 17 speakers by JBL.
Commenting on the addition of the large MPVs to the local Toyota line-up, Datuk Ismet Suki, President of UMW Toyota Motor said "We realise that many Malaysians like these models as they are ideal for corporate companies to ferry their important guests and those with large families who like going around together. As such, we have decided that we should also include these models in our range."
On the differences between the vehicles imported and sold by UMW Toyota Motor and those which are imported by other parties from dealers in Japan, Mr. Akio Takeyama, Deputy Chairman of UMW Toyota Motor said that there are some technical differences which are important to owners.
"Through long experience, Toyota engineers have found that driving conditions in Malaysia can be quite demanding. The weather conditions are usually hot and vehicles travel long distances at high speeds. These can have an effect on operating temperatures of the engine so programming of the ECU (Engine Control Unit) is usually adjusted to keep the engine cool," he explained, adding that such specific programming is only done for units that are specifically destined for Malaysia and imported by UMW Toyota Motor, which is the sole and authorised importer and distributor for Toyota vehicles.
"Vehicles intended for other countries will have tuning specially for those countries and they may not operate optimally in Malaysian conditions. For example, vehicles sold in Japan would not require tuning for such high temperatures as the weather conditions are cooler," he said.
"Therefore, in order for customers to have complete satisfaction and peace of mind when driving their Toyota vehicle, I strongly recommend that they purchase the vehicles from a UMWT branch or an authorized Toyota dealer in Malaysia," said Mr. Akio Takeyama.
There are also cases of units intended for the Japanese market being sold in Malaysia and the owners cannot make use of the navigation system because the digital maps provided are not for Malaysia and it is all in Japanese. Even the radio frequencies are also using Japanese Radio frequencies. This obviously makes the system useless. For the units we import, the audio system is already suited to local frequencies while the digital maps provided are for Malaysia and neighbouring countries and the information are in English.
On warranty of the vehicles, Datuk Ismet said "Most importantly, every model sold by UMW Toyota Motor comes with a full 5 years warranty with unlimited mileage and full aftersales support. This means that the owner can have peace of mind and be assured of qualified aftersales support. We will even make sure that we stock the necessary parts for the Vellfire and Alphard to minimise inconvenience to owners," he assured.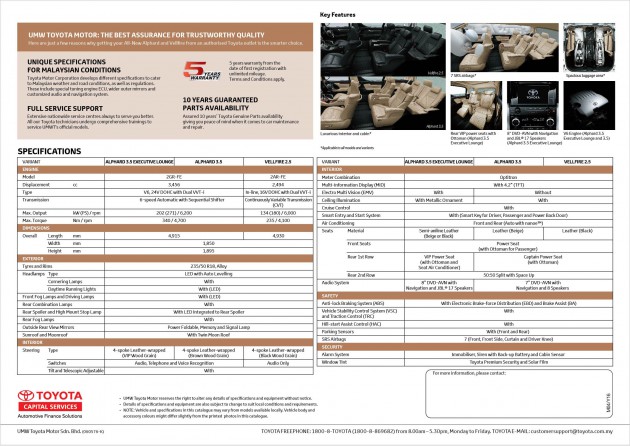 More information on the Toyota Alphard and Vellfire specifications and colour availability can be obtained from Toyota.com.my or visit your nearest Toyota showroom nationwide.