BMW Group Malaysia today introduced two new models which will be locally assembled in the country. The all-new BMW X1 and BMW X4 will mark the ninth and tenth new models to join the portfolio of vehicles assembled in Malaysia.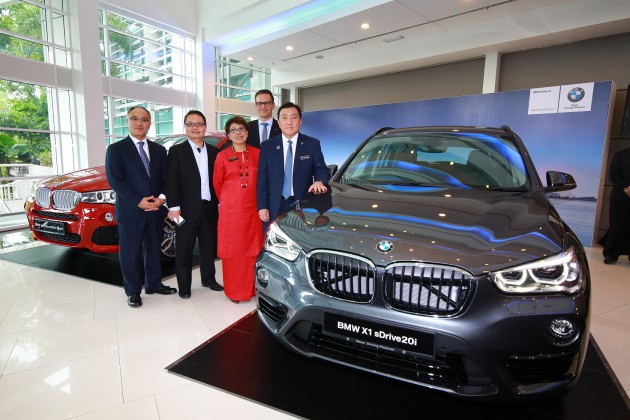 Speaking at the unveiling ceremony, Yang Berhormat Dato' Seri Ong Ka Chuan, Minister II of the Ministry of International Trade and Industry (MITI) who also officiated the launch said, "We at MITI are pleased that the BMW Group has continued its commitment and investment to make Malaysia a strategic hub for them in the region. This move not only demonstrates that Malaysia has the necessary infrastructure, people and capability as a strategic country for foreign investment, but also shows that Malaysia is well underway towards becoming a regional automotive hub for Energy Efficient Vehicles."
Mr. Han Sang Yun, Managing Director and CEO of BMW Group Malaysia, meanwhile, said, "The new locally-assembled BMW X1 and BMW X4 are a further testament to our longstanding investment and commitment to Malaysia as a strategic hub for the BMW Group in the South East Asian region. Overall, the BMW Assembly Plant in Kulim now assembles over 20 variants of BMW and MINI vehicles in the country."
Mr. Han further added that earlier in 2016, the premium automaker revised its pricing strategy for variants of the BMW 1 Series and BMW 3 Series lower by up to 8% as the vehicles received its Customised EEV Status Incentives.
"Today, I am pleased to announce that we have now received similar incentives for the BMW 3 Series Gran Turismo, BMW X3 and BMW 5 Series. We will be extending this benefit by the Malaysian government to our customers and we will be revising the prices for the vehicles lower by up to 9%."
The new revised recommended retail prices with Energy Efficient Vehicle (EEV) Status Incentives (on the road, without insurance with BMW Group Malaysia's latest 5 Years Unlimited Mileage Warranty, Free Scheduled Service Program and BMW Tyre Warranty Programme) for the BMW 3 Series GT, BMW X3 and BMW 5 Series are:
| | | |
| --- | --- | --- |
|   | Current Retail Price | EEV Incentive Retail Price |
| BMW 118i Sport | RM 188,800.00 | RM 173,800.00 |
| BMW 120i M Sport | RM 219,800.00 | RM 202,800.00 |
| BMW 318i Luxury | RM 219,800.00 | RM 202,800.00 |
| BMW 320i Sport | RM 249,800.00 | RM 231,800.00 |
| BMW 330i M Sport | RM 319,800.00 | RM 297,800.00 |
| BMW 320d GT | RM 296,800.00 | RM 278,800.00 |
| BMW 328i GT | RM 327,800.00 | RM 308,800.00 |
| BMW X3 xDrive 20i | RM 325,800.00 | RM 296,800.00 |
| BMW X3 xDrive 20d | RM 345,800.00 | RM 316,800.00 |
| BMW 520d M Sport | RM 354,800.00 | RM 317,800.00 |
| BMW 520i M Sport  | RM 367,800.00 | RM 329,800.00 |
| BMW 528i M Sport | RM 417,800.00 | RM 378,800.00 |
BMW Group Malaysia also announced that in 2018, Malaysia would become the export hub for the BMW 3 Series, BMW 5 Series and BMW 7 Series variants to Vietnam and the Philippines. Mr. Han said, "Malaysia continues to be a strategic hub for the BMW Group in South East Asia and we at BMW Group Malaysia are pleased to be able to raise our compentency here to assemble and export these premium vehicles to emerging markets in the region to grow our capabilities in the ASEAN region."