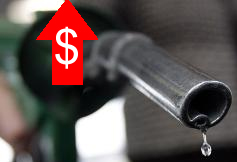 Petrol & Diesel prices for the month of April 2016 will be increase across the board.
RON95 and RON97 petrol will see an increase of RM0.10; to RM1.70 (from RM1.60 per litre) and RM2.05 (from RM1.95 per litre), respectively.
Diesel is up RM0.20 to RM1.50 per litre. Back in February 2016, the Ron95 was RM1.75 per litre
Since Dec 1, 2014, The Domestic Trade, Co-operatives and Consumerism Ministry of Malaysia decided to set the prices of petrol and diesel on a managed monthly float. Prices of petrol and diesel will be review monthly to determine the following's months prices. The Updated petrol prices are confirmed by Petron Petrol Dealers Association president Datuk Alang Zari Ishak.