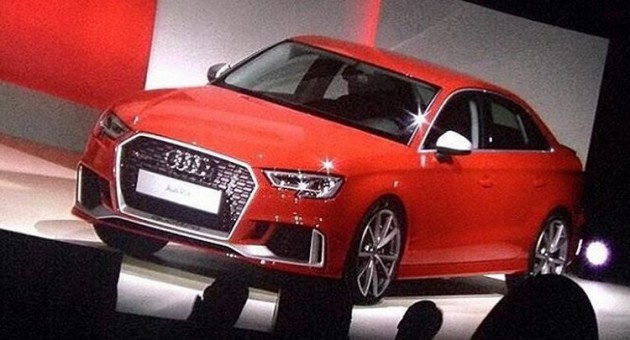 A brand new upcoming Audi RS3 Sedan is presented during Audi's Summit for the company's American employees and partners. Details of the car as well as a low-resolution record video was leaked online. The all-new Audi RS3 Sedan specs and details has been mention by the presenter. The All new Audi RS3 sedan  will feature the same 2.5-litre, 5-cylinder TFSI engine mated to a 7-Speed S Tronic gearbox, although it will apparently have a "slight" increase in power.
This upcoming 'RS' sedan, will Audi's smallest RS car in the line up. As mentioned, it will develop up to 400 horsepower or more , while aided by the standard "quattro" all-wheel-drive system, high performance brakes and racing suspension tuning.
As we seen in the pictures and video, the Audi RS3 sedan is characterized by the familiar RS division's sport elements, including a wider body, a ridiculously aggressive front fascia, and a menacing stance. Although there are similarity , minor differences are noticeable between it and the hatchback variant.
The Audi RS3 Sedan will most likely to make its debut at the Geneva Motor Show in March, where the German car manufacturer plans to unveil more world premieres. Check the low-res video below to see the presentation before it is removed.