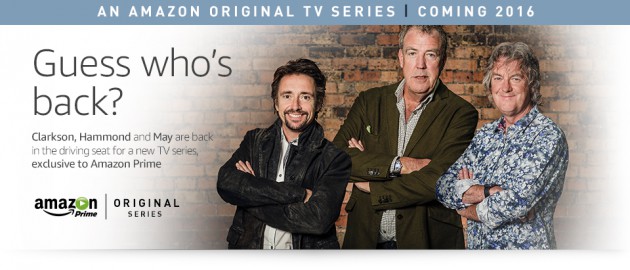 The news! Some say, or said the ex-top gear hosts will be signing up with an online tv, rumoured to be Netflix. After months of speculation, Jeremy Clarkson, Richard Hammond and James May along with Amazon announced that they have a deal signed with Amazon.
The show, quoted in Amazon website and confirm will be a all-new car show. The show currently without a name, will be air exclusively on the Amazon video streaming platform. The hosts have sign up with a 3 seasons deal.  Andy Wilman, the former Top Gear's executive producer and a good friend of Clarkson will be involve with this new show.
We are thinking that the show could be just simply call Clarkson, Hammond & May, however as commercial agreement it could be name something else by Amazon, a not-so-good news it, since it's exclusive to Amazon, viewers will have to sign up Amazon Prime for £79/year in the UK ($99/year in the US) .
In the official press release, Clarkson stated: "I feel like I've climbed out of a bi-plane and into a spaceship." May continued saying: "We have become part of the new age of smart TV. Ironic, isn't it?" While Hammond added: "Amazon? Oh yes. I have already been there. I got bitten by a bullet ant."

Jay Marine – vice president of Amazon Prime Video EU – also stated: "Customers told us they wanted to see the team back on screen, and we are excited to make that happen. Our approach is to give programme makers creative freedom to be innovative and make the shows they want to make. This is just the start, you should expect to see more world-leading talent and the biggest shows on Prime Video."
It looks like the Trio Clarkson, Hammond and May's new show with Amazon will be back sooner than BBC's Top Gear show, as BBC is still finalizing the presenters of Top Gear UK.