3M thrilled visitors to the Kuala Lumpur International Motor Show 2013 (KLIMS '13) today with an exhibition highlighting 3M's total innovative solutions for the automotive industry's mega trends in safety, aesthetics, performance and energy. Encompassing the key segments in mobility, 3M provided automotive enthusiasts with a unique all-rounded automobile experience with a live demonstration of 3M™ Scotchprint® Wrap Film alongside essential innovations such as 3M™ Nano Safety AutoFilm, 3M™ Lightstring, 3M™ High Air Flow (HAF) Cabin Air Filter, 3M™ Tune-up kit, and 3M™ Thinsulate.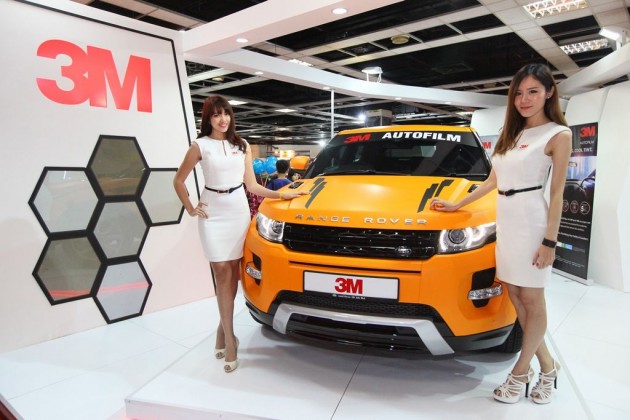 Mr. Michael Wu, Managing Director of 3M Malaysia Sdn Bhd said, "As an innovative leader in the automotive industry, we continuously invent products that are steered towards providing sustainable solutions to the public and our stakeholders."
In line with the 8th KLIMS '13 theme – "Efficiency in Motion" – 3M demonstrated some of its most innovative automotive solutions that not only enhances performance but also promotes the conservation of energy for the highest possible efficiency. Some of its comprehensive line of automotive solutions included sustainable products such as automotive window films, acoustic and thermal insulation, all of which were introduced to feature 3M's wide range of technologies through cutting-edge solutions.
Mr. Michael explained that, "3M serves its customers and communities with the most innovative solutions, all of which capitalize on and combine our wide range of technologies and innovation processes. Each of our core businesses has earned leading global market positions, with the automotive division operating as an essential contributor to our rapid expansion in Malaysia."
Having been at the forefront of innovation for over a century, sustainability is fundamental to their business philosophy. Energy regulation in cars is an intelligent form of energy management and some of the innovative solutions showcased today are in line with KLIMS '13's theme where mobility meets efficiency, technology meets imagination, and design meets desire.
One of 3M's breakthrough innovations highlighted at KLIMS '13 today redefines automotive window films and taps into the safety aspect of a vehicle. The all-new 3M™ Nano Safety AutoFilm features a proprietary, 3M-patented, Multilayer Optical Film (MOF) technology that combines over 200 layers in a film that is thinner than a Post-it® note. This one of a kind technology challenged previously unachievable heat rejection as the hundreds of layers reject a different wavelength of up to 99.9% of Ultraviolet (UV) light and up to 97% of Infrared solar radiation. In addition the window film helps regulate the temperature of a car's interior, and therefore lessens the need for excessive air-conditioning.
As the only clear window film that rejects more heat than darker films, 3M™ Nano Safety AutoFilm is also a lightweight film that brings superior clarity to deliver a premium automobile look without changing the vehicle's appearance. Additionally, the window film enhances the driver's view by allowing visible light into the vehicle as it keeps the heat out. Glare is also significantly reduced by 55%, allowing the driver to see better with higher concentration on the road.
3M™ Nano Safety AutoFilm is engineered to deter crime by holding glass pieces in place upon window breakage. This provides consumers with a guarantee that criminals don't have quick access to successfully smash and grab personal belongings, as well as reduces the likelihood of flying glass shards which cause injuries.
In explaining the idea behind 3M™ Nano Safety AutoFilm, Mr. Michael Wu said, "3M AutoFilm was inspired by the wings of a butterfly, and we harness our specialization in Adhesives, Nano-technology and advanced material technology to create a film unlike any other. This innovation is a testament of the breadth and depth of 3M technological leadership."
Further to that, 3M shared with its visitors a visual feast through a live demonstration of the 3M™ Scotchprint® Wrap Film Series 1080 on a Range Rover Evoque. The 3M™ Scotchprint® Wrap Film Series 1080 features a variety of finishes, textures, and colours including carbon fibre to offer automotive enthusiasts a unique head-turning appearance for their cars. The wrap film uses a pressure-activated adhesive for easy sliding, tacking, snap-up and repositioning, and offers bubble-free installations through air release channels. Also equally impressive was a demonstration of 3M™ Lightstring – a round, flexible, cut-to-length light guide that produces 360-degree diffuse light that is perfect for producing stylized ambient lighting.
In demonstrating 3M's innovative solutions for increased vehicle's performance, 3M highlighted its 3M™ HAF Cabin Air Filters which are constructed from an array of open flow channels, which are frameless and self-supporting. These filters are electronically charged for enhanced particle capture and retention, and are engineered for better air quality. The 3M™ High Air Flow Cabin Air Filter also provides potential solutions in industrial and commercial applications as it enables quick and convenient, custom filtration suitable for equipment manufacturers with a need for efficient, economical air filtration. 
Additionally, as a recognized leader in sustainability efforts, 3M also featured 3M™ Thinsulate™ that provides high efficient acoustic absorption, particularly in the middle to high frequency ranges. 3M™ Thinsulate™ accomplishes quieter and lighter cars, thus helping cars achieve better fuel economy.
Furthermore, 3M also featured multiple exciting activities for visitors to enjoy at KLIMS '13, Visitors who pre-register could walk away with a 3M™ Door Edge Protection Film. Purchasers of selected 3M AutoFilm products during the show also stand a chance to win an all-expense paid weekend road trip worth up to RM2,500 with the "3M AutoFilm: Win a Weekend Road Trip with the Range Rover Evoque" slogan contest.
3M will be exhibiting its innovative automotive solutions throughout KLIMS '13 from 15-24 November 2013 at the 3M booth, No. 3C15 in Hall 3 in Putra World Trade Centre (PWTC), Kuala Lumpur. Dedicated to car enthusiasts and motor show fans, KLIMS '13 is a showcase of adrenaline-pumping performance cars, concept cars, super cars, and other accessories and product displays available in mobility.