The All New BMW 4 Series Coupe has finally arrived at Malaysia. BMW Group Malaysia officially unveiled this sweet coupe earlier this morning.  All-new generation of premium compact executive coupe from BMW delivers even more power, sportiness and presence.
The all new BMW 4 Series Coupe is set to replace the 3 Series Coupe that's currently in the market. This is BMW's newest midsized sports coupe. Embodying the very essence of aesthetic appeal and dynamics in the premium segment, the all-new BMW 4 Series Coupe is available in three (3) variants – BMW 428i Sport, BMW 428i M Sport and BMW 435i M Sport. 
Price ranging from RM358,800 for the 428i Sport, RM388,800 for 428i M Sport and RM525,800 for 435i M Sport. 
Branching out from the BMW 1, 3, 5, 7 series, this new coupe is now placed into a new standalone model – 4 Series.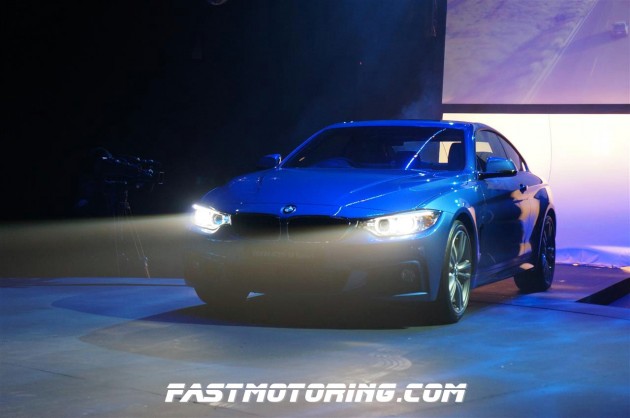 Hit the jump for more!

Dr. Gerhard Pils, CEO of BMW Group Malaysia quoted that :
"With even more power, sportiness and an undeniable presence as compared to its predecessor, the all-new BMW 4 Series Coupé is immediately recognisable with longer, lower and wider exterior dimensions. The perfect coupé proportions also comes with more intelligent connectivity solutions, as well as enhanced performance and efficiency."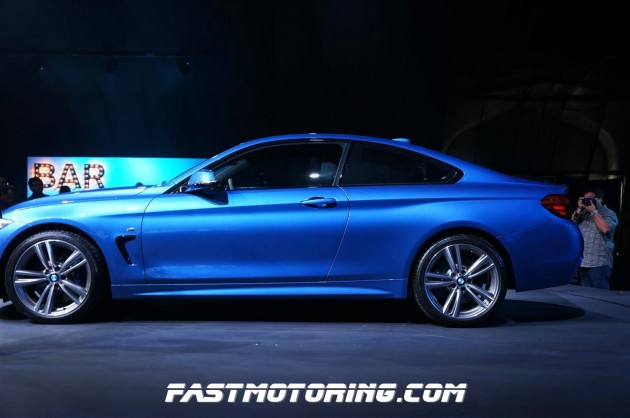 The all new 4 Series Coupe appears to be visibly sportier with a length of 4,638mm (increased by 26mm), width of 1,825mm (increased by 43mm), height of 1,362mm (reduced by 16mm), and a wheelbase of 2,810mm (increased by 50mm) compared to its predecessor. The rear track of the new coupe has been extended by 80mm and front track by 45mm on top of its muscular, flared wheel arches which serves to accentuate the all-new coupe's rear-wheel drive concept.
| | |
| --- | --- |
| [singlepic id=14524 w=310 h= float=] | [singlepic id=14339 w=310 h= float=] |
New elements of the all-new coupe are the Air Breathers, positioned rearwards of the front wheel arches. These are combined with the Air Curtains to reduce drag considerably around the wheel arches, and provide further visual clues as to the aerodynamic refinement of the all-new BMW 4 Series Coupe. 
| | |
| --- | --- |
| [singlepic id=14334 w=310 h= float=] | [singlepic id=14520 w=310 h= float=] |
 The BMW 428i Coupe comes standard with the Sport Line (RM358,800). M Sport package (RM388,800) comes optional for drivers who wants an upgrade for this sweet new coupe to be brought out to the streets.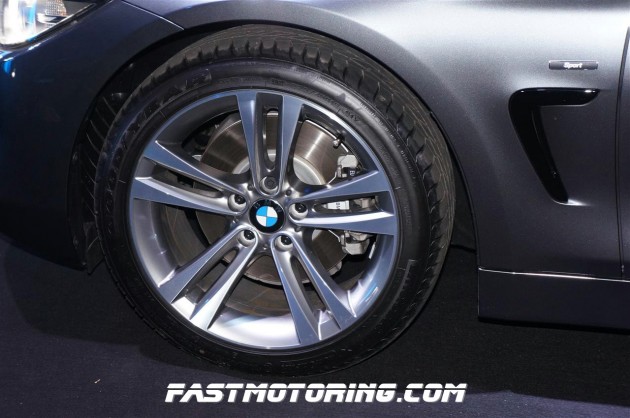 The BMW 428i Sport Line features a 18″ Double-spoke light alloy wheels with M Sport suspension and black-gloss mirror caps. The BMW 435i on the other hand, is available with the M Sport package as standard featuring 19" BMW M Double-spoke light-alloy wheels, and an adaptive M suspension, electrical glass roof, and a comfort access system.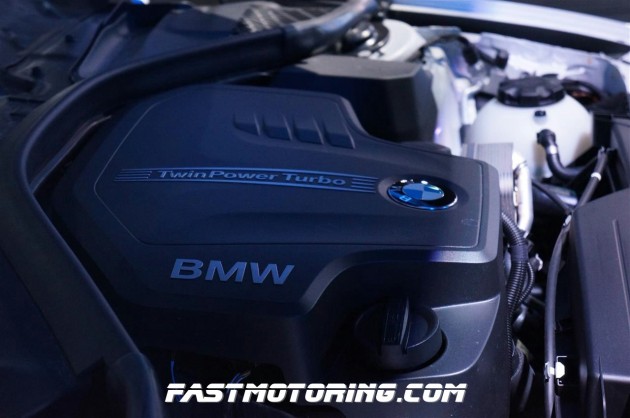 The BMW 428i Coupe  houses a 2.0-litre 4-cylinder petrol engine and delivers a maximum output of 180 kW / 245 hp with torque peaking at 350 Nm; enabling the BMW 428i Coupe  to sprint from 0 to 100 km/h in  5.8 seconds at a top speed of 250 km/h. Despite the impressive acceleration, average fuel economy in the EU test cycle stands at a notable 6.4 litres per 100 kilometres and C02 emissions are just 149 grams per kilometre. 
The 435i meanwhile houses a 3.0-litre 6-cylinder in-line petrol engine that boasts 225KW / 306hp with a peak torque of 400Nm. This 3.0-litre engine achieves acceleration from 0-100km/h in just 5.1 seconds with a top speed of 250km/h. With that amount of power, this engine still provide decent fuel savings at 7.4 litres per 100 kilometres with C02 emissions are just 172 grams per kilometre.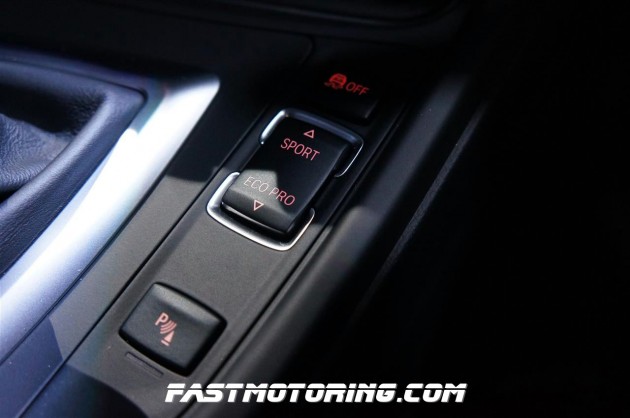 The new 4 Series coupe offers the ability to modify the overall character of the vehicle for an exceptionally fuel-efficient style of driving by switching to the ECO PRO mode. The unique ECO PRO mode now features the new sailing function which will disengage the engine from the drivetrain at speeds between 50 and 160 km/h when the driver takes the foot off the accelerator pedal, thus allowing the car to save on fuel consumption while coasting.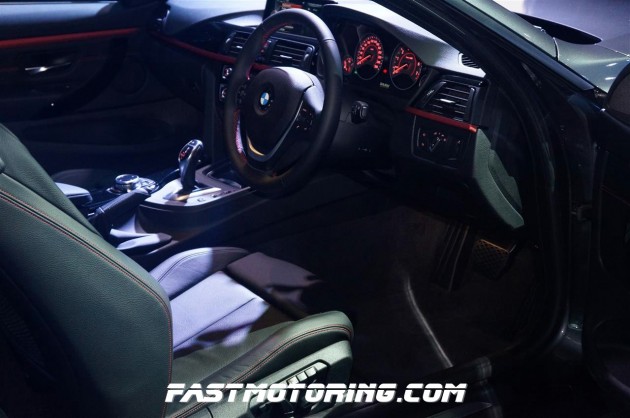 BMW 4 Series Coupe's sporty interior is BMW Individual Anthracite and Leather Dakota headliner upholstery. The interior trim of the BMW 428i Coupe Sport Line is further accentuated in high-gloss black with highlight trim finishers of Coral Red matt and a sports leather steering wheel. As for the 435i M Sport's interior trim, it is complimented by Aluminium Hexagon with highlight trim finishers in Estoril Blue matt and an M Sport leather steering wheel.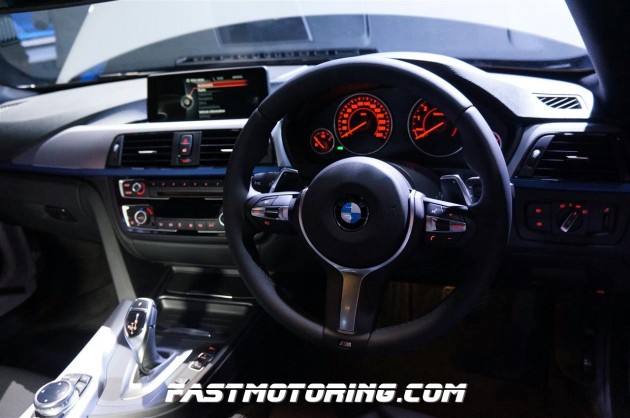 The new BMW 4 Series Coupe comes with circular black panel instruments and the advanced iDrive operating system with a free-standing flat screen monitor. The New Generation Navigation System Professional that now includes 3D map display which is operated via iDrive Touch Controller with a touch-sensitive surface allowing numbers and letters to be written using a finger is now featured in the new 4 Series Coupe. A full-colour BMW Head-Up Display in the BMW 435i Coupe  to project relevant information, such as essential vehicle information as well as infotainment messages, directly in the driver's field of vision. 
As standard, the coupe comes with USB and Bluetooth connectivity as well as BMW Live – a valuable web-based mobility service which is accessible via smartphone. The 428i variant will feature a nine speaker HiFi loudspeaker system whereas the 435i coupe will deliver surround sound experience with 16 speakers of Harman Kardon Surround Sound system. 
Colours available for the BMW 428i Coupe include Alpine White, Black Sapphire, Melbourne Red, Mineral Grey, and Glacier Silver. Meanwhile, Estoril Blue is an exclusive colour addition for the BMW 428i Coupe M Sport. For the BMW 435i Coupe M Sport, colours available are Alpine White, Mineral Grey and Estoril Blue.
Press Shots
[nggallery id=635]
BMW 4 Series Coupe Launch Event 
[nggallery id=634]
BMW 435i M Sport Coupe
[nggallery id=631]
BMW 428i M Sport Coupe
[nggallery id=636]
BMW 428i Sport Coupe
[nggallery id=632]