UMW Toyota Motor unveiled the 2013 Toyota Hilux Improvement that features a host of new upgrades and brings more value and excitement to this best-selling pick-up truck model. The price now starting from RM77,105.10 to RM109,199.90 OTR for private registration.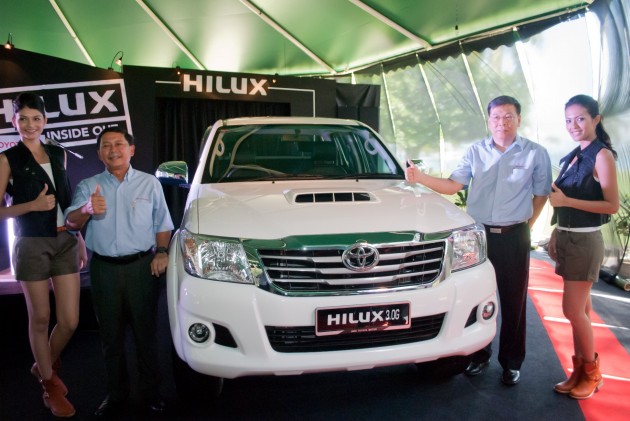 At the launch event, Datuk Ismet Suki, President of UMW Toyota Motor, said the new features were included after taking into consideration of the feedback from Toyota customers.Among the improvements are the inclusions of 17-inch alloy rims, leather seats, dark interior, new front fog lamp design, power adjustable driver seat, front seatbelts with pretensioners and force limiters for added safety.
Powering the Hilux Improvement are the tried and trusted 3.0-litre and 2.5-litre turbo diesel engines that feature Intercooler VNT and D-4D Common Rail technology so owners can be assured of outstanding performance with fuel efficiency. 
Datuk Ismet said the Hilux has always been known for its durability and reliability in the 4X4 pick-up truck segment. "Ever since the model was introduced, Hilux has also been synonymous with quality and value. It is certainly the first choice amongst those who want a tough and powerful pickup."
"The Hilux is more than just a pick-up truck; it is something of a global citizen who has found home in more than 140 countries. The popular Hilux is well accepted in Asia, all across Europe, Africa and America," Datuk Ismet said.
More than 4.5 million units of the current Hilux model have been sold around the world to date. The current generation Hilux, which was launched in Malaysia in 2005, has sold more than 145,000 units locally up to September 2013.
"The Hilux is the most popular pick-up model by far, out-selling even its closest competitor by a wide margin. Hilux continues to lead the pick-up segment with more than 50% market share in Malaysia," Datuk Ismet said.
So far this year, UMW Toyota Motor has sold close to 18,000 units of the Hilux. The order taking for the Hilux Improvement started on the 17th September and more than 800 units have been ordered to date.
UMW Toyota Motor Sdn Bhd is targeting to sell more than 29,000 units of the Hilux Improvement next year. The 2013 Hilux Improvement will be available at all Toyota showrooms throughout Sabah, Sarawak and Peninsular Malaysia from the 25th October onwards.